Same fish 11 months later. The coloring has changed because of light bulb changes. They are still in a 220g tank, but technically this is a different tank, in the very early stages of plant growth.
They are larger than before but still not full grown IMO. I am posting these so we can all watch them as they grow.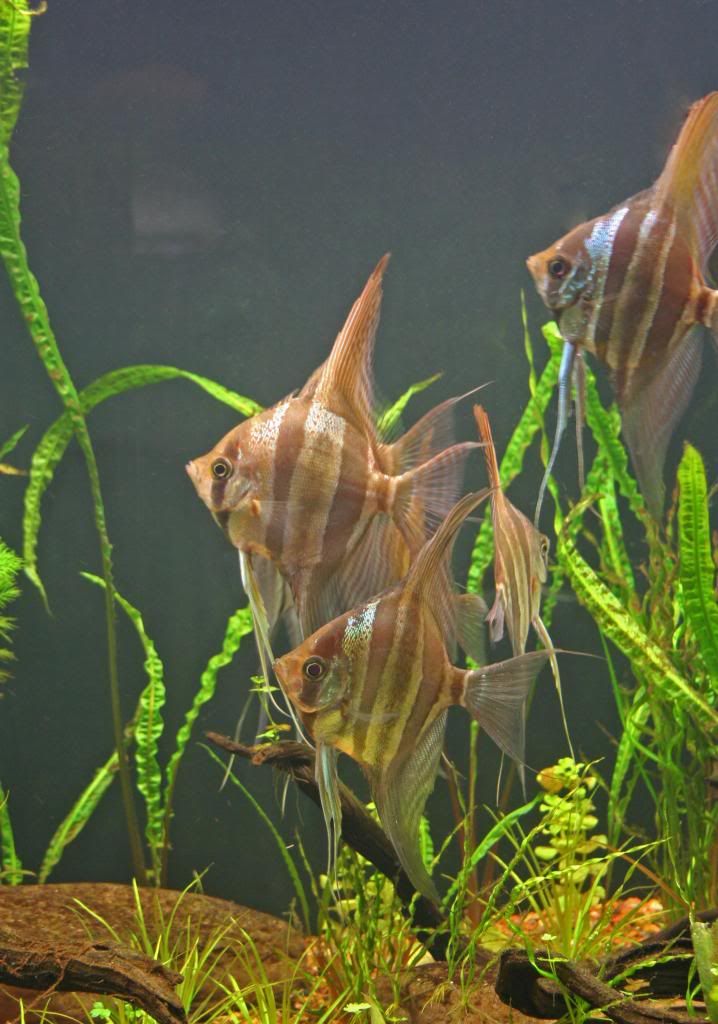 Nice fish and tank... Do you have them in ro water? Where did you get them?
Thanks!

They reside in tap water.

I got 4 Rio Inirida fish from Pete at Villa's and 6 Rio Atabapo fish from snookn on Aquabid. I could tell them apart earlier when their maturity gave them different looks, but they blend together now pretty well.
man those are beautiful fish!!!!
Might as well keep the family album current.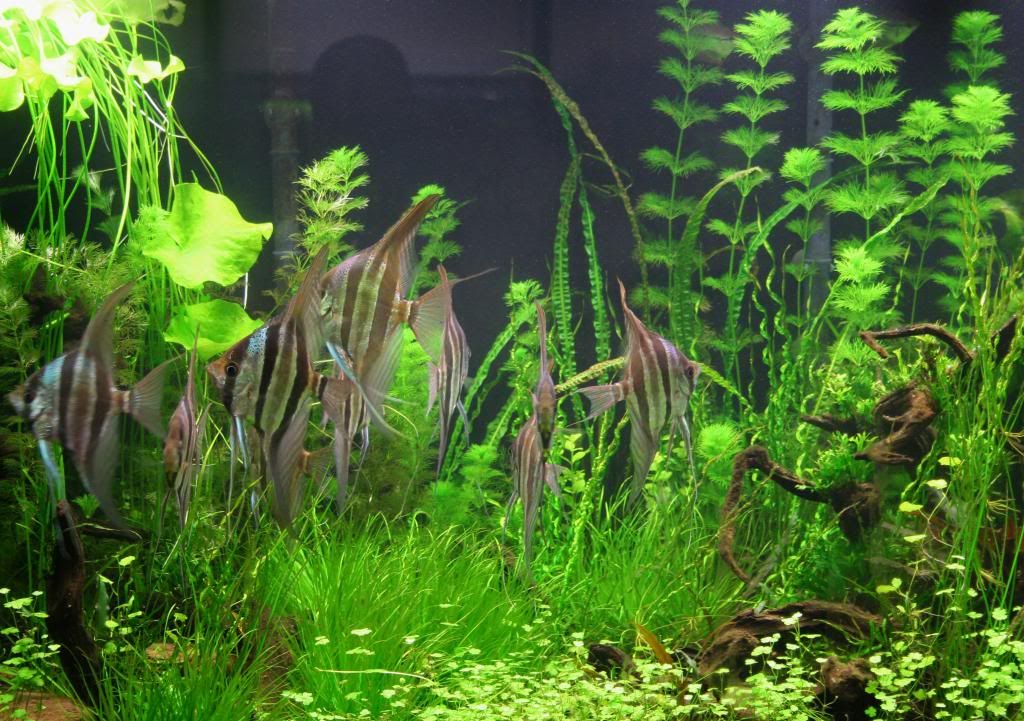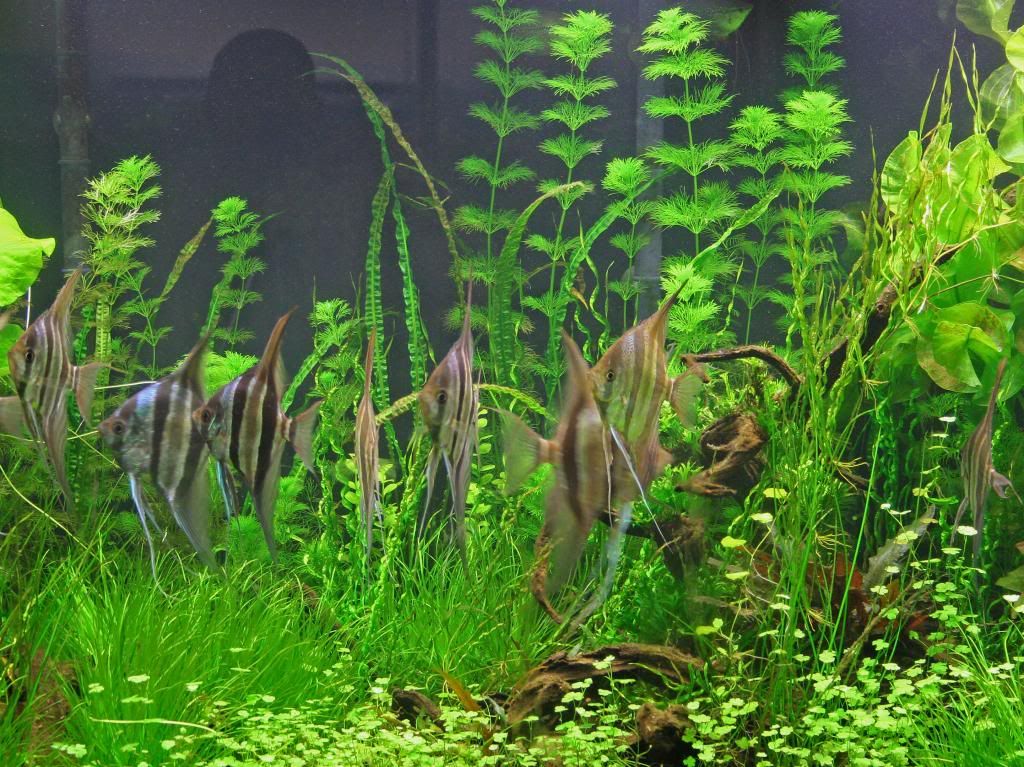 beautiful fish, I like this thread, no fuss no muss just lots of pictures!!
Well then, more photos!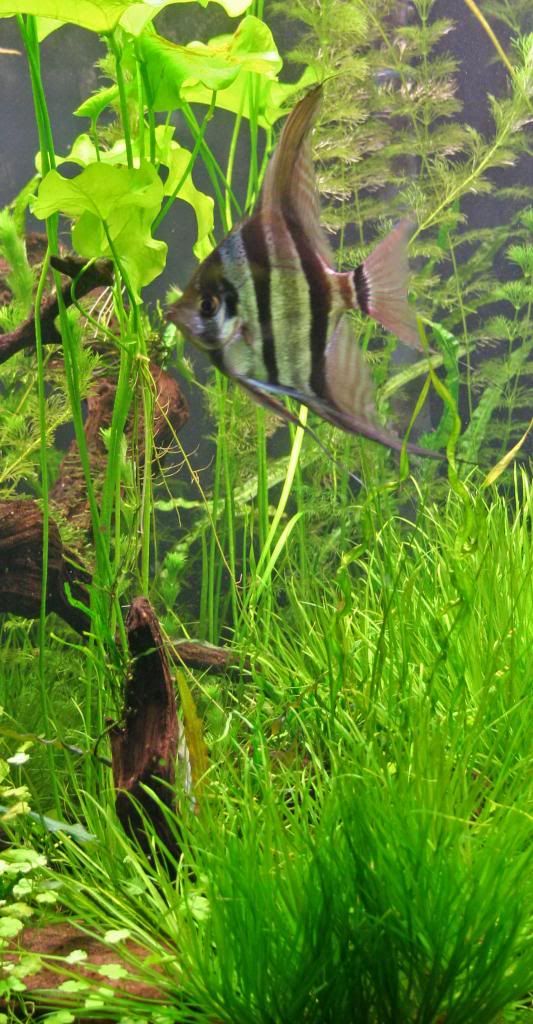 love the tank, awesome plants and fish!
beautiful tank, lovely fish. I like how the lines of the tank (straight plants) match the lines of the angels.
can i ask what your parameters are? and how do altums compare in size with most domestic angels bigger or smaller? they are beautiful fish one day i hope to get some
They reside in tap water pH about 7.0, temperature around 80F. These fish are now a bit larger than any P. scalare I have seen and they should get larger still, although I am beginning to doubt if mine will ever see the 12" tall numbers I have seen quoted elsewhere.
Lots of altum info
here
.
Very nice tank tom. Ur altums are looking great. Its rare to have altums reach 12"+ in captivity. Are u running co2 in ur tank?
Yes, new tank has CO2 injection.

Thanks for the nice comments folks!
Beautiful fish, beautiful plants, beautiful tank!!