the wonder algae thread!
---
well, i have sent some of my algae out to a few hobbiests now. i have already determined that it has done wonderful things for me, but i wanted some feedback, so i started a ROAK and sent it out to some people that i felt would be able to test the algaes abilities as a fry saver. this is a place for those experiences. i would love to hear from you all once you have a chance to test it! in the mean time, i will be putting my experiences into this thread for all to read.
so far, i have tested the algae on the fry of three species, and am currently testing it on a fourth.
i have tested it on bluefin killifish(lucania goodie) rainwater killifish(lucania parva) and gulf coast pygmy sunfish(elassoma gilberti). all three of these fish were successfully raised with very few, if any, losses. the algae provided cover and enough food for them to get them to a size large enough to feed them grindal worms. also, it kept the water clean enough for them, as i never have done a single water change in any of my fry tanks.
the fourth species is betta mahachai, which is currently being tested. as far as i can tell they are doing pretty well, as they always have full bellies. they have tripled in size since they hatched, which was about a week ago.
i keep the algae under 24/7 lighting and for the most part try to provide it with a decent amount of circulation. from what i can tell, it does a good enough job of keeping the water free of ammonia that i can forgo water changes. i understand the purpose behind water changes, but i feel that the constant changes of water quality stresses fry out, and this method prevents the primary need for water changes, that being the buildup of ammonia due to waste and decaying food. it grows enough infusoria to feed them, which is a better food source than prepared foods since uneaten portions will not contribute to ammonia buildup. i believe this method provides a more stable environment for fry, which is what i believe to be the primary reason that it has proven so successful for me.
i have determined that the algae changes its growth patterns depending on the conditions provided for it. here are my observations to date:
lighting: the brighter the light, the thicker the individual strands of the hair algae are. the type of light seems to have a difference as well. blue light, as which is produced by blue LED grow panels(455nm) produces the fastest growth but leads to thin strands. light high in UV, as produced by 10 UVB reptile bulbs, produces thicker strands that are of a much deeper, darker color.
current: current seems to have the most dramatic affect on the algae. if it is placed in a tank and given very little current, it will usually begin to pearl and will float, eventually forming a floating mat of thin strands, which sometimes forms a thin layer of cyano on top. if it is given very light current, as is produced by an air stone, it will not be able to pearl and will tumble around, forming a large fluffy ball of algae consisting of soft, long, thin strands. if it is anchored and exposed to very strong current, as from a powerhead aimed directly at it, it will form a very dense mat consisting of very thick strands. in this instance, it produces a consistency not unlike that of coarse wool fabric.
if the algae is given very strong light high in UV, very strong current, and is anchored to a piece of driftwood or another suitable object, it produces the most attractive visual affect. in this case it grows like a dense moss with very fine leaves.
anyway, here are some pictures: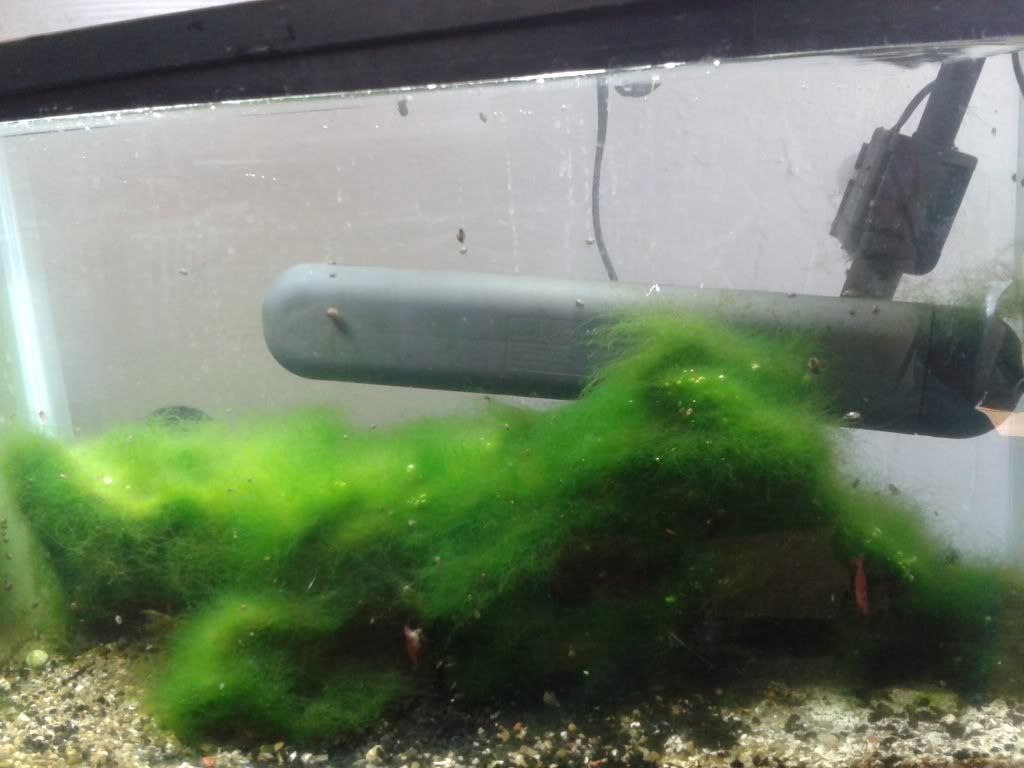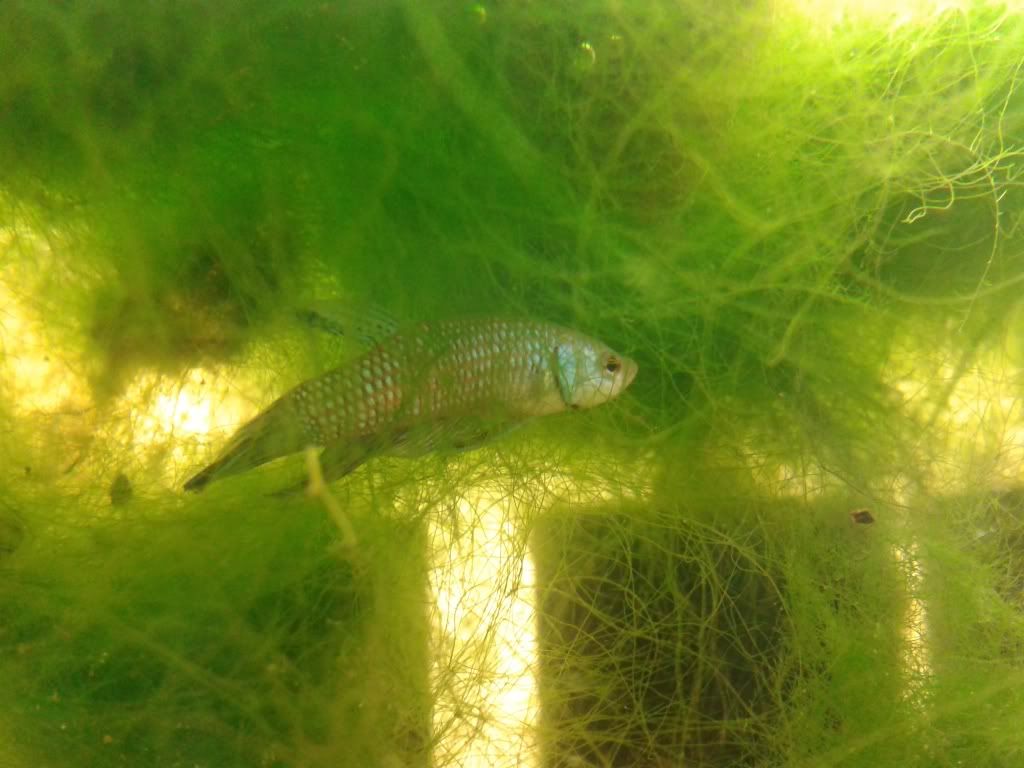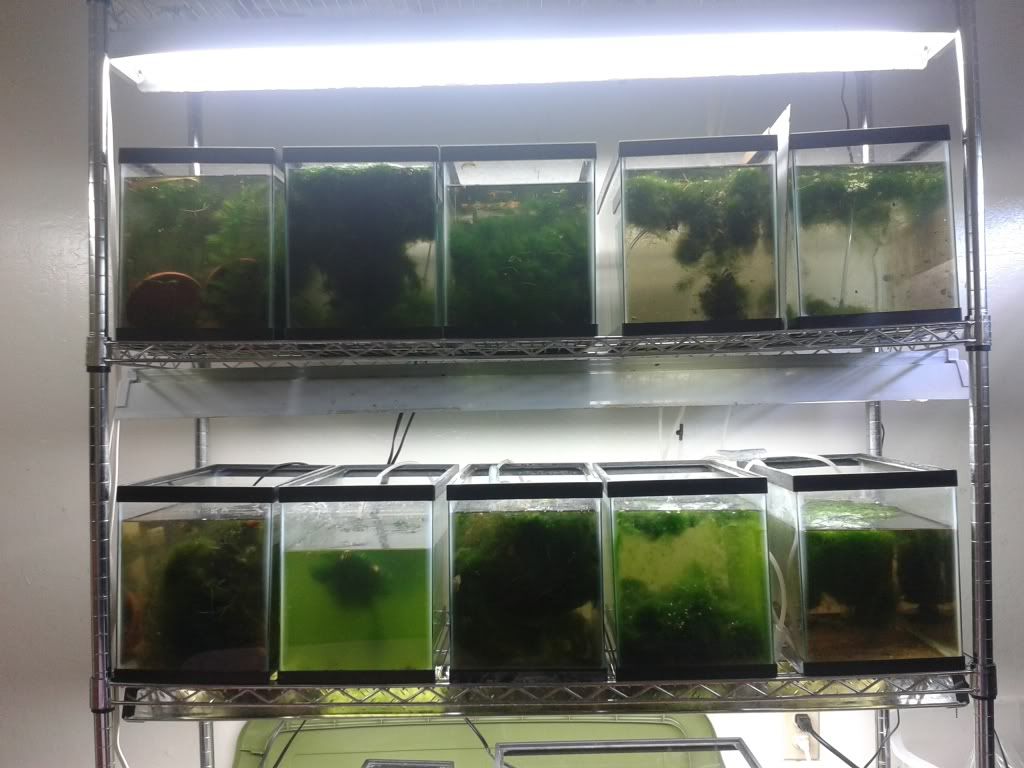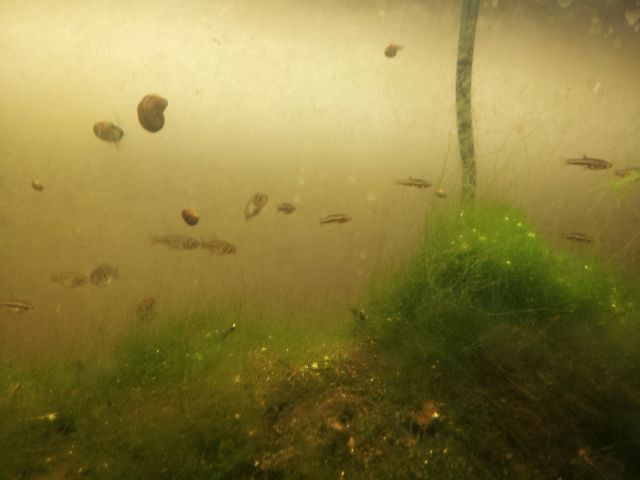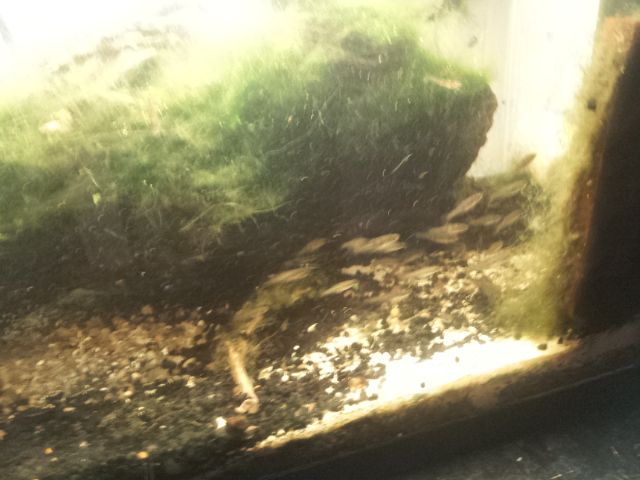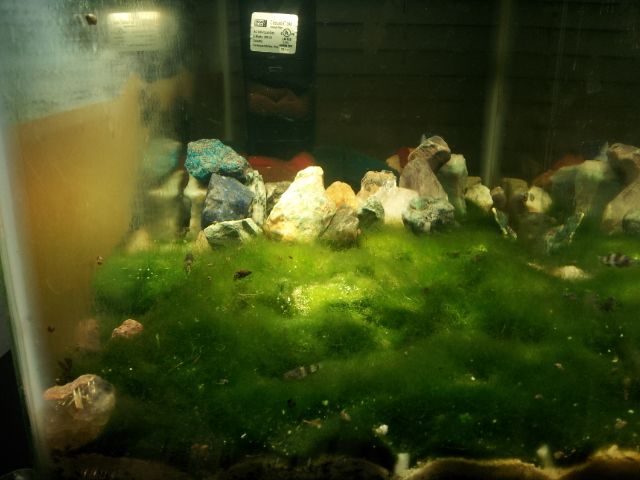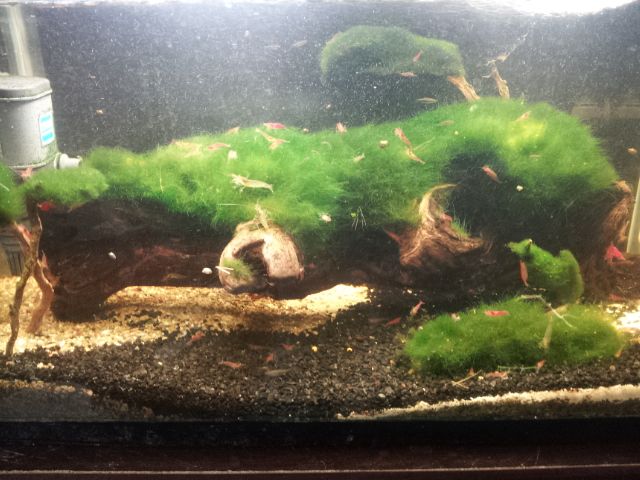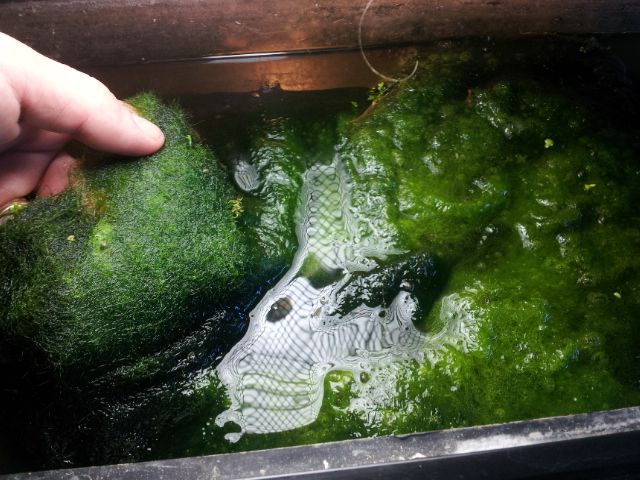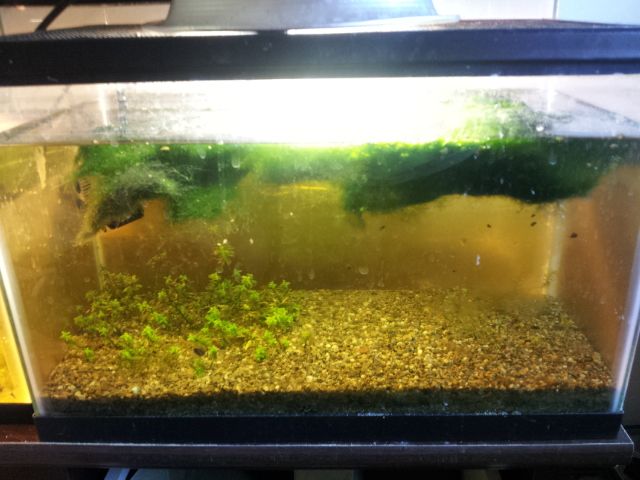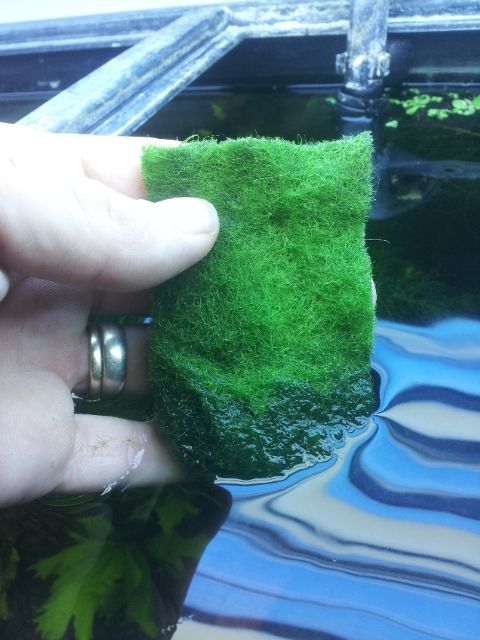 Thank so much for the algae. At this time I do not have any fry to keep with it my rams have not spawned recently. Do you think that BN pleco fry would benefit from it, I will have some BN pleco fry here in a couple of days or so. Right now I have three cherry shrimp in with it, one female is berried. Thought it would work for shrimp to. Will keep everybody updated as to how this works.
---
I used to keep an open mind but my brains kept falling out.
im not really sure about how it will work for BN fry... do they eat live foods when they are young, or do they eat only vegetable matter? i think the latter... never bred them myself.

they may be able to eat some from the algae...
i think its primary benefit for BN fry would be in its ability to help keep ammonia down. it would probably make it harder to over feed them, and if thats the case, im sure you can take care of the rest with prepared foods.
oh, and it certainly does work with cherry shrimp.
Algae Grower
Join Date: Feb 2013
Location: Nova
Posts: 109
im the lucky receipient of this RAOK and i will start by asking (more) questions as i have endless possibilities:

the arrived algae was in matted form - very thick. and googling verified that this is very good at nitrate removal. i am still a bit confused on how this is more invasive than something like duckweed as it is tightly bunched together. is the algae also microscopic beyond the "bunch" that we see?

as a second test (my first was to place it with eggs and hopefully soon-to-be small frys) i was thinking of putting it in a small refugium on my primary tank oscar tank. this tank is in the basement - if i dont put on light it is perpetual darkness (not pitch black darkness). so *if* things go wrong would i just keep the light off for a week and things go away [thoughts/confirmation please]? i figure placing the algae in the refugium and then putting floss on the output side of the refugium should filter and bunched algae that escapes [unless they are also microscopic]?

does anyone know the answers to these questions - otherwise i would have to try to find out the answer myself.
any piece of the algae that breaks off can turn into a new strand of algae. all it really tanks is a single cell to land on something and start growing. usually, they dont get a chance to grow if you have a balanced tank, but since this is a LOT of algae, there would be so many tiny pieces floating around that you will eventually end up with algae randomly showing up on everything the light shines on inside your tank. some people use algae as "scrubbers" to help prevent algae in places they dont want it to grow, but i have not found that philosophy to be completely without fault. my tank required daily attention to keep it algae free, even though i only found the tiniest amount every day. i had to search for it if i stayed on top of maintenance, but if i didnt, it would start to make a mess of things within a few weeks. eventually i just removed all algae from the whole system and focused on using it in algae only tanks.

if you keep the algae in a sump, you will have to put a light on it or it will die. that said, it is possible to keep a bright light on it in the sump but black out the rest of the tank, which would kill algae in the tank but not the sump. if you have any plants in your tank though, i strongly advise you not put the algae anywhere near it... yes, it will remove nitrogen, but that means it will be competing with your plants, on top of being a potential constant nuisance. a much better choice for a sump would be hornwort, which grows incredibly fast and is not likely to grow from the tiny pieces that may make it into your tank. either way, you would still need a light on the sump. plants nor algae will grow without light.
i had all this kelp lying around that i collected on a beach... i was wanting to see if it would work well with the algae i use, since it would slowly break down and release ammonia for the algae. well, it seems to work pretty well. the algae is growing real fast and dense, the overall ammonia level is unreadable, and the flag fish i tossed in a ten gallon thought the setting appropriate to start a family.
this is a pic of the eggs scattered around the algae. the brown stuff is the kelp base.
i didn't add any tannins to the water, its the kelp that has turned the water dark. its pretty cheap, and effective! this tank has an incredibly high flow, so when i looked in and saw the male beating his fins and breathing hard, i figured he was trying to fan eggs(no other reason made sense).
yep. he was.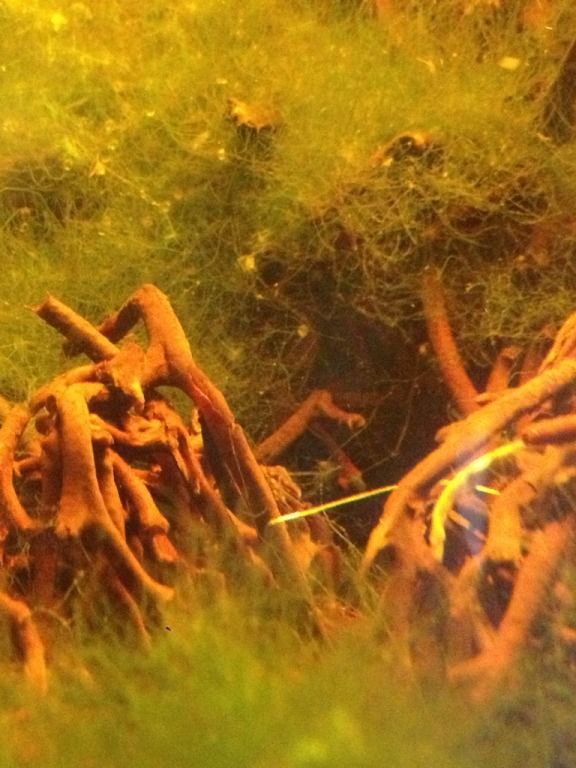 ....and i have fry.
dont worry, im not keeping them in that little cup of water. i just collected a few so i could take a pic of them. there are probably three or four times as many in the tank. i havent fed them yet, should be a good test of the algae.
anyone else have anything to report about the algae i sent off? hint hint...
I got your package! Thank you so much man! These are huge portion!
Btw what kind of algae is this again?