Planted Member
Join Date: Feb 2012
Location: Duncan, BC, Canada
Posts: 171
Algae eating fish suggestions wanted
---
I have recently finished building a tank (rescaped an existing tank actually) and now that I am finished I have come to realize that I will never be able to reach all the glass to clean it.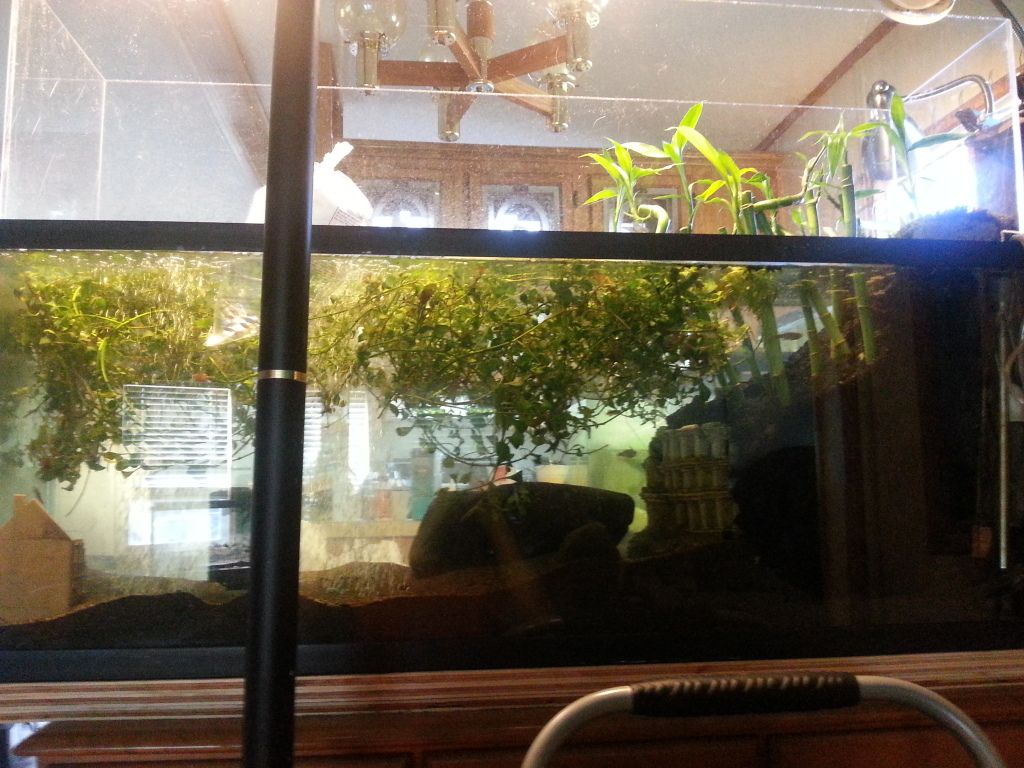 I have added plexiglas sides above the tank to contain bubble splash, plants and potentially freshwater crabs.
Currently the tank (50 gallon) houses 6 zebra danios, 20 neon tetras and uncountable red cherry shrimp. (soon to be many more shrimp as I evacuate my cracked shrimp tank). For plants it has 10 lucky bamboo and a major pile of some viney plant that was growing out of anther tank. It started submerged, grew out of the tank and I have simply thrown a monster pile of cuttings into this tank. the plant appears to be fine and it reverting back to a submergered state. The one end of the tank has black lava rock and black aquarium stone as a cap, while the other end of the tank is sand and bubbles.
For future inhabitants I may like to find another tiny shoaling fish that won't just join one of the other schools.
Back to the problem at hand: What fish might be most appropriate for keeping the lower unreachable glass areas clear of algae?
A few of the more convenient to aquire fish that are found at my local lfs include Oto's, bristlenose pleco and rubber lipped pleco. They have other plecos but these are as large as I would be willing to go.
Does anyone have any pros, cons or other suggestions that they would like to share?
I would go with the Otos and you could get quite a few, say like 6-8 to take care of the algae. they stay relatively small and kinda shoal together. They will get into a tighter space than the plecos will. Another option would be possibly some nerites or ramshorn snails, I know you said fish just thought I would suggest it.
Otos will do their best as will snails but I wouldn't count on critters to keep the glass clean. I love my bristlenose plecos but they are massive and add a lot to the biomass of the tank, otos are likely a better fit. There are long handled glass scrapers you can buy, that might help. I get on top of a stepladder when my 24" deep tank panes need wiping down. Very glad that doesn't happen too often!
+1 for Otos, great little cleaning fish, you need at least 5 they are schooling fish and get nervous/skittish in low numbers
---
30 l juwel vio, fluval 206 external filter, DIY co2, 50w heater.
Black sand, moomin and bog wood, granite rocks
Fauna: 14 cardinal tetras, 5 boesemani corydoras, 3 otocinculus, bee shrimp, 2 assassin snails (some pond snails for the assassins)
Flora: vallisinaria, have moss, flame moss, mini pellia, fissidens fontanus, Pygmy chain sword, dwarf hair grass, golden anubia, bonsai Anubias and some algae (!)
I love my Siamese algae eater but there is one problem with letting any fish do the cleaning. They don't do organized work and it often winds up looking like kids have been doing finger art on the glass!
With my Nerite snails, I never have to clean the glass. The Olive Nerites are the most effecient.
Planted Member
Join Date: Aug 2012
Location: Ann Arbor, MI USA
Posts: 284
I agree with all of the above suggestions. Clean up crew can never be too large in my opinion. I personally love BN plecs btw some of my favorite fish and they stay much smaller than common plecs. Very cool if you can get a breeding pairas well.
Would also recommend a magfloat for hard to reach spots.
Planted Member
Join Date: Feb 2012
Location: Duncan, BC, Canada
Posts: 171
I could only find 4 otos within an hour driving distance of my house, so I bought them. I'll buy a few more if/when I find them.
Also, I couldn't resist the charm of a teeny tiny baby Bristlenose, so I brought one of them home too. It's just barely bigger than my neon tetras.
I have 2 ottos and a nerite that doesnt move hardly at all. I think it is still alive. My ottos hang out on one of the new ferns I put in. I would go with the ottos and a mag float.
Planted Member
Join Date: Jul 2012
Location: Southwestern Connecticut, USA
Posts: 152
I tend to go with a "shotgun" approach to algae cleanup - in my 75, the following algae eating organisms share the duties (In the order I happen to think of them):

3 Siamese Algae Eaters
1 Olive and 2 Tiger Nerite Snails
3 Rubber Lip Plecos (The dark grey ones with the white star-like dots)
6-8 Otocinclus
Gobs of Ramshorn Snails
6-8 Amano Shrimp
2 Bushy Nose Plecos - 1 Normal, 1 Albino
Enough Malaysian Trumpet Snails to sometimes make the gravel look like it's alive.

There are also glass and bamboo shrimp, a cory sterbai and a few old pond snails helping remove hidden stuff.

I've so far had _very_ little algae - most of which is Green Spot on some of the leaves, with a bit of Green Dust on the glass.

It works for me.

~Bruce