Mexican Cenote Tetra - ID? - Photo Attached
---
Just got back from Mexico. While diving in the cenotes (fresh-water caves) I saw many of these little buggers - actually, they were pretty much the entire food-web
. Any idea what they are? They look familiar to me.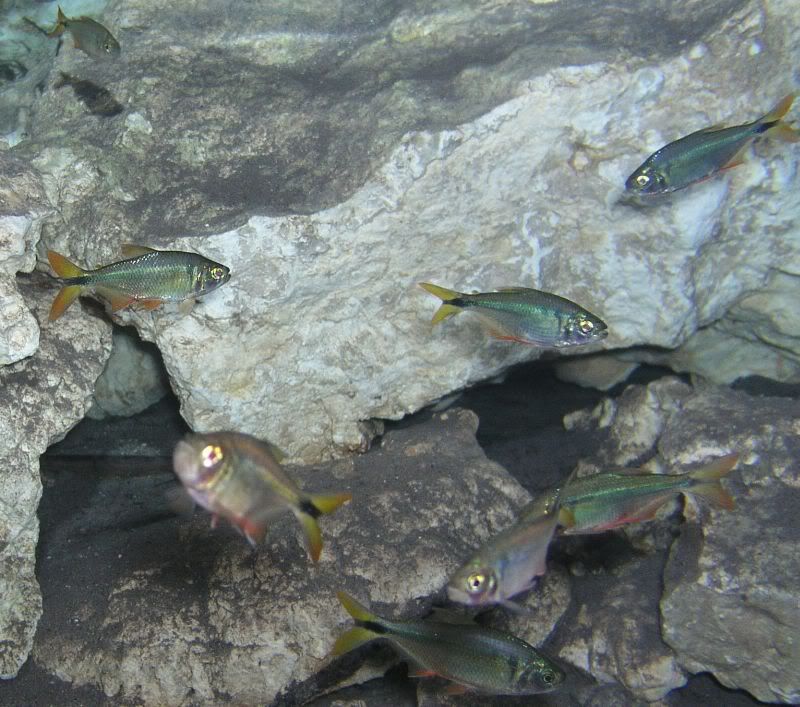 Quote:
Originally Posted by John P.
Is that your picture? Great one if it is. Where exactly did you visit?
Yep, that's my photo. Only took about 25 shots to get a good one
. They never hold still long enough for auto focus. Best to just set it to manual focus (about 12-18 inches), and hope you get lucky.
I was at Dos Ojos (two eyes) cenote - located about 20 min south of playa del carman.
Planted Tank VIP
Join Date: Oct 2002
Location: Lebanon, CT
Posts: 4,939
They sure are a pretty fish, a tank full of those would be a show I bet.
Oh yes very! Someone should look into keeping requirements and breeding
---
Eheim Pimp #171
55 gallon jungle in progress
; Eheim 2217, TurboTwist UVS, Seachem Onyx / Black T-grade ColorQuartz, 2x55w AHS CF, BeverageFactory.com CO2 Regulator with Clippard accessories
"If you ask me, you've got too much imagination. Everything's all loop-de-loops and flibbertigibbets." - Hank Hill
Planted Tank Enthusiast
Join Date: Feb 2004
Location: grapevine, tx
Posts: 539
they look like buenos aires tetras to me as well. perhaps the better colors come from some food supply that your average lfs doeesn't have??
i love those fish, but i rarely see them here.
---
He who dares to teach must never cease to learn.
30 gallon tall, pressurized CO2...killer lights
50 gallon long, killer filtration, low tech otherwise