Algae Grower
Join Date: Aug 2009
Location: New Jersey
Posts: 37
MTS - tank setup idea
---
Fall MTS is kicking in, soon it will be cabin fever weather. A thought popped in my head and I haven't found much in the way of DIY or WIP threads to base it off of. I'm not even sure how phrase it for searching.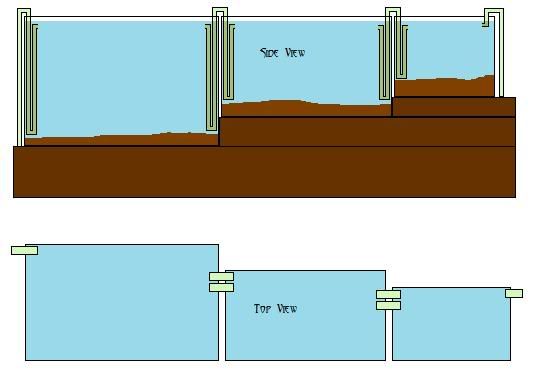 Multiple tanks plumbed in series, or tiered tanks of different sizes. As long as the tops are level, there should be no overflow due to gravity. Using one canister filter which can support more than the sum of the tanks volumes. This way I'd save on equipment but be able to keep species separate tanks, or a breeder a grow-out and fry tank...many uses!
I'm trying to understand the pros and cons before I bury myself too deep in this:
Pros:
Simplified water changes, essentially acts as one tank
Can sit the tanks caddy corner or line them in an arch to fit in a corner space
keep otherwise incompatible species separate, or keep strains of species separate (bee & CRS & snowball shrimp...bettas, tetras and slow moving long finned fish...etc)
Ability to temporarily isolate a tank if re-scaping by moving hoses around.
If you have one long higher wattage shop light, you can light all tanks at once rather than having to buy individual lights.
Can keep multiple completely different tank scapes, substrates and plant species separate but on the same support equipment.
Technically a larger water buffer from having more volume in circulation. Think of it like a wet/dry sump to an already existing setup.
Cons:
All for one and one for all...parasites/disease & algae & ammonia spikes & fert overdosing mistakes, etc.
could pose a problem with poor water flow
The little stuff:
The inflow and outflow pipes at the end of the circuit should have less total flow than the inter-tank pipes. Just use 2+ of the same diameter pipe and it should prevent tank overflow from restriction.
water level of all tanks should be identical to prevent gravity causing a tank overflow.
An overflow pipe between tanks may be overkill, maybe just a loop between with a check valve?
Maybe it would be better to T off the intake and outflow of the canister to each tank and put a tube between tanks just in case flow is not identical between them. You wouldn't want one running dry because of flow differences.
Any ideas/c&c appreciated.
Planted Tank Guru
Join Date: Dec 2005
Location: Sacramento, CA
Posts: 21,015
I'm using an overflow/siphon system somewhat like this to regulate the water level in my riparium and to make water changes easy. The important thing I have noticed is that the flow through a siphon tube when the ends are nearly the same height - very low head difference - the flow is also very low. But, if you are adding flow at a steady rate, that makes the water level rise a lot in the tank. In my case, with the very low water level it doesn't matter, but with the water up close to the top of the tank you would have serious overflow problems. You could manage this by having what looks like much too large a diameter siphon tubes. But to keep up with a cannister filter, giving you 200 gallons per hour, for example, would be very difficult. End result - it probably won't work.

If you were to drill the tanks, at the same level from the top of the tank, but below the desired water level, you could get around this problem by using 2 inch diameter interconnecting pipes. That would take away the flexibility you would have with the siphons though.
reminds me of petsmart's old systems. lol...
Quote:
If you were to drill the tanks, at the same level from the top of the tank, but below the desired water level, you could get around this problem by using 2 inch diameter interconnecting pipes.
+1
---
"Some of the worst things imaginable have been done with the best intentions." - Jurassic Park
more Pros: 1 Large mass of water, which adds more flexibility to water quality.
: You can swich fish/shrimp around without having to worry about their
adjustment to ph/temp.

another Con: all inhabitants must have the same pH, and temp needs.
---
2.5 Planted Nano Puffer Tank
Crims 5.5 Planted Nano
20 Long Community
Algae Grower
Join Date: May 2007
Location: Salt Lake City, UT
Posts: 130
Basically what you're talking about here is water bridges, which are possible and work just fine. I did it on a pair of 10 gallons with an XP2 a few years ago using 2 or 3 inch pvc pipe to help the siphon between the tanks and it worked fine. I'll post pictures later when I get more time, but research water bridge and I think you'll find what you're looking for as far as information goes.
EDIT: Here are the pics.