Ideas/Planning for Sump
---
Hola amigos! My newest major fish project will hopefully be a sump for my 55 gallon African Cichlid tank. I want the extra volume and footprint to hopefully get some plants growing and to provide space for fry (wishfully thinking).
I have a few things I want to test out with my sump. First, I'd like to try a fluidized bed. I've read and researched them a bit and want to experience them for myself. I also have some media that would go great with a drip system.
I sketched out a few designs. Any suggestions or mistakes you can point out would be greatly appreciated.
Here's the first design.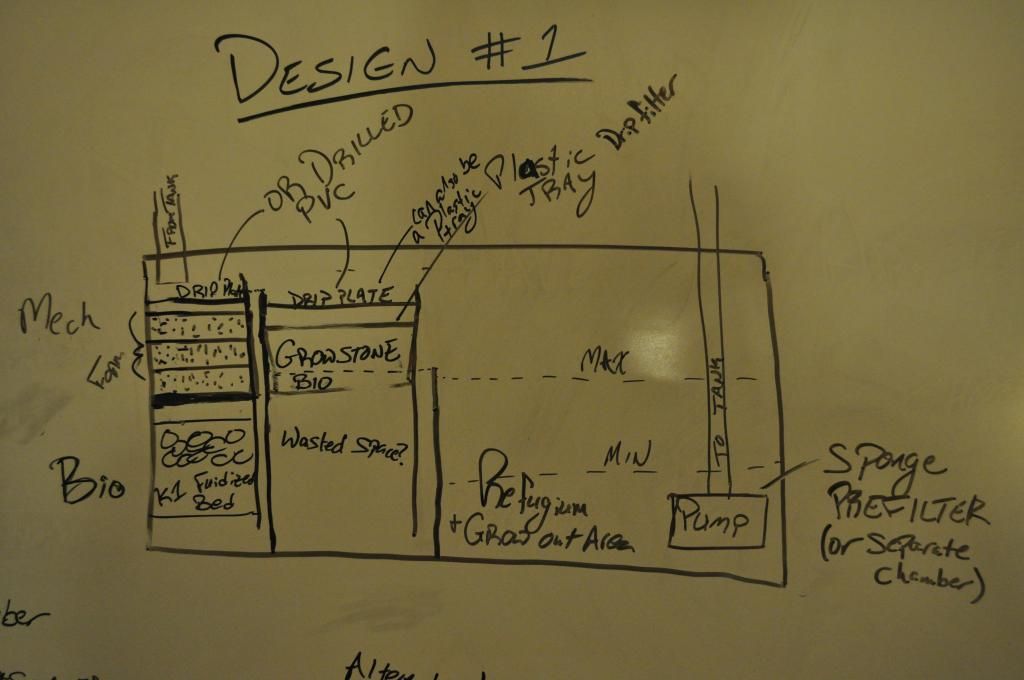 This design has everything within the 20L tank. First step is a few layers of mechanical filtration from some sponge pads. I can build either a trickle tray (or get a small plastic bin and drill it) or use PVC. Below that stage will be a fluidized bed filter using Kaldnes K1. The water will fill up to the top on the next stage where it will trickle down onto some porous media (Growstones). Lastly we have the refugium.
An alternate design would use some of the space below the Growstones chamber but would not allow for the area to be planted in the refugium.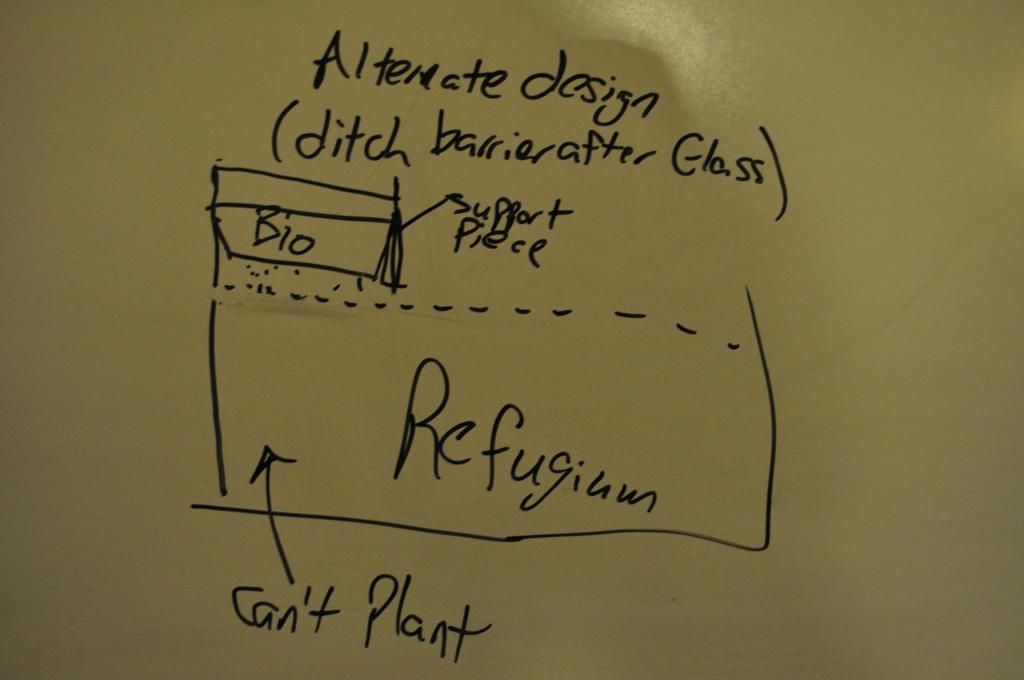 I was planning on putting the return pump at the end of the refugium with a prefilter but here's an alternate design. It will have less of a min/max water level difference but will prevent air bubbles and debris from clogging the pump.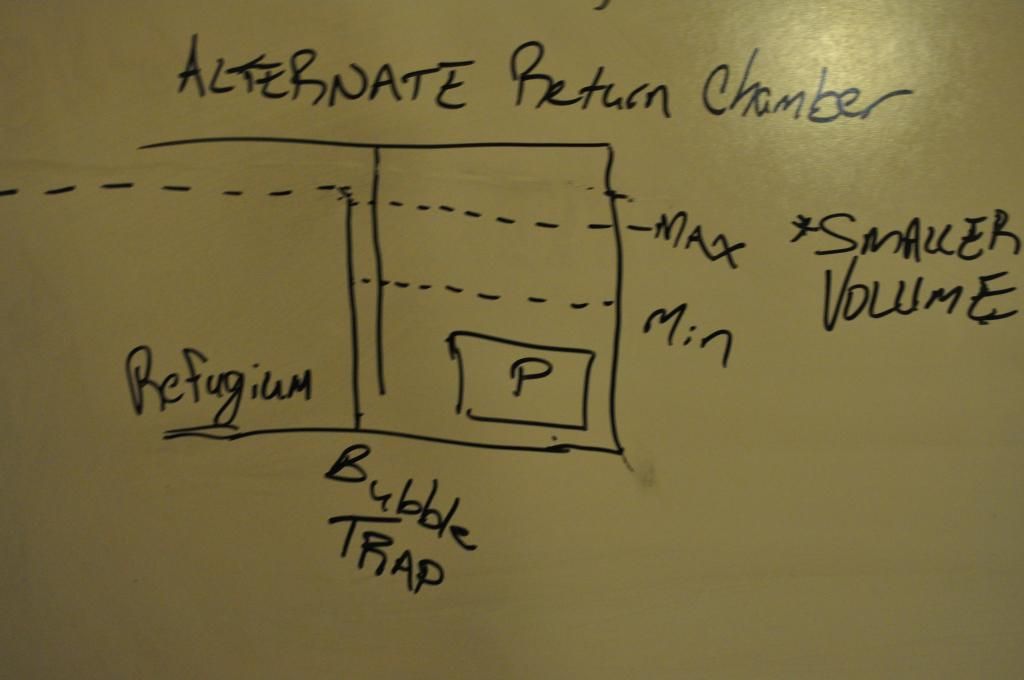 The second design (current favorite) uses more of the 20L tank. It starts off with a plastic pencil drawer piece with some sponges for mechanical filtration followed by the Growstones bio filtration from a drip. The water then enters the fluidized bed section(s). The overflow pours into the refugium before being pumped back into the tank.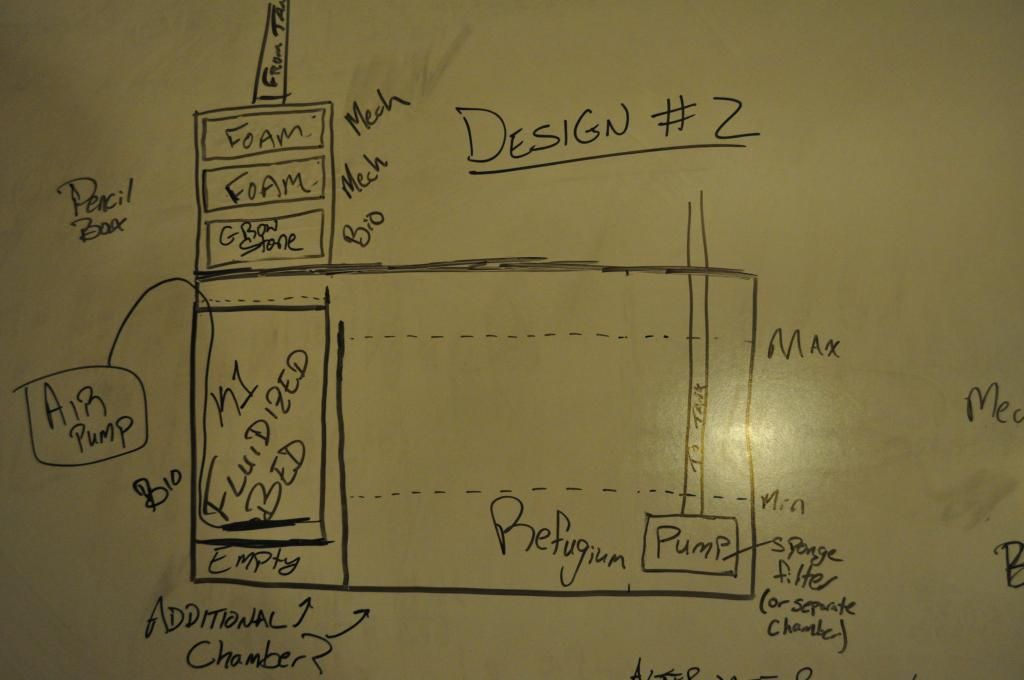 Hopefully the pictures are relatively clear. The dotted lines are anzhats on water levels.
I have not committed to a pump yet but I believe I want something in the 700gph range. The system will have about 4' of head from the sump to the top of the tank so the gph will be cut down a bit. I will still be running a canister filter on the tank so the sump will be an addition to the current filtration. I want this to be overkill.
Algae Grower
Join Date: Aug 2013
Location: Maryland
Posts: 21
Looks like a nice plan, But I would take design 1 and make that first section the mechanical filtering stage with your growstone as a bio section at the bottom, and then overflow into your fluid bed (K1 with the air pump) and then overflow into the Fuge area. Be carefull of what you add to the Fuge as there is nothing to keep floating debris (plant leaves, fry and such) from getting to your pump.
And possibly plan on a totally separate nusery tank in the event of fry.
Are we talking bout 20 gal long tank or 20 litres for sump?
I would want something like 30 gal myself for sump.
20L is a 20 Long. I should have been more specific.


The reason the growstones (biological filtration) section is after the K1 is because I want to drip over it. If I place the growstones right after the mechanical filtration on this setup then I could only raise the water level a little bit. Now instead I could do an entire column of mechanical filtration and then drip over to the Growstones (must have access to air). Below that would be the K1 and then overflow into the Refugium. That may be a possibility.

I like Design 2 because I have much more room to use as the refugium. It may be a bit unwieldy with the tower but it does save space within the 20L
Here's an update. I also put together a Design #3 which is just a slightly modified version of #2.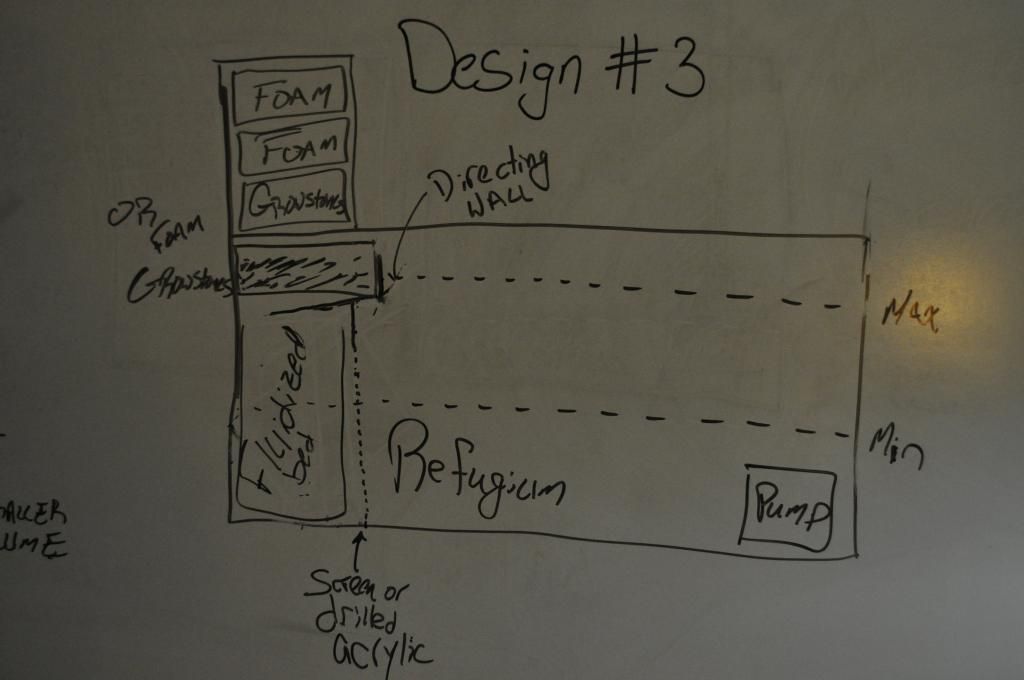 Also, I think I've decided on a pump. I'm liking the 700gph Mag Drive. With few feet of head in my system it won't be 700 gph but that should be more than enough for my system.
http://www.drsfostersmith.com/produc...tid=4590&r=488
Now the next debate is the overflow size. I'm trying to decide between 1" and 1.5". The reef central suggestion for minimum overflow size at 700 gph is 1.09". So with the head height 1" should be adequate. I'd like to go with the larger size for safety but I don't want noise to be amplified.
Thinking...thinking...
Planted Tank Enthusiast
Join Date: Jun 2012
Location: Oshawa
Posts: 750
Depends on what you do (I did BeanAnimal-type), but be careful of oversizing your drains. 700GPH (net) through a 1.5" primary siphon doesn't work properly (in my experience).