Great Stuff Rock Wall
---
I am thinking of making background and maybe a rock wall to make a raised planting area but this my first time working with it so I have a couple questions.

1) What type of paint is safe to use?
2) I am terrible at anything artsy so carving a rock design is out of the question. If I just press some river rocks into the stuff while it is still soft, will they stay, or will they just fall out after the stuff dries?
---
~Tomorrow is never promised~
Planted Tank Enthusiast
Join Date: Jul 2012
Location: alamo, CA
Posts: 624
You can get a 3d background online for really cheap. Imo its not worth the effort to make it yourself.
Sent from
Petguide.com Free App
I've had pretty good results by using epoxy mixed with sand, and just coating foam with that.

I'm not terribly artistic either, so I try to rely on randomness or natural patterns as opposed to making a design myself.

One method that worked fairly well (but was a bit messy) was to break sheets of stryofoam, stack them like rock layers, and then do an epoxy/sand coating.

You might want to take a look over at dendroboards. I haven't checked in over there recently, but it seems like there are almost always a couple people building vivs and backdrops and such out of foam, great stuff, silicone, epoxy, drylock, etc.

I'm not sure about sticking the rocks in, if you do it quickly they will probably stick, but if you wait too long, the foam might develop a 'skin' and not adhere as well. If the rocks are rough/porous that will probably help, as will putting them on the foam somewhat damp (the polyurethane foams (great stuff, gorilla glue, etc.) use water to foam and cure).
What kind of epoxy? I am looking for a darker color like a medium-dark grey or dark brown.
---
~Tomorrow is never promised~
I've just used the stuff that you can buy in the varnish/stain section of the hardware store. typically advertised as being "equal to 50 coats of varnish", and primarily used for making table/bar/counter tops with coins, trinkets, etc. embedded in them. Can also find the same stuff in craft stores where the keep the mold/sculpture stuff, but I think it's slightly more expensive.

If you are doing a really large amount, it will probably be cheaper to get the gallon-sized jugs from west systems or u.s. plastics or something, but you shouldn't need that much short of a small zoo exhibit.

It's generally pretty clear, but I imagine you could mix in some tinting compounds, however I just used mine mixed up with sand. I'm also not sure which tinting compounds should be used, what would be safe, etc. I think I remember reading about someone using chinchilla dust before, but can't remember who/where, or if they actually used it, or were just considering it (super fine powdery stuff), or how expensive it was.

If nothing else you could prep it however you like, and then just paint a thin layer of straight epoxy over it to seal it.
Algae Grower
Join Date: Dec 2011
Location: Hastings, MN
Posts: 51
I was in the exact same boat as you with my new 46 gallon bowfront. I wanted a nice rock background, but didn't have the skill to carve one myself. Here is what I tried: Use slate tile and adhere them to the back of the tank with silicone. I bought very inexpensive slate floor tile, dropped it on the cement patio, and then placed the fragments on the back of the tank in a mosaic. I then filled in the "grout" with mesh for moss. The result was stunning, and the project cost me $13! Plus- no artsy skills required, just some time playing with the pieces before they are adhered. As a bonus you end up with extra slate for caves and such!
Here is my background before the moss grid was added and the tank was filled: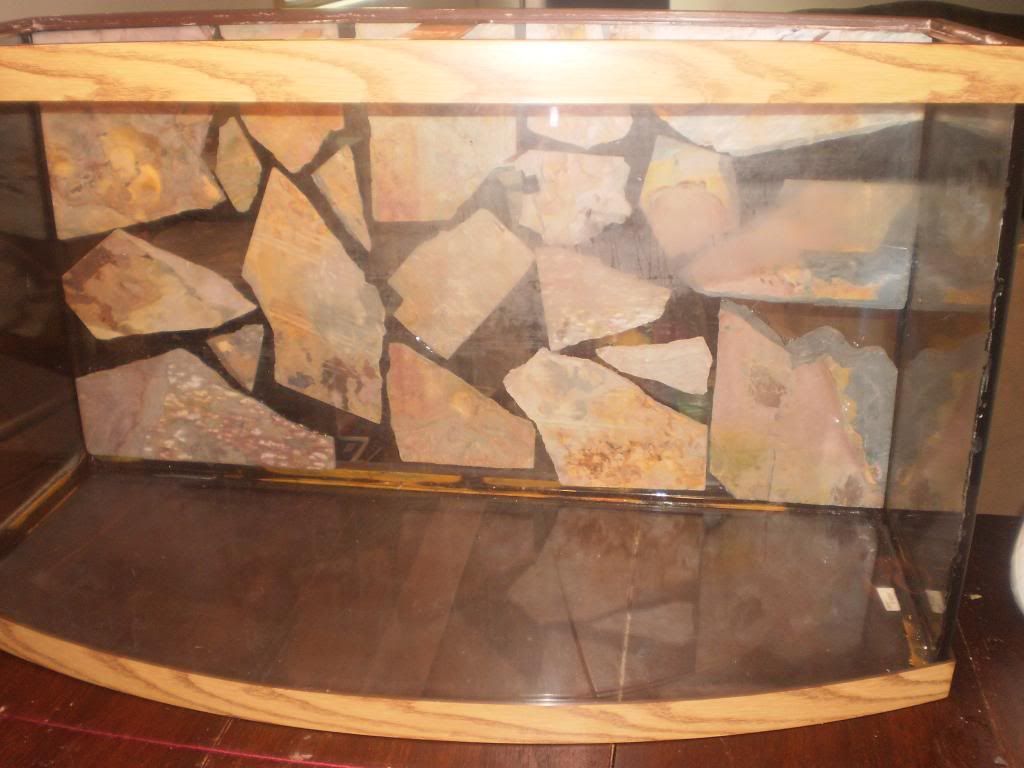 Planted Member
Join Date: Mar 2009
Location: NYC
Posts: 210
Some things to consider:

Greatstuff won't stick to glass very well over the long term by itself, so it's better to first silicone come eggcrate onto the back wall before spraying on the greatstuff to give it something better to adhere to.

Rather than pressing rocks into the greatstuff, I think it's better to lay the tank on its back, place the rocks first and then spray the greatstuff around them and leave it alone till it's fully cured. Even better if the rocks are supported by some other structure (e.g. more eggcrate) so the greatstuff isn't doing all the work of supporting their weight when you turn the tank right side up again (I guess I don't know what size rocks you're planning on trying this with).

GreatStuff will expand and contract somewhat even after it's cured so you risk cracking a brittle coating.

I like using tinted drylok to paint background but I guess this requires some artsy skill to make it look good. Epoxy with a sand coating is a little expensive but works quite well.
Algae Grower
Join Date: Aug 2013
Location: California
Posts: 27
I just did a tank using Touch n Foam. I added driftwood and a little bit of rock to the background. Use either silicone or egg crate to keep the background attached. The tank isn't up and running yet so I can't vouch for longevity of this tank's background (I have another that is over 6yrs and still running), but it should work fine long as you prep the tank.
Gorilla Glue!
---
I have used gorilla glue over and over. I had a raised bed built from clay pot pieces glued together and then i stacked rock in front of that. Never had a problem with fish or plants.
FYI (Gorilla Glue is non-toxic once it dries.)
Planted Tank Enthusiast
Join Date: Jul 2013
Location: Kaneohe, Hawaii
Posts: 548
Quote:
I have used gorilla glue over and over. I had a raised bed built from clay pot pieces glued together and then i stacked rock in front of that. Never had a problem with fish or plants.
FYI (Gorilla Glue is non-toxic once it dries.)
Gorilla glue makes a couple of different glues. Are you talking about the polyurethane glue? The one that foams?
Yes, the one that foams. I believe it is the original one.
Planted Member
Join Date: Jul 2010
Location: Auburn, AL
Posts: 172
Try this method:
Styrene sheets used for insulation at home improvement stores (super cheap)
Cut to tank size
Brush on acetone in random fashion (acetone eats at the foam to give a rock appearance)
Cover foam with concrete
Optional step:
Seal concrete with epoxy resin
Optional step keeps your ph more stable. The concrete tends to skyrocket ph until it stabilizes, but will still be in the mid to high 7s. not dangerous for freshwater fish, but as I was keeping discus I needed my ph lower.
I had really good results with this and it can be done cheaply, but will require a bit of effort.
You can find my post here (second page shows finished background):
http://forum.simplydiscus.com/showth...5-Gallon/page2