DIY LED Fixture for 29g Planted ~ AquaStudent
---
Last year a bunch of my friends on youtube helped me win LEDGroupBuy's contest. The prize was $100 towards goodies over at the LEDGroupBuy's store.
I have been trying to put together a plan for the prize but everything didn't seem fitting. Finally, I decided to upgrade my 10g to a 29g and build the LED fixture for the 29. Here are the results.
Parts List:
1x 24" Extruded Aluminum Heatsink
2x 6 Pack of CREE XT-E "Cool White" LEDs (12 Total)
2x XT-E 60deg Optics
1x ArticAlumina Thermal Adhesive
1x 40W Inventronics 750mA driver
1x 10,000K 1/2 Watt Potentiometer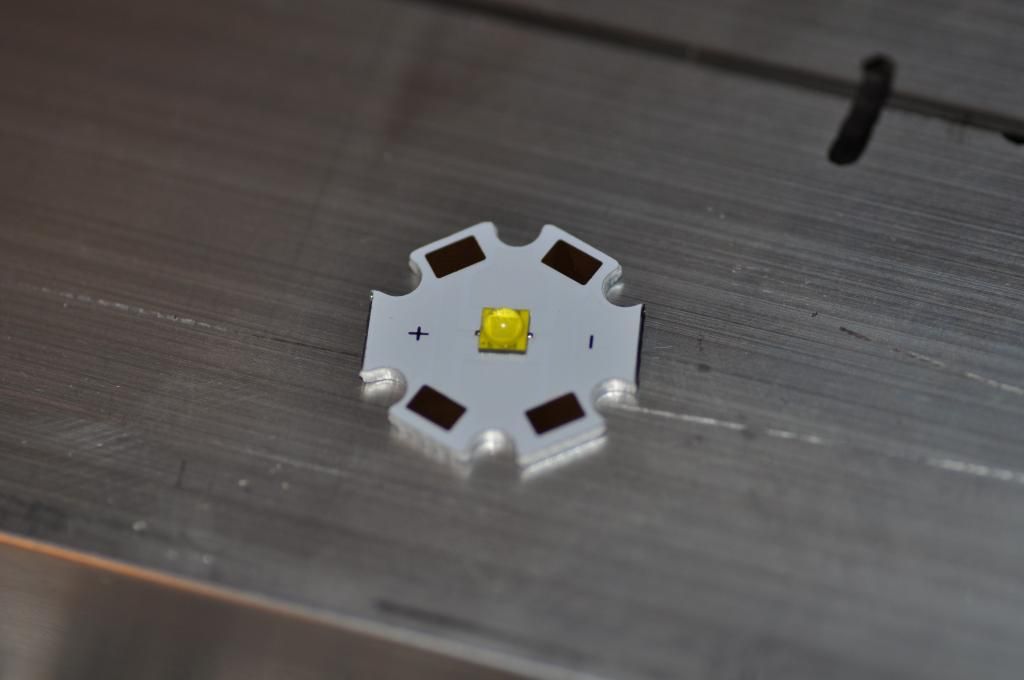 Here is the build.
First I marked off 12 spots 2" apart from each other for the LED locations.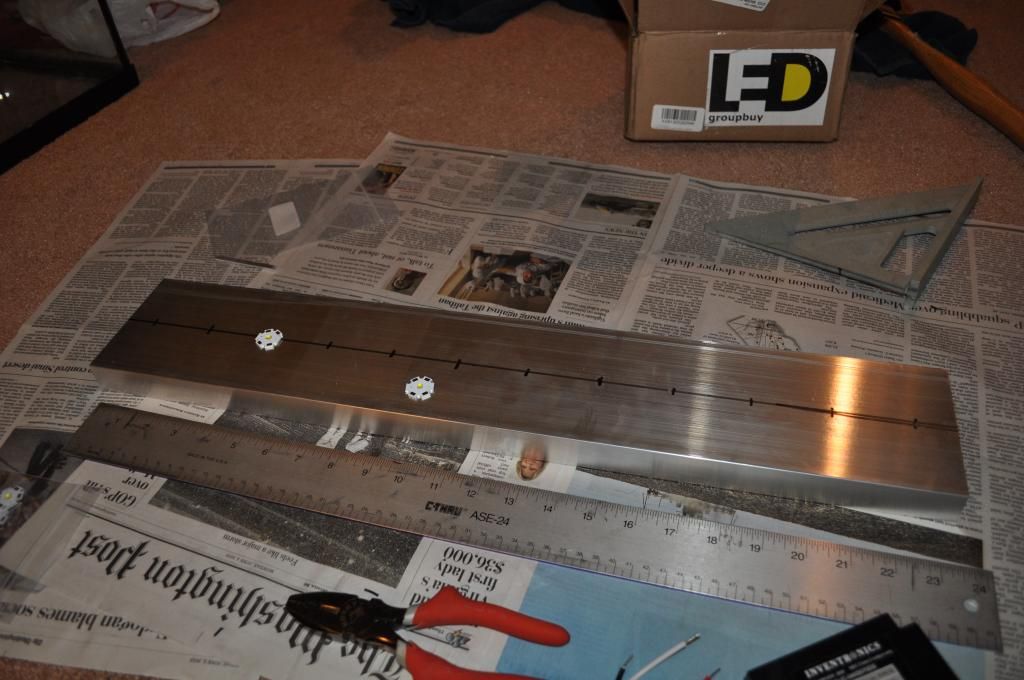 Using Artic Alumina Thermal Adhesive (this stuff does not smell good) I plastered the LEDs in place. A rubber band works well as a clamp (although I'm not sure how necessary they actually were). The negative terminals on the LED were next to the positive terminals on the following LED.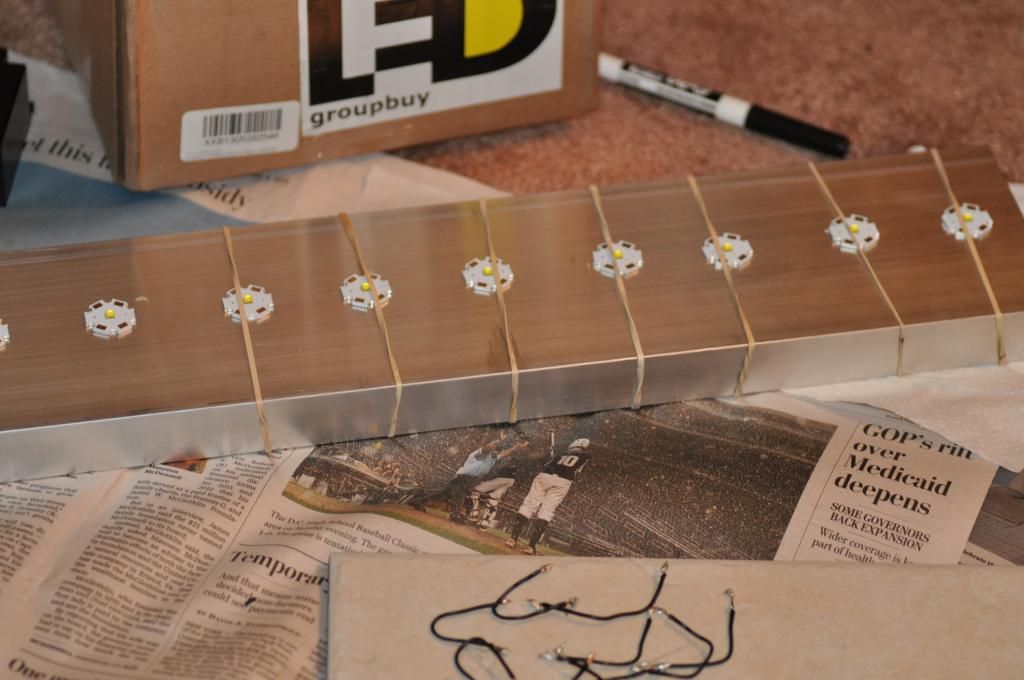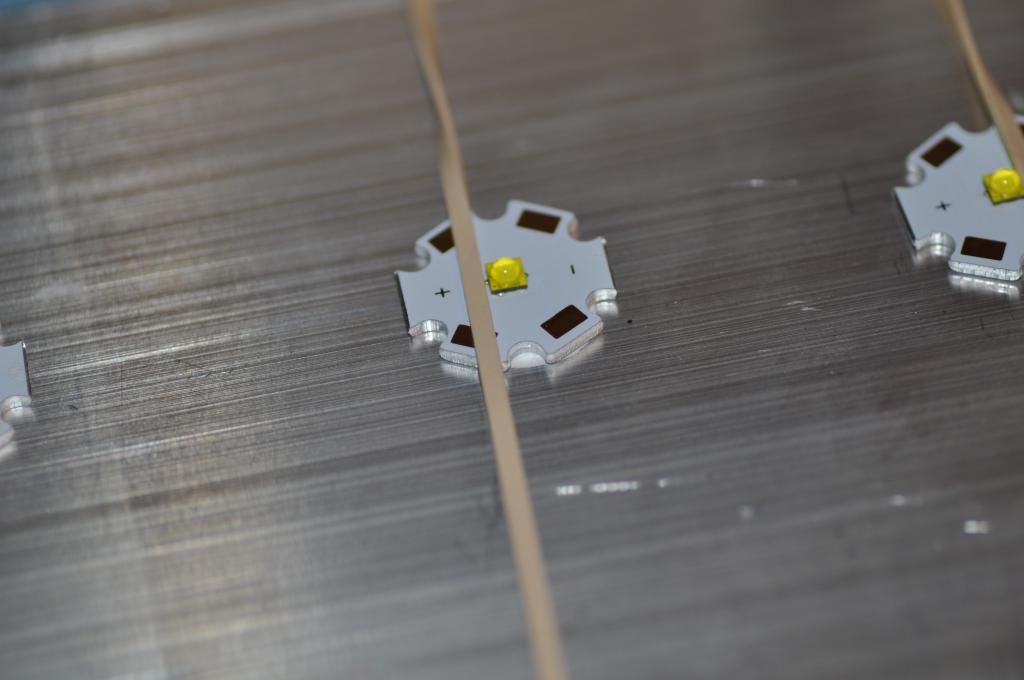 Next I wired all of the LEDs in series. Positive to negative, positive to negative. I suck at soldering so this was quite a challenging process. I ended up getting frustrated with my soldering iron (which had a fairly corroded tip) and borrowed my neighbor's soldering gun. That worked so much better!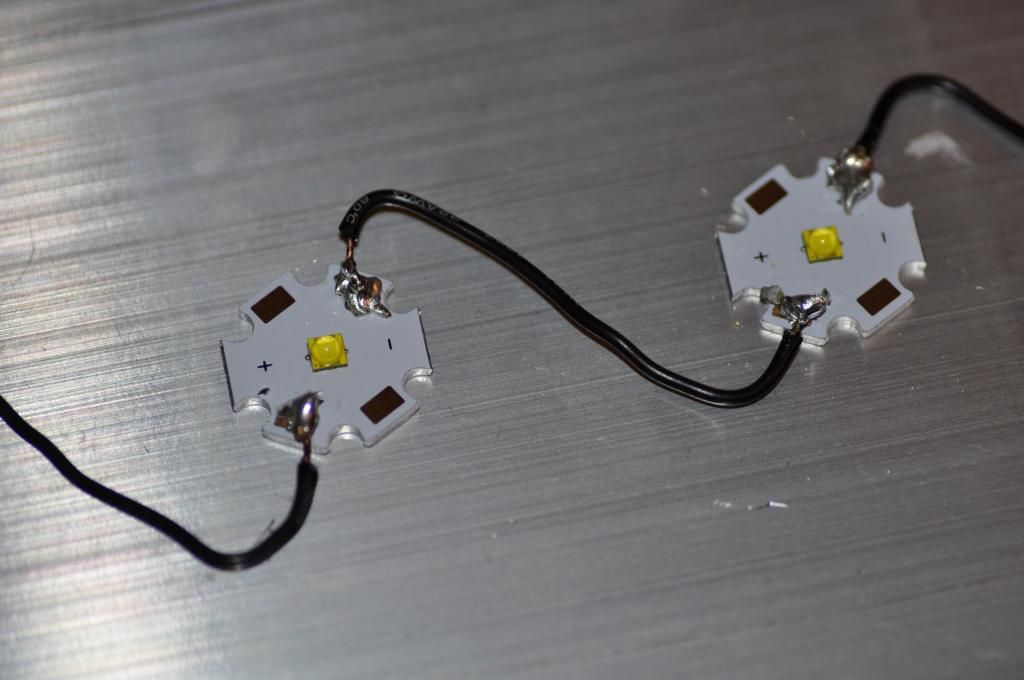 The next step was to wire in the potentiometer to the driver. That was simple enough, just solder the purple wire to the middle lead and the yellow and teal wires to the outside leads.
I wired the positive wires of the driver to the positive terminal on the first LED and the negative wire of the driver to the negative terminal. That completes the circuit. After wiring the plug into the driver it was good to go!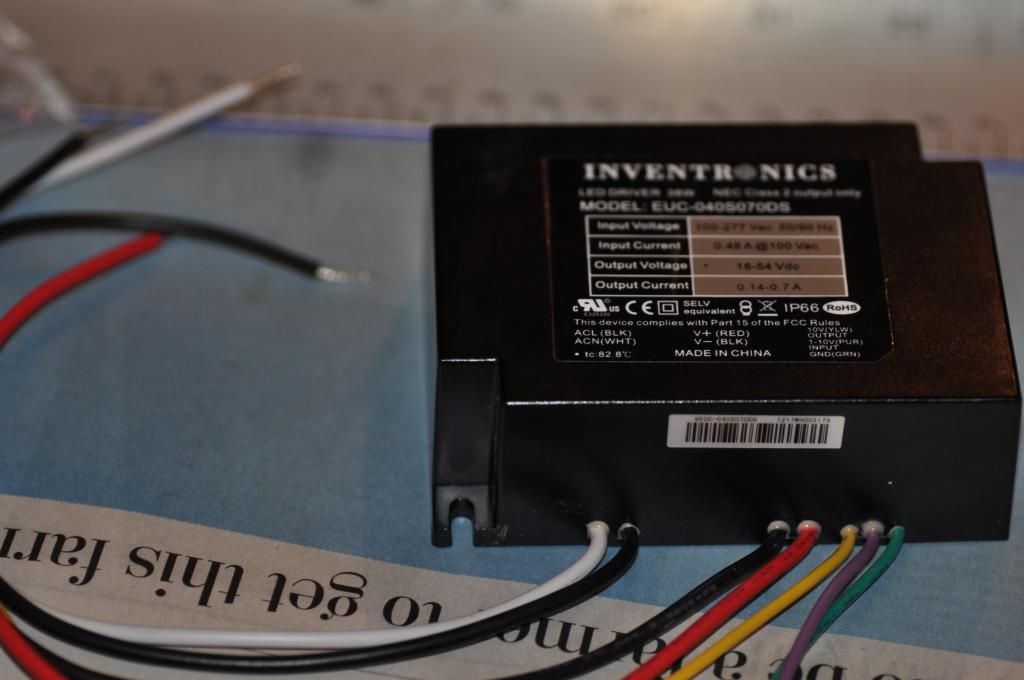 Once I knew the circuit worked I siliconed in the Optics and the electric part of the build was done!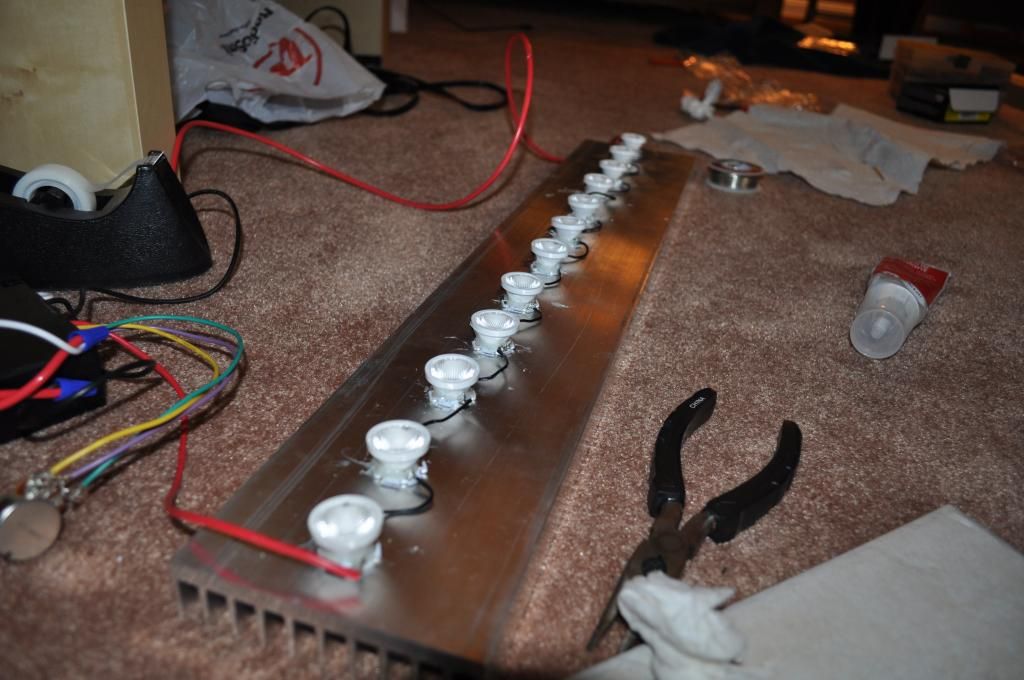 I then built a canopy to hold the light. Simple 1x6 white wood goes together pretty easily with some finishing nails. A little paint later and we're good to go!
Primer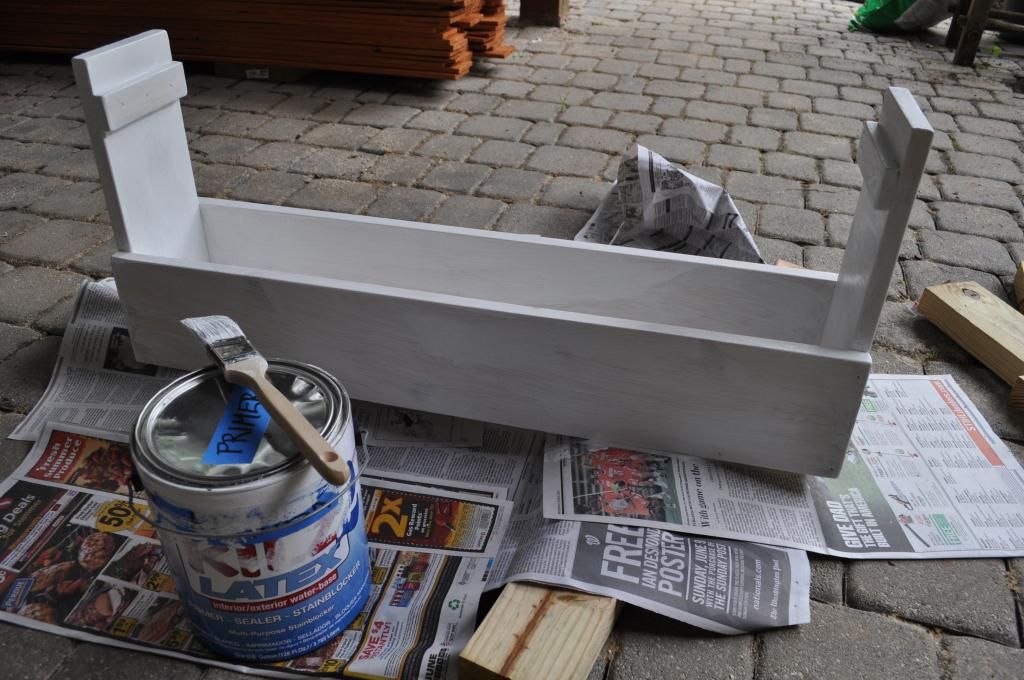 Black Gloss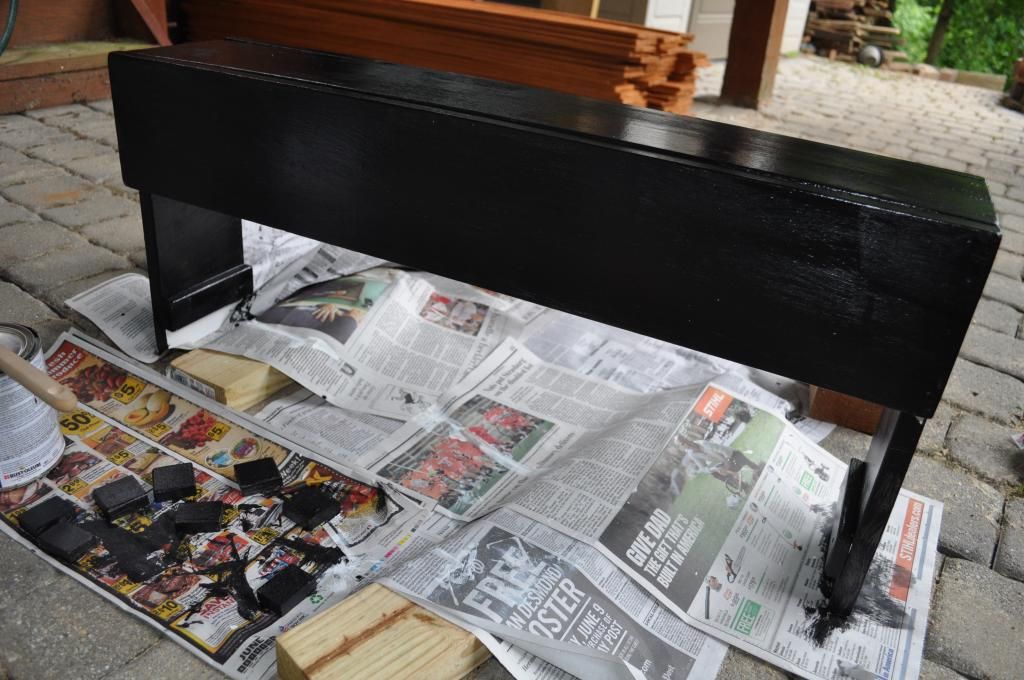 Before (10 Gallon Tank, not much room to grow)
After (29 Gallon):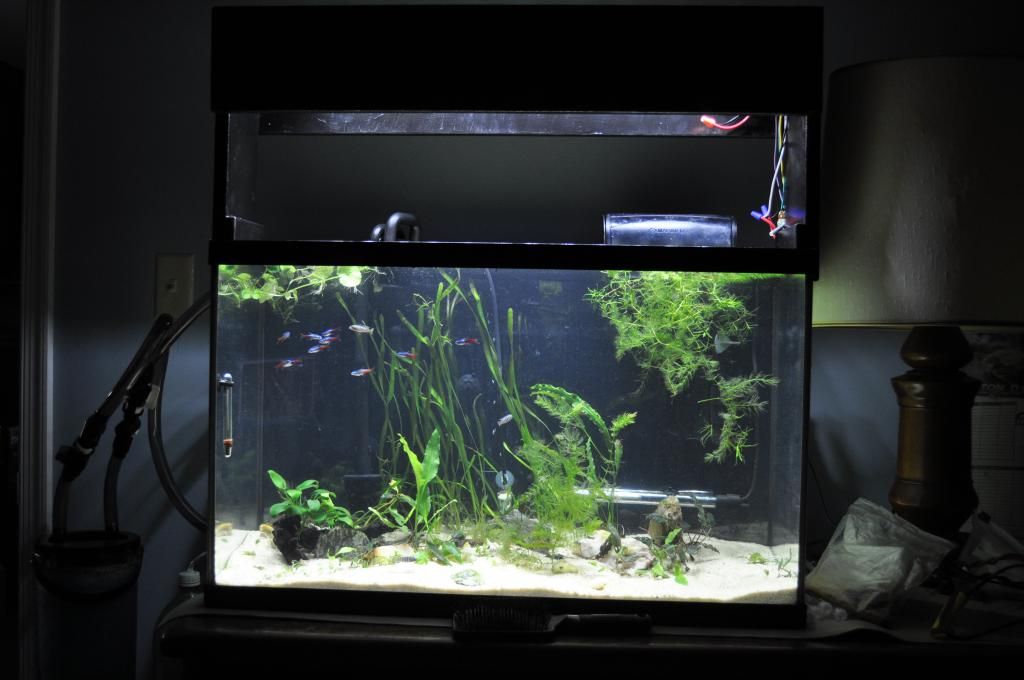 Nice and simple
I still need to drill a hole to mount the potentiometer out the back and use some black tape to hide some of the wires but other than that it's all finished.
Special thanks:
Hoppy for his help on the planning and research.
LEDGroupBuy for the opportunity, products, and resources.
---
Last edited by AquaStudent; 06-12-2013 at

02:58 PM

. Reason: edit
Planted Tank Enthusiast
Join Date: Jan 2010
Location: "Out West, in the Land of Fruits & Nuts"
Posts: 877
Nice work! I'm betting that you're experiencing that great feeling that only comes from "doing it yourself". Again- good job!
---
225 Gal, Glass "Reef Ready" w/ dual Iwaki Pumps & 2 Ocean Clear inline filters. Makers 72" heat sink w/ 12 NanoBox V3 led arrays, custom built CC drivers. All controlled by a BlueFish "mini" Led Controller.
iAqua Aquarium Controller
, and a 20lb CO2 system w/ Milwaukee Ph Controller.
Algae Grower
Join Date: Mar 2007
Location: Ind
Posts: 112
Looks pretty cool. I liked the way you used the wood, no glare on the eye at all. The black paint seems to help too.

So its 36W over 10 gal, you feel its too much?
and another question, why dint you choose the warms/neutral that other member suggest/opt.


Thank you.
It's actually over a 29 gallon. I like the cool white spectrum so much better than warm whites. There's just too much yellow in the warm whites. I also found that lighting around 6500k not only looks better but grows plants better than a lower temperature rating.
nice job
I like your canopy so much I am going out to my garage and building one for a 29 gallon today.
Here's a video showing some of the process.