DIY Stand plan review for 2 tanks and a sump
---
So I've decided to run a continuous system on my new 55, my 40b and probably a 40b sump (just haven't bout it yet). I've been reading DIY stand plans all over to get an idea of what I might need to do for this.

I'll be connecting the 55 and 40 via overflow then the 40 to the sump and back to the 55. I was originally planning on using the stands I have but my wife protested and demanded that if I did this, I need one stand for all of them.

SO, that leaves me with a 7 foot DIY stand with enough room for a sump. I've spent the last day or two with Google Sketchup and wanted to share what I feel will be a good design. All criticism is welcome, the images show only the frames.
Re: DIY Stand plan review for 2 tanks and a sump
---
All built wit 2x4's? Looks good to me.

Sent from my Galaxy Nexus using Tapatalk 2
Yes, all 2x4's. I had actually put 4x4's at the very bottom under the sump for no reason over than the dimensional width, but I realized later I could just double up some 2x4's for the same effect.
Did some sump planning on the setup so I thought I'd share and get some critique on the design. This will be my first diy sump, so I'm still moving baffles all the time, as I read different articles.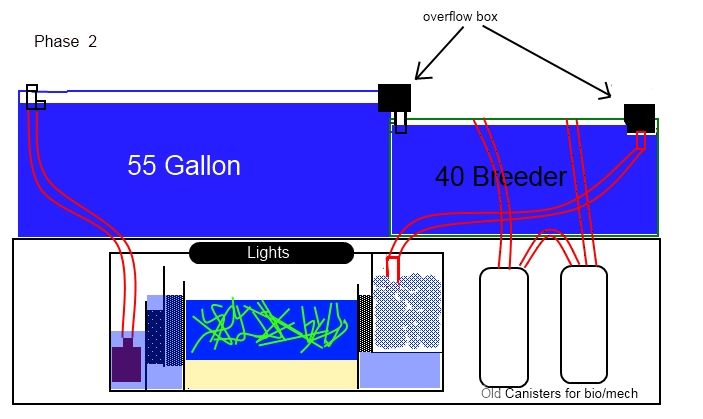 looks like a well planned system in the making
I only have a single thought, concern, suggestion after making a number of stands.
Weight.
These in the link are for 75g tanks. Made for 48x18 tanks the supporting base is 50.5"x20.5" and they are HEAVY!!!
I used only a few 2x4, 1x4 etc. in the framing of the top and reinforcing of the corners. I left most of the inner base within the cabinets open creating a 5 sided box effect. Even the tops under the tanks is open. (imo) minimum wood used and still VERY heavy!
75g High Techs
With your design being a single unit 84" long once it's complete thinking it will weigh a ton and be hard to get through doorways.
Also thinking you'll have a great system once you get it all figured out and looking forward to the build thread.
---
The Fraternity of Dirt
If at first you don't succeed,,, keep kicking it
RubberSideDownOnTheLanding,
2-75g planted, 5-55g planted, 5-20g planted, 110g w/30g sump, 8-10g,
Refugium,
doghouse/newbie
2012 update adding table top pleco pans & a 90g (Nutz)
Planted Member
Join Date: Feb 2012
Location: Duncan, BC, Canada
Posts: 171
I would be tempted to redesign things slightly.
I would recommend setting all the vertical 2X4's on top of the bottom horizontal 2X4's instead of running them straight to the ground. This will help spread the load better.

Realistically this is probably not necessary but marginally stronger IS marginally stronger.
It will look a tiny bit better finished as well because you won't have that exposed 2X4 at the bottom after you skin it with plywood.
And as a weight saving factor you could probably lose the 4 longer brown 2X4's (2 at each end) and the 2 white vertical 2X4s.

I'm not terribly keen on the long horizontal 2X4 (the one over the 'sump hump'). I see it is supported by a 2X4 on the 'flat'. This 2X4 combo is going to be supporting more weight than any other place on the stand (50% of each of the two tanks, roughly). Is there room heightwise to use a 2X6 or a 4X4 in that place? Or at least set the supporting 2X4 on it's 'edge'?

As a last parting thought, measure all dimensions on paper and then go and measure all the doors you will need to pass through before you cut any wood. pay special attention to doors that lead into the sides of hallways and tight corners.
I agree with wkndracer about the weight issue. Rather than build a frame strong enough and then "skin it", consider using the skin (plywood, glued 3/4 stock etc.) for structural support. This eliminates most of the weight and opens the interior up more. Open one of your base cabinets at home and you'll see what I'm saying. A box built of 5/8 plywood with top and bottom plates have tremendous support loads.
From my vast research [reading the RC thread through nearly 2x and loads of other pages on building stands as well] I wouldn't be happy unless the corners of the tanks and sump were supported by vertical members. Cannot tell if the stand will support the sump corners and it does only support the outside corners of the tanks. Agree with evilhorde, placing the verticals on the horizontals would help as well. I would make an asymmetrical stand and probably put the inside corners of both tanks on the same vertical 2x4.
http://www.reefcentral.com/forums/sh...readid=1169964
My 6x2x2.5' stand built from the RC template is heavy but it is amazingly square and rigid in spite of me. I am quite sure I wouldn't have done so well with ply. I could shift it around easy enough when building and painting and with the aid of a couple of furniture movers it came in the house easy enough. On the tile floor I could shift it plus the tank to get it where I wanted on the wall but as soon as the substrate went in I was stuck.
Thanks for the tips and links, I'll be checking them out and seeing if I can make some mods. Honestly, I did certain things to aid in construction as I'm not the most competent carpenter.
Planted Member
Join Date: Nov 2010
Location: Portland, Me.
Posts: 255
The first thing I did when I wanted to build a stand was to go and look at some commercially-built ones. I couldn't believe how little there was to them. Most of them don't have any kind of skeleton. My LFS had a 180g display tank, 6 feet long, and the stand was built entirely from 1" lumber. As long as the outer edges of your tanks are sitting on top of the material that makes up the outer face of the cabinet, the weight will get transferred to the floor.
Did some tinkering based off suggestions, seemed to cut down lumber needs a bit and still provide plenty of strength. Check it out:
Planted Member
Join Date: Nov 2010
Location: Portland, Me.
Posts: 255
It's overkill, but build what makes you comfortable. You're only talking about 95 gallons spread over 7 feet. A standard 90-gallon is only 4 feet, and sits on one of these:
http://www.dfwmas.org/Forums/viewtopic.php?f=8&t=70108
I definitely agree it's overkill. I guess I made it that way because the 55 for sure will not sit on the corners, so I wanted as many vertical supports as possible.