realistically painted 3d backgrounds
---
any thorough videos on painting a home made background realistically?

most of the stuff i'm seeing online is pretty damn basic...
Planted Tank Guru
Join Date: Dec 2005
Location: Sacramento, CA
Posts: 21,015
I think the reason for the "basicness" of the online backgrounds is that it isn't a good idea to have a background that attracts the eyes away from the plants and fish. It needs to be understated, so it makes the rest of the tank look better, but which doesn't cause anyone to look very long at the background.
i don't think having a realistic background would be any different than having a realistic plant layout. I've been taking a gander at some model railroad videos describing acrylic techniques. I'm thinking i'll hit up home depot this evening for some drylok and coloring.

ultimately, this is more for a replacement to rocks in the tank as i don't agree with the pricing of rocks and i'm tired of wood.
and unfortunately falls apart once it gets time to finishing
I was lazy and bought one.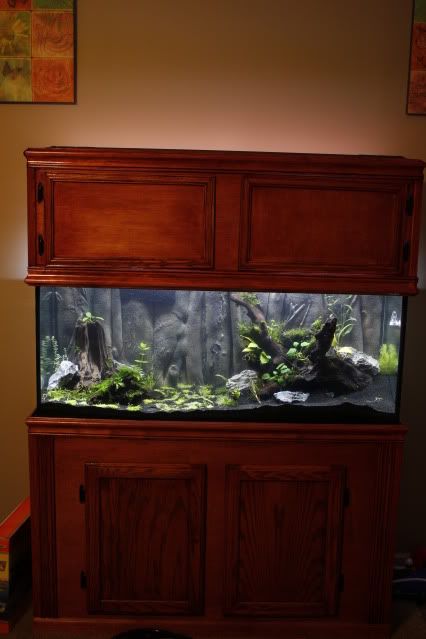 Usually every time I DIY something I end up spending more making it than if I just bought it. I did make all 10 of my vivarium backgrounds though. Mostly from Great Stuff.
---
Canon Pimp Club #019
"I have all the characteristics of a human being: blood, flesh, skin, hair; but not a single, clear, identifiable emotion, except for greed and disgust. Something horrible is happening inside of me and I don't know why. My nightly bloodlust has overflown into my days. I feel lethal, on the verge of frenzy. I think my mask of sanity is about to slip"
E
bi Topia
75gal rivers edge- Retired
Dario Hysginon breeding log - Retired
NEW: 28gal Journal
thanks, that was amazingly helpful :p