How to de-rim?
---
How exactly should I go about derimming an all glass 2.5 gallon tank?
---
***********************************************
WATER CHANGES WORK WONDERS
I am also a member of fishchannel.com
use a hair dryer and aim it between the plastic and glass, that should loosen the silicon a bit. then just run your utility knife/switch blade in between. the key is being patient.. don't pull the plastic rim right away, make sure everything is loose.

or if you feel like, mcgyver use a paper clip and rubbing alcohol.
Would the tank get a leak easier?
---
***********************************************
WATER CHANGES WORK WONDERS
I am also a member of fishchannel.com
Planted Tank Guru
Join Date: Dec 2005
Location: Sacramento, CA
Posts: 21,015
Quote:
Would the tank get a leak easier?
With such a small tank it isn't likely that the rims are contributing any strength, and certainly not any leak resistance. You may find that the top edges of the glass aren't well finished, so it may be disappointing. I think I would just look for one of the generic rimless tanks from China that many LFS now carry. But, of course derimming is the cheapest way to go.
Wannabe Guru
Join Date: Jan 2012
Location: Portland oregon
Posts: 1,077
Taking the rim off is not too bad as long as you have patience. The hard part is scraping all the silicone and hard water stains off that have been collecting under the rim forever if it's a new tank it should be a breeze
If the top edge is a little raw you could find a machinists' diamond hone and polish that up. Just be sure to lubricate it with a little water and hose out the inside when you're done.
http://amzn.com/B004SNIIAY
I have done it twice. The first, I took a really sharp knife with a flexible blade and just went over the plastic until I made it through. The second time, I used a planer until I was pretty sure I was almost to the glass, then used a sharp razor. A 2.5 has very thin glass so you have to be extra careful. I was doing a 20 long which is probably much easier to not break.


The hardest part by far is cleaning off the old silicone. I used rubbing alcohol and about 10 razor blades, only doing the front really well, the sides OK, and not doing the back. I only took the top rim off. I would think you would need at least 10 razor blades and a few hours to get it done right on a 2.5. It's really hard to get right, takes time, patience and a bit of skill to not scratch the glass.

I also finished the front and side glass using a very fine file and then some 400 grit sand paper, moving up to 800, then 1200. I just happened to have a lot from another project. That took a few hours as well.


That said, in retrospect, I would probably not de-rim a tank again. It's a lot of work to do. It would have not been much cost prohibitive to buy a rimless (Mr. Aqua) tank. The time it took me to do it was not worth it, outside of one already having a stand already. Even if you do it right, the silicone work still doesn't compare to a cheap rimless tank.
here's a 2.5g i derimmed a few months ago, and it's still holding up really well.. i used it as my quarantine tank before, now it's just a side project with staurogynes..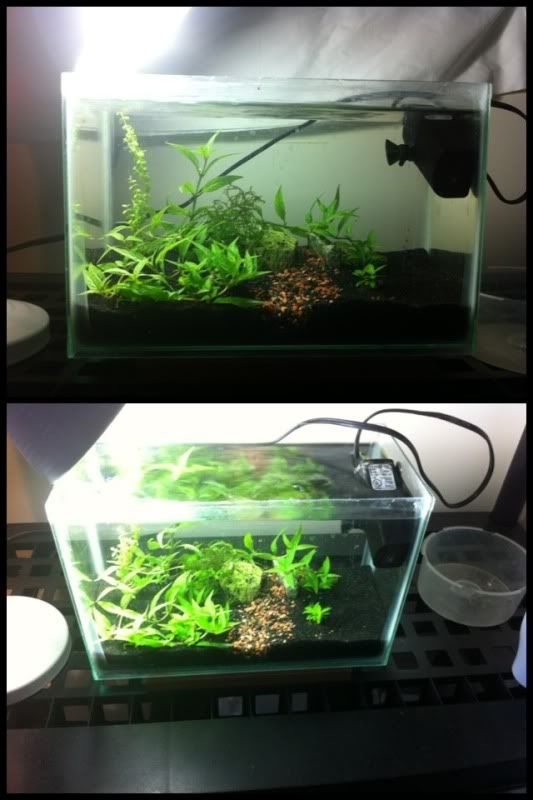 should I derim the bottom or would that be a little risky?
---
***********************************************
WATER CHANGES WORK WONDERS
I am also a member of fishchannel.com
Algae Grower
Join Date: Dec 2011
Location: Framingham, MA
Posts: 119
Yea just be careful on doing this my first attempt at a 2.5 I basically cracked two sides halfway into it haha oh well
---
_______________________

10g "community tank" First attempt at aquariums
2.5g Betta Tank
Wannabe Guru
Join Date: Apr 2011
Location: Westfield, IN
Posts: 1,746
Quote:
A 2.5 has very thin glass so you have to be extra careful.
I'd be mostly concerned about this. It's going to be super flimsy glass when you're done. I don't have any doubt that it will hold together and that the sides are capable of supporting the weight of the water without the frame, but it's going to take very little to crack it.