My Leos
---
Here are my male and female together. The male is a Hyper-melanistic Murphy Patternless and the female is a Snow het High Yellow
Male with a white BG, his name is Donovon
Female on a white BG, her name is Ada
Mnyama when he was a hatchling, his was a Hyper-melanistic Snow
Gave her to my history teacher, she is a normal High Yellow
Gave her to a friend. Like her mum a Snow het High Yellow
One of Mnyama in my plant with my Macro lens, this was a few week before he passed away from what ever was wrong with him. He was dwarfed because in the last two weeks of incubation my brother did not water the eggs, and him and his brother dried up. His brothers egg died but he hatched, but was dwarfed and apparently caused some internal things to not work over time. He was and still is my favorite leo, and I miss him more than the world.
Here is a white pastel of Mnyama that I did of him.
Some beautiful leopards and very nice pics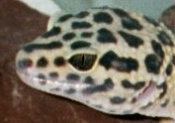 Jake
---
MY TANK: Planted 10g; 2 x 10W CFL; Fluval U2 internal filter; MGOCPM/black sand cap
A Silent Cycled Tank
started April 18, 2012
Algae Grower
Join Date: Aug 2012
Location: orlando
Posts: 82
Very nice! Can you post a pic of their set up?(s)
Sorry, looks like Tripod.com likes to put advertising instead of pictures. I did a website (when I knew more about leopards than writing a web page) and I hesitate to post the url because it's so rudimentary. But I really like your pics, and of course the leopards are great.
---
MY TANK: Planted 10g; 2 x 10W CFL; Fluval U2 internal filter; MGOCPM/black sand cap
A Silent Cycled Tank
started April 18, 2012