Planted Tank Obsessed
Join Date: Apr 2013
Location: Coastal Georgia
Posts: 314
IPhone 5 Macro lens options?
---
I finally caved and put a fork into AT&T's horribly expensive service. Although I loved my 2 year old Xperia X10A Android, I went to T-Mobile. I decided to pick up the new IPhone 5 simply because they have more accessories available than most phones, and I really didn't tinker with the Android platform as much as I thought I would.

I heard mostly good things about the 8MP rear camera but honestly I am not that impressed yet, especially with the autofocus. I have a lot of wildlife on my property especially insect life, which I do enjoy snapping but running 6 acres back to the house to get the camera will be a guaranteed lost shot. I tried taking a picture today of a group of bright red Aphids on a tall weed with the IPhone and it simply could not focus no matter how hard I tried, changing distance, POV, which way the natural light was coming from, nothing worked. I know this isn't a DSLR but that was entirely frustrating for such a simple shot.

So here is my question: Has anyone here had any personal experience with any of the Macro attachments for the Iphone5? Price isn't much of a point to me as much as if it takes a decent shot or not with a decent depth of field. Some of the lenses I found were the Olloclip with great reviews and a scant few others. Even if it comes as a kit with a Telephoto/Fisheye I am more concerned with the Macro.

Just looking for some experiences.
IPhone 5 Macro lens options?
---
Use a small magnifying or convex lens informs of it
Planted Tank Obsessed
Join Date: Apr 2013
Location: Coastal Georgia
Posts: 314
Quote:
Use a small magnifying or convex lens informs of it
That won't work for me, as all of my shots are outside. The reflection of the light off of an unshrouded glass would severely limit the angles that I could take the shot without possibly disturbing the subject. Most of my shots have about a 20 second window before they take flight, jump, or scurry away.
I shot this today freehand without using any sticks or tripods, took about 15 shots to get it this good without using editing programs after the fact. He is about a half inch wide at the mouth for size reference and they are all very tame around here. I can get as close as I want, but the focus at that level is annoying. I perfectly well know I can just go inside and get the Konica, but I am trying to see how far I can push the ISight camera. If nobody has any experience with the aftermarket lenses, I guess I will have to buy a few based on reviews and see how they stack up.
Juvenile Green Tree Frog on a Banana Tree.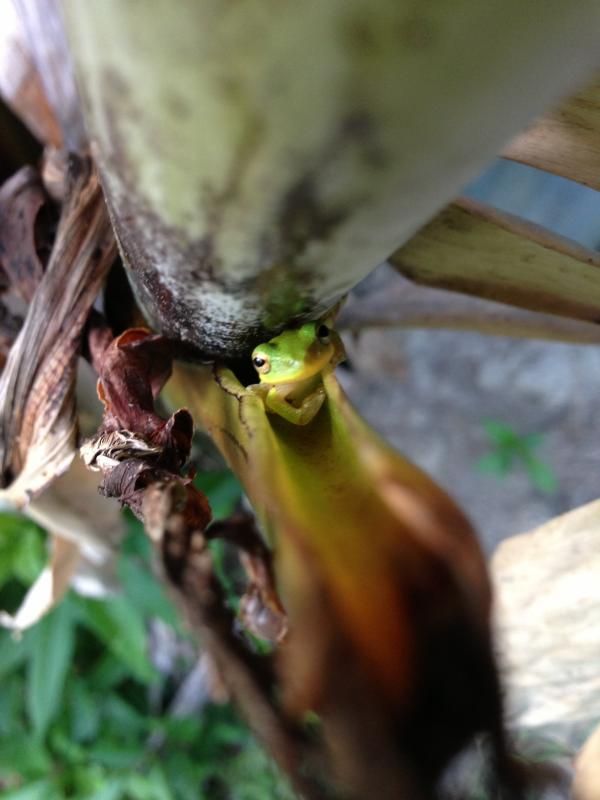 IPhone 5 Macro lens options?
---
Try oloclip, I'm still waiting for itouch 5 version.