14.5" tall 24" wide tank...anything for high light?
---
Thinking about doing a high tech tank. The tank I'm wanting is 24" wide, 14.5" tall. Would any of the available lights provide high light? I'll be injecting CO2.
---
EVIL
Camera Pimp member #1
Re: 14.5" tall 24" wide tank...anything for high light?
---
I use Hagen Glo 24" 2-bulb t5ho over 24"*14". Love that light. The biggest minus is a single cord for both bulbs.

via Droid DNA Tapatalk 2
---
Courtesy * Integrity * Perseverance * Indominable Spirit * and Self Control
Tenets of TKD
I didn't think you were in high light until it hit around 150 PAR. 70 would be the highend of low, according to the chart I was looking at earlier anyways.
---
EVIL
Camera Pimp member #1
Wow, that sounds like a lot of light.
I guess it depends on how high you want your 'high' to be. 150+ at 14 inches sounds like custom made LED, Metal Halide, that sort of thing.
I've been using the definitions in Hoppy's PAR thread
Lighting an Aquarium with PAR instead of Watts
Quote:
LOW LIGHT, MEDIUM Light, HIGH LIGHT

I don't believe there is any consensus about the definition of low, medium and high light. But, here is my definiition, subject to, and almost certain to change:
Low light - 15-30 micromols of PAR - CO2 is not needed, but is helpful to the plants
Medium light - 35-50 micromols of PAR - CO2 may be needed to avoid too many nuisance algae problems
High light - more than 50 micromols of PAR - pressurized CO2 is essential to avoid major algae problems
According to that thread, the only light that was capable of 150 PAR at 15" was a 36" 4 bulb T5 High Output from Aquaticlife. Even OVT's fixture mentioned above topped out at 100 PAR at 10 inches - and he grows some amazing looking tanks!
The LED Compendium -
LED Lighting Compendium
- does list some massive PAR values for Saltwater lights (in addition to resonable freshwater numbers)
Just a feeling/hunch on my part, but I think anything over 50 at the substrate will give you what you are looking for and require Co2.
(Disclaimer - I have never run a high light tank or injected Co2, but I have over-lit a Non Co2 tank and had to raise the light
Also I am an known Finnex addict/Pimp, my go-to light!)
---
My 36 Gallon bow, 3 gallon picotope, 5 Gallon Spec V
...
RAOK CLUB #78
FINNEX CLUB MEMBER #1
...
Fight Apathy!... or don't, whatever
Re: 14.5" tall 24" wide tank...anything for high light?
---
The higher the light the more (exponentially) effort and time required with smaller margins for errors. One way to test your personal limits might be to get a multi-bulb fixture with separate switches and start in the middle. Look at the extra $100 as an investment for the future.
Once you are happy with your results you can bump up the light a bit. Until you get to that 100 PAR
. Or add another Finnex LED fixture.
I have a 6-bulb CoraVue over a 40B 18' off the substrate. I found my limit @ 4 bulbs...
---
Courtesy * Integrity * Perseverance * Indominable Spirit * and Self Control
Tenets of TKD
Lighting confuses the ever living crap out of me. So is a PAR a PAR no matter the kind of like it comes from? Reason I ask is because I was basing my last post according to this chart...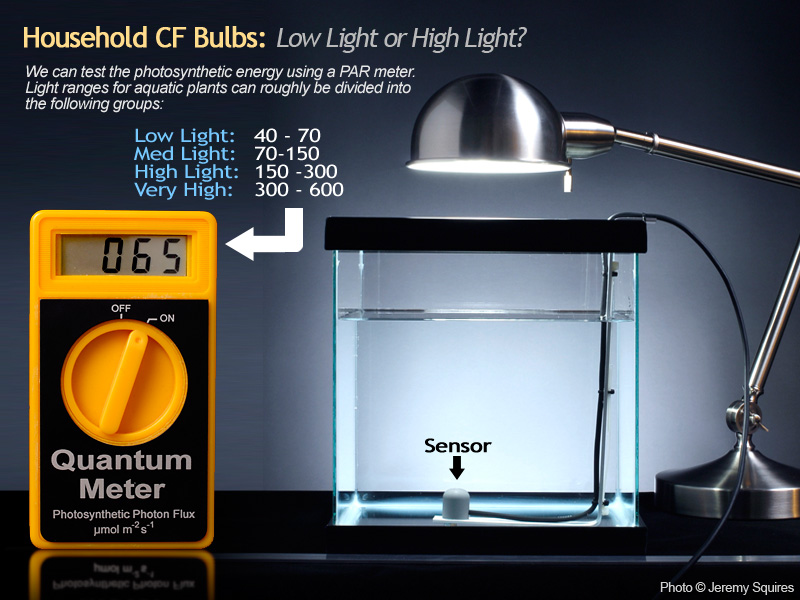 That shows that 150 PAR is the low limit for high light. I like Hoppy's chart better because that gives more options for lights if his is more accurate.
The plans of changed a little anyways. It's now an 18" x 12" tank, so I won't need quite as intense lighting and I'm thinking to start maybe doing medium lighting with excel until I can scrounge the money for CO2.
---
EVIL
Camera Pimp member #1
the problem is that high medium low mean different things for different people as well as changed over the years due to peoples experiences and results

I like using PAR values and experimental results (ie success with x plant under y PAR)

that being said, for example, HC is generally considered a "high" light plant but can grow at 35 PAR. so does this mean high light is 35+ PAR or does it mean HC is a "low" light plant? it doesnt matter what you call it but it shows that

in my opinion i would not go higher than 70 PAR at the substrate for any of the regular plants available.


I have a ray2 on my 20 gal high 24 x 12 x 16 and it grows hc and microsword fine, in fact i have fiberglass mesh to actually reduce some of the PAR
hope this makes sense/helps anyone
I can carpet stauro and grow blyxa like weeds with a Fugeray on a 60P. Having a ton of PAR is just not needed for most people, and that chart showing low light being 40-70 PAR is pure silliness in a planted tank. Maybe for reefs that is applicable?
I don't know. It was posted on this site and the guy has some awesome planted tanks so I'd assume he knows what he's talking about...but then again, the consensus seems to be that those numbers are way out of whack.
---
EVIL
Camera Pimp member #1