Product spotlight: Yasuhikotakia sidthimunki
---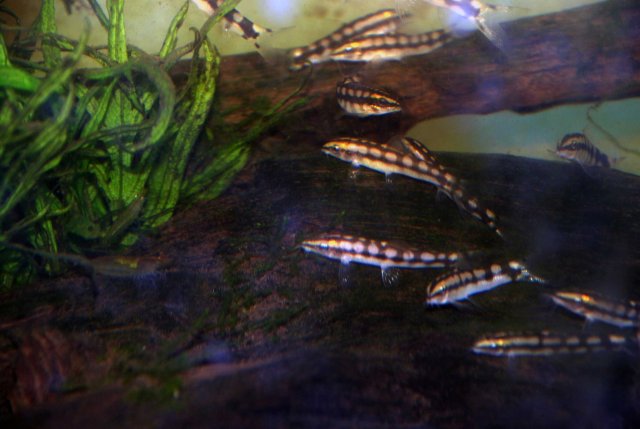 Yasuhikotakia sidthimunki
Common names: "Dwarf chain loach", "sid", "chipmunk loach"
Distribution: SE Asia (Cambodia, Laos, Thailand)
Size: 2.5" (females being slightly plumper than males)
Temperature range: 75-86
pH/hardness: 6-7.8, dh 12 or less
Suitable tankmates: Rasboras, Danios, Devarios
Tank setup: A sandy/soft substrate, driftwood, and plants are preferred.
Behavior: A social species best kept in groups of 10 or more, with 5 being the minimum recommended.
Feeding: Readily accept meaty pellets, flake, frozen, and live foods. A well balanced diet for an omnivore should be fed. They will eat snails, though are not useful for snail control as they are a bit "lazy" at preying on pest snails.
Anecdotal information: I have found that these spend a lot of time in mid-water, especially when paired with a species like Trigonostigma espei, brevibora dorsiocellata, etc. When comfortable, they readily use all areas of the tank and have been known to school with other species in the tank in midwater.
Additional information:
http://www.seriouslyfish.com/profile...himunki&id=368
Looks like something I gotta get someday.....
I'm not going to argue because you are the fish-wisperer but, I had put MTS in my tank for substrate aeration and they got out of hand within 6 months, 3 of the Dwarf Chain Loaches clear my 150 of MTS and today all I have are their beautiful shells aerateing my substrate, so I guess it worked out.
lol, they will definitely eat snails, they are just not as efficent/predatory as many of the other botia loaches
Posting Rules

You may not post new threads

You may not post replies

You may not post attachments

You may not edit your posts

---

HTML code is Off

---