Planted Tank Obsessed
Join Date: Apr 2013
Location: Coastal Georgia
Posts: 314
from Coastal GA!
---
I have been lurking this forum for a long time, and I finally decided to make it official and register.
For the past 5 years I have been away from home on road trips, modifying attack helicopters, and multiple civilian deployments in the litter box. Finally I am at home being lazy and attending college so I convinced the wife I need to get my old tanks running again. I found most of them, unfortunately during the move to the new property last year while I was in the 'Stan my wife mangaed to kind of toss my stuff everywhere. I lost a few tanks to cracks, but nothing I will cry over. She didn't realize how much a big tank costs till I showed her. She felt guilty enough after that. (I haven't ever had a tank running since we have been together, she asked me one day why I collect empty aquariums
)
So in all I still had (5) 10g (1) 20g long and (1) 55g that was serviceable. She tossed the box of air pumps and everything else to support the tanks in the move, thinking it was useless garbage. I guess it was time to buy new stuff anyhow?
I am a month into a fresh fishless cycle from scratch on the 55g, and the 20g long is smoking with Nitrite right now. My 55g was moved mid cycle from the pool house (initial location, too hot during GA summers) to the dining room so I can keep it at 70F without any extra power usage. Just rebooting that one before I introduce things that can die to be on the safe side. Last week I bought a good sized rack to hold everything so everything is being pushed except 2 of my 10g tanks (need more substrate, sponge filters, just waiting for the mailman) Hopefully my RO/DI will be here tomorrow courtesy of BRS (awesome fast shipping response to order) and I can see some return for my patience.
I am really here to learn more about the planted tank side of things, as I intend on making a pretty good sized aquarium this year for my living room, to display some higher end shrimp in a setting other than straight AP Aqua Shrimp Sand, a couple Marimo balls, and my usual array of bath scrubbies that I use for surface area increases and new tank bacterial transfer. THey are kind of bland so I would like to start planning the "masterpiece" of my living room.
Oh yeah, I don't keep fish, never will. Just shrimps and inverts.
Peace
Ignore my crappy Ipod photo, I can't find the charger for the Konica (more crap she "lost" in the move of mine.
This was when I was first throwing everything together, seeing about what fits where and what I would need to modify to make it work for me. My former career before Legal Studies was an AH-64D Armament/Mechanic/Inspector guy, so on top of my VW addiction I like to modify things. I plan on moving the 10g lower, and making better use of the space above the 55g. I won't do that will I reach WC time for my cycle in those though, and do them all at the same time.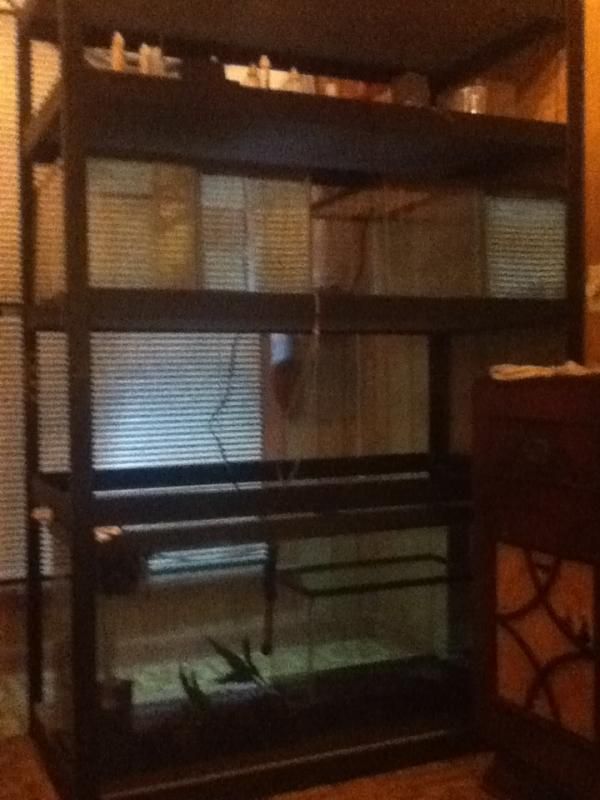 ---
Last edited by somewhatshocked; 04-18-2013 at

02:36 AM

. Reason: inappropriate language/abbreviation
Planted Tank Guru
Join Date: May 2009
Location: MICHIGAN
Posts: 3,475
Planted Tank Obsessed
Join Date: Apr 2013
Location: Coastal Georgia
Posts: 314
Thanks for the welcome.
Planted Tank Guru
Join Date: May 2009
Location: MICHIGAN
Posts: 3,475
Quote:
Thanks for the welcome.
Your welcome.
Welcome to the forum!
---
Pimp Club Member #313
Planted Tank Obsessed
Join Date: Apr 2013
Location: Coastal Georgia
Posts: 314
Quote:
Welcome to the forum!
Thanks! I am actually visiting the plant parts of the forum finally. I used to just shadow the shrimp forums because there aren't many forums around that met my needs for the hobby like:
1) They are in English
2) Have an active community of more than 10 people
3) Keeps up with new variants and is generally up to date.