Planted Member
Join Date: Feb 2013
Location: San Antonio
Posts: 198
Greetings from Texas
---
Hey everyone,
I have been using the forum for awhile now but mostly kept to the Texas section. I decided to introduce myself to more of you and share with you some of the many projects I have going on.
For starters, we currently have 8 aquariums, two ponds, and several emmersed set ups running.
My personal tank is the first picture. It is a 40b with 2x dual T5HO fixtures (4x39W). This system is running pressurized co2 with EI dosing. Its been up since December 1, 2012.
The second picture is our newest addition: a 4', 5 shelf emmersed set up. So far I have only planted one row but will be filling in the rest shortly (come on tax return!). I plan to keep more rare and hard to find plants but so far its only stocked with HC, Ludwigia Guinea, Rotala Brevipes, and several other species.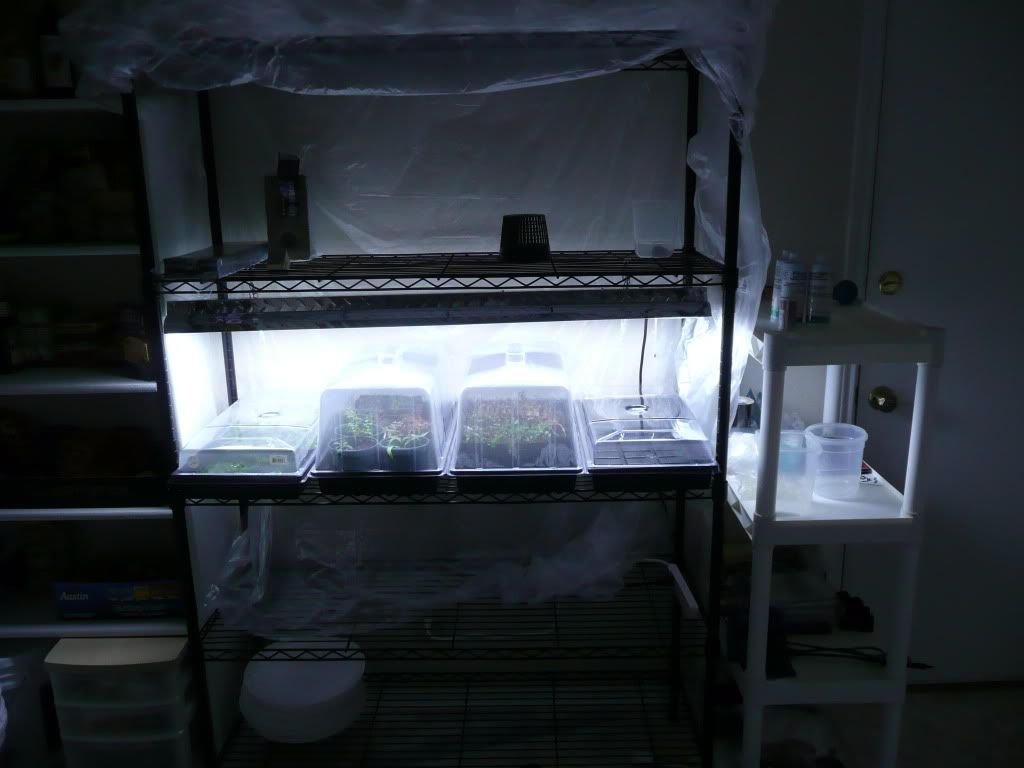 As well as the emmersed set up, I also have a 40b where we are breeding peacock gudgeons, (trying) to hybridize an Electric Blue Ram with a LF GBR (first batch of eggs got eaten), and grow around 30 species of plants submerged.
The last tank used for production is our 20L grow out tank. We use it to breed Red Sakura shrimp, Caridina Babaulti, and grow out the fry of the above mentioned parents.
Of course we have more set ups but I wanted to keep this (somewhat) short. Anyways....I hope you enjoy the pics and look forward to seeing ya'll around the forum.
~ Adam
Welcome to the TPT! Your tank shows promise I really like your rocks
---
Sump Pimp #11
RAOK Club Member #53

All I got in life is my word, balls, and pride.
Planted Tank Guru
Join Date: May 2009
Location: MICHIGAN
Posts: 3,475
Algae Grower
Join Date: Nov 2011
Location: USA
Posts: 89
Welcome!!!
I am just south of you in Corpus.
Welcome to TPT!

Im sure you'll love this forum.
Hello fellow Texan fishkeeper!
I'm in Georgetown, just outside of Austin.
Have you checked the local rivers for darters? Look in shallow areas with fast-flowing water, plenty of rocks, and not too many plants to find them. Darters are little beauties when they sit still long enough for you to see them!
---
http://www.plantedtank.net/forums/sh...d.php?t=679553
My adventures in keeping Indostomus crocodilus, the crocodile toothpick fish. AKA armored stickleback, paradox fish, and freshwater pipefish. Care is (to the best of my knowledge) exactly the same as Indostomus paradoxus.
Welcome! Nice tanks btw.
---
- Brian
That one guy that is always online.
Greetings from Texas
---
Nice set ups Im from ft worth and have a lot to learn thanks for sharing


Sent from my iPad using Tapatalk HD
---
Jason