Algae Grower
Join Date: Aug 2009
Location: Tampa, FL
Posts: 59
2.5g Mini Bowfront Build Thread
---
ok this is my first build thread.

tank: 2.5g Mini Bowfront
plants: Needleleaf javafern, 1 tropica sword, dwarf baby tears, 1 anubias nana 'petite', javamoss on clay pots, redroot floaters(only have the javafern, baby tears, anubias and javamoss on the way so far haven't found the rest yet)
fauna: 1 briggs snail(have not located one yet), 5 amano shrimp(will relocate a couple to another tank once they grow some), 5 bee shrimp
hardscape: 1 decent size of driftwood, 3 tiny pieces of drift wood, 1-3 clay pots(depending on how it looks will decide the number)

ok this tank will be most of the way complete and ready for the plants and shrimp that will get here tomorrow probably so im doing everything tonight because i am a procrastinater lol

the following posts will include pics and descriptions of what i am doing and what the pics show
Algae Grower
Join Date: Aug 2009
Location: Tampa, FL
Posts: 59
---
ok first set of pics for the night
4 pots 3 small ~1.5in, 1 2in pot not sure which and how many im gonna use yet but thought id buy a couple extra for possible future projects cause they were cheap. also 1 can of krylon fusion green spray paint as i was told this was the best paint to use for inside the tank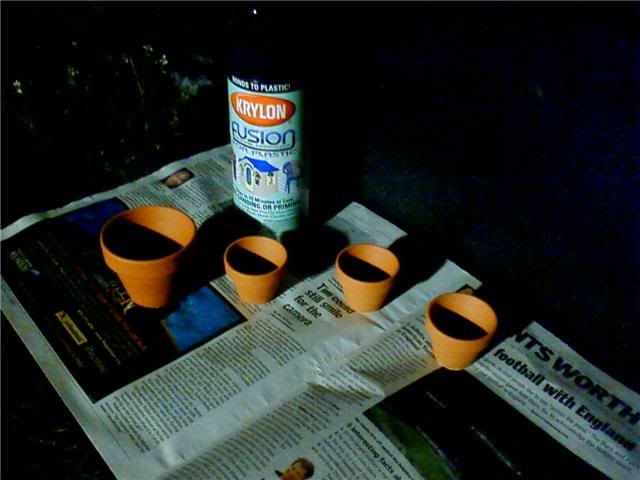 first coat of paint on the inside and it is dark out here so i am using a flashlight to help with the pics
another picture of the first coat of paint on the inside of the pots but a closer pic to show better.
now im gonna rinse the tank out, give it a light scrubbing, and rinse the sand again cause its been dry for a few months now. im also gonna give the pots a second coat of paint in a couple minutes but i wont take any pics of that cause they wont look very different
more pics to come of the tank full any with the filter put in but not gonna run it till tomorrow when the live stock gets here
and yes the pics are dark its because i started after the sunset lol
Algae Grower
Join Date: Aug 2009
Location: Tampa, FL
Posts: 59
---
ok last pictures for the night seeing as there is nothing left to do before tomorrow except wait
first pic is the tank cleaned up and filled with water. the tank is still cloudy but it should settle down before everything gets here tomorrow.
this is the filter i will be using still in the box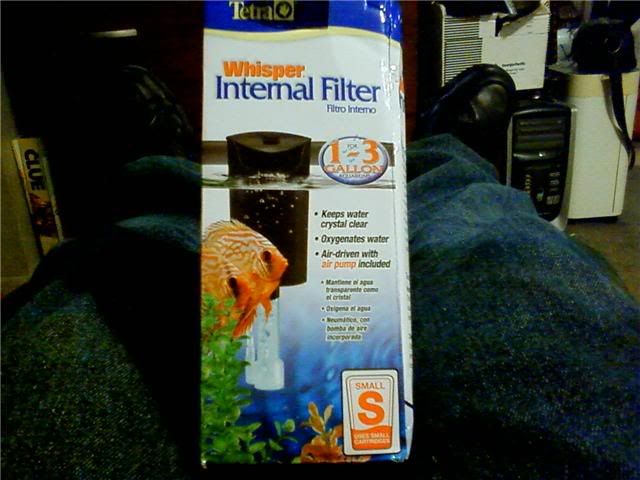 this is the filter mostly put together all that is left is hooking up the airline, the airpump, and putting the filter cartridge in it which ive had stuffed in my 10g filter for the last week or 2 to seed it
i am also not putting the filter in yet because i have to find something to cover the inlet with so that no shrimp get sucked into it by accident
Lookin' Good! To cover the filter inlet, try panty hose (If you have any! (; ) or a fish net. Also, if you like your water crystal clear that filter is'nt for you! Or so I have heard! Good luck!
---
"My next hobby is going to be tearing up $100 bills while simultaneously banging my head against a wall and flooding my basement."
"Ask not what the hobby can do for you, but what you can do the the hobby" - ScapeFu

Algae Grower
Join Date: Aug 2009
Location: Tampa, FL
Posts: 59
---
ok a little bit of an update.

well the shrimp did not arrive today and i called the post office and i must have gotten the new lady reading off of a piece of paper because she was absolutely no help at all. so if tomorrow the shrimp dont arrive im going down the the post office and raising some hell lol.

i used an old media bag, that i had a box of laying around from an old filter i used to use, to cover the intake for the filter. i also used as much of it as possible that way there is more area for bacteria to colonate for some extra bacteria.

i put the one decent size piece of driftwood in the tank, i also put 2 small pieces in one of them wouldnt sink so i held it down with a rock from a different tank that i am going to leave in there for awhile because it has some algae growth most of it hair algae which i know the amano will love snacking on

also the tank has gotten like this white cloud looking thing going on i dont know if its from the light reflecting off the white rock but whatever it is it makes taking pictures impossible because the whole tank just looks like white glowing fuzz

so im just waiting for the plants and shrimp to get here tomorrow n i will hav some pictures for you all
Algae Grower
Join Date: Aug 2009
Location: Tampa, FL
Posts: 59
---
also how long long should i wait for the krylon fusion spray paint to cure before it will be safe to put it in the tank
The "white glow" could potentially be a bacterial bloom or dust from your substrate. Either way, it should go away with time.

I'm curious as to why you need the pots. Usually they're utilized as breeding caves for fish that are cave spawners. I'm not sure that the moss will adhere to the pots now that they're painted. Have you successfully grown moss on painted pots before?

What's the wattage on the light over this tank?
Algae Grower
Join Date: Aug 2009
Location: Tampa, FL
Posts: 59
---
im positive the white glow was just dust from the substrate cause it is gone now.

im using the pots be cause i think they make cool looking caves n i thought a cave would look good in the scaping of the tank. the pots are only painted on the inside with only a tiny bit of overspray in the outside of the pots. i have never used moss on a pot before at all n ive never used a painted pot in a tank yet so i still have not placed a painted pot in the tank yet till im totally sure it will be safe.

and the light is a 10watt compact flourescent bulb


and a small update i think my pH and temp were a little high for the tank because of the 4 that made it through shipping(1 DOA but it was an extra) i found one canabalized in the javamoss a couple hrs after acclimating them and i found another dead one right before lights out and i have yet to find either of the other 2 but i have hope they are still in there hidding like my amano like to do