My first pico
---
This is my first time to do a nano so let me know what you think.
Spec's
JBJ picotope (3 gallon)
ADA Amazonia powder form
ADA bight sand
Eheim 2211 removed the spray bar and added the arm pipe
experimental LED light approxamatly 13W @ 6500K
lava stone & manzinita wood
plants
Anumbia nana "petite"
E. Tenellus "pink"
Fissedens
Livestock
at this time
cherry shrimp (about 10)
olive nerite (1)
Future
Scarlet badis
Initial setup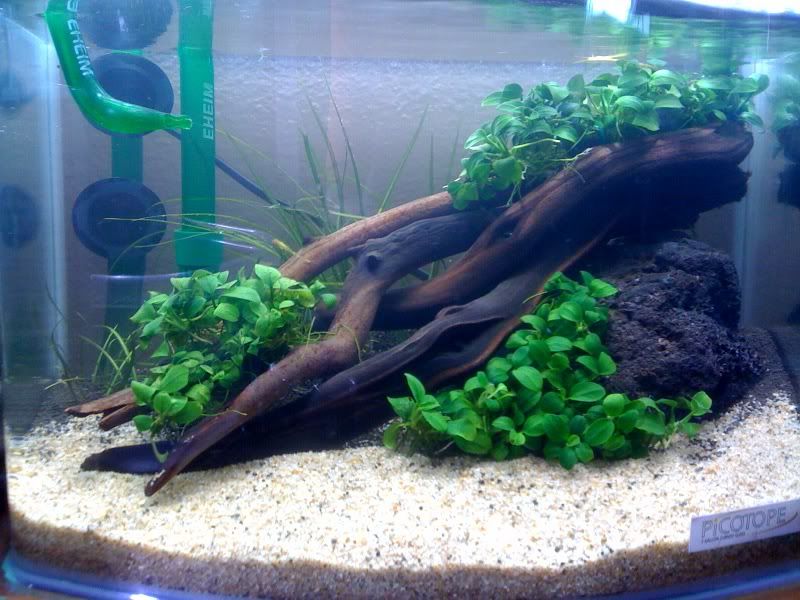 This is a really crappy pic I will update soon
Planted Tank Enthusiast
Join Date: Sep 2009
Location: mesa, AZ
Posts: 646
i love how the wood almost looks braided! i think this will look great esp when the fissedens grows out
---
4 * 8 * 15 * 16 * 23 * 42
#7
Thanks, that is what I wanted for the wood, to give it that look of roots growing on top of each other.

yes I can not wait for the fissedens to grow out more. Will post more pics soon. Geting the scarlet badis this week.
Nice. The F fontanus once filled in would add a lot to the look.
---
Checkout my blog
AquaMusing
anyfish?
---
Filstar Pimp #154
XP2
XP3