Algae Grower
Join Date: Aug 2009
Location: brandywine
Posts: 13
Drift Wood Help
---
I bought a piece of drift wood in Outer Banks, NC and the person bought it from said it came from alligator river. From looking it up the water there is brackish/ fresh water. If anyone can give further help on that subject it would be appreciated.
Here is my piece of drift wood.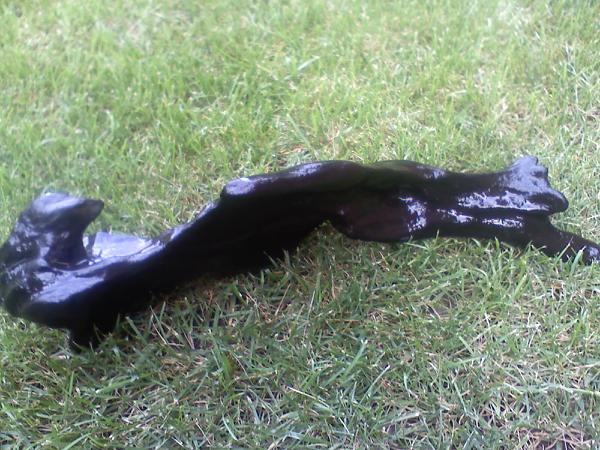 I have heard that certain types of wood are unhealthy for aquariums for caudates. Can anyone identify my wood from the picture? The color is a purplish red color when dry.
Also the wood has been soaking in a trash can of water with weekly water changes trying to get it water logged. Its been about four weeks and it is barely heavier. I want to start working on my new aquarium soon. Is there anyway to somehow speed up this process or tie the wood down somehow in the aquarium?
All help is greatly appreciated!!
About a year ago i traded some plants for a beautiful stump. Neither of us new what kind of wood it was. so i went and bought a rubbermaid bin big enough to hold it ,a heater, and a filter. I tied the wood to an aquarium safe rock to make sure it was under water . I set the bin up like an aquarium gravel and everything, after about a month i bought some white cloud minnows after testing the water for everything. After about another month everything was fine. The fish were thriving and even had some babies
It's now in my main tank and still is tied to a rock. It's been over 8 months in heated water and it still will float if i untie it. As for your piece i would suggest doing something like i did to see if it is safe for your fish. I did notice on mine my water ended up being softer because of the wood. Good luck to you
Nice looking DW. That looks pretty aged and I would guess it's hardwood and you're ok. Soft woods would probably rot completely before getting that "weathered". Or else it's soft wood and that effect happened more rapidly. Does it feel soft at all or lose debris when you scratch it under water?

I've piled rocks on wood, and have mounted them to slate to keep them down. Most of the time mine has sunk on it's own after about 3 or 4 weeks.
Algae Grower
Join Date: Aug 2009
Location: brandywine
Posts: 13
Great advice. My only problem is I dont have anything to test in it except my main tank. The piece of wood is about 1 ft 1/2 big. Dont know if size is shown in the pic.