Aquascaping help for idiot who hasn't a clue about what he's doing .
---
So, some of you may , or may have not seen my Journal in the Photography/Journals section.
But anyways my cries for help are usually ignored there, so i'll try my luck here.
So here's my tank specs:
33g 36x12x18.
Filtration : AC50 , MJ400 w/ DIY CO2 being pumped into intake, misting the tank.
CO2: See above.
Lighting: T5HO 39w x 2 both 10000k, will get a 6700k bulb if i don't like the growth, but i like the colour, and the growth has been great.
Fertilization: Excel every 2 days, and Flourish every week w/ 10% WC every week.
Plants:
Java Ferns
Java Moss
H. Polysperma
L. Sessiflora
E. Tenellus
R. Fluitans
R. Rotundfolia
Fish:
2x Angels
1x Gold Gourami (It's a trichogaster or however you spell it)
1x Bloodfin tetra that somehow ended up in the tank one day, about 2 years ago at half an inch, now 2-3 inches.
The bottom two have lived through many deaths around them =/ .
Here's a pic to feel what my scape is like :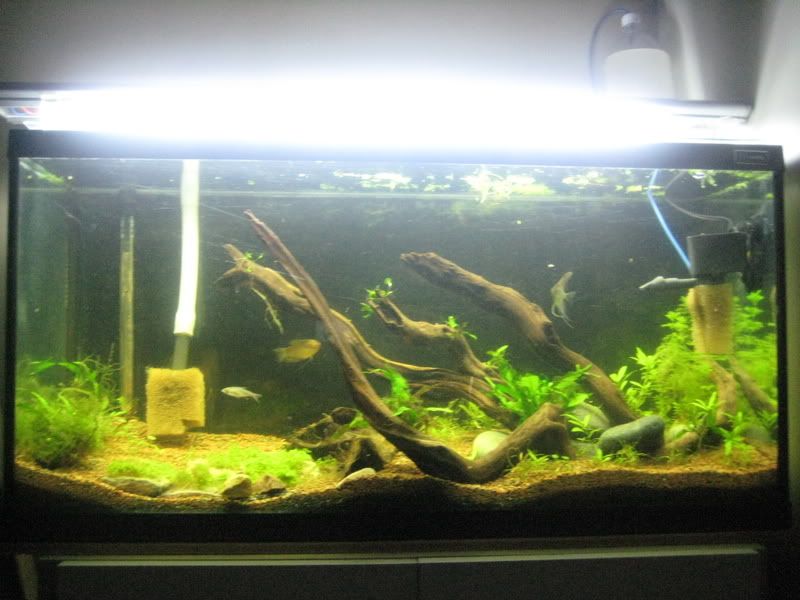 So on the right side i have the wood emanating, and rocks here and there, i really like the look of the right side.
In the back right corner i have a grouping of L. Sessiflora, with h. polysperma around it. Then various points around the wood, i have E tenellus, h polysperma, and r. rotundfolia planted around. At the front if i have a few sprigs of h polysperma, and mainly e tenellus which hasn't quite deveoped how i wanted it too, but it seems to be bouncing back up with the new lighting. The wood is covered with ferns here and there, after i get a bit more moss, i'll be giving all the branches a light sprinkling of moss and go from there.
The left side, well prior to introduction of the new light & CO2, the riccia was dying off, after these last 2 days w/ new lighting, it seems to be boucning back. Then a bit more right to that was the pice of driftwood covered in moss & ferns from my 2.5g, i think it looks alright, i want the ferns on that to catch up on growth, and then it'll look more nice.
The back left corner is barren, i want something there but no clue. And something behind the riccia field, not sure what i want there.
Anyways, i'm looking for osmething to balance this scape out more , and give the left side of the tank more character
!
I LOVE your wood. Branchy is my fav. If they had stuff like that here i would buy it.
I would add a dark leaved plant like red crypts perhaps in the back left and trailing down the little hill you have there, then furthur behind that in the corner i would put something tall and bushy but still a dark green colour.
Planted Tank Guru
Join Date: Sep 2008
Location: Alameda, CA
Posts: 2,214
I got nothing on plant suggestions, but if possible you might want to move that manzanita spire in the center back into the corner more.
---
Wabi Kusa is just an Aquascape Katamari
Wannabe Guru
Join Date: May 2007
Location: Winnipeg, Manitoba
Posts: 1,785
Quote:
I LOVE your wood. Branchy is my fav. If they had stuff like that here i would buy it...
Sorry if this is off topic.
I love the wood also and was looking for something like this to rescape my 10 gallon tank, which although algae free with stable plant growth, is a jungle of mostly riccia, anubias, hygrophilia difformis, java moss, and java ferns. I was unable to find such wood locally, but I was able to find a Canadian On-Line seller. I private messaged you the information as I thought you might be interested.
I like the scape. Perhaps hiding the equipment would help the eye, though.
---
Without Algae, death of mankind would be inevitable.