Don't like my scape part 3
---
So I added some driftwood today. Can I get some ideas on what to keep or change?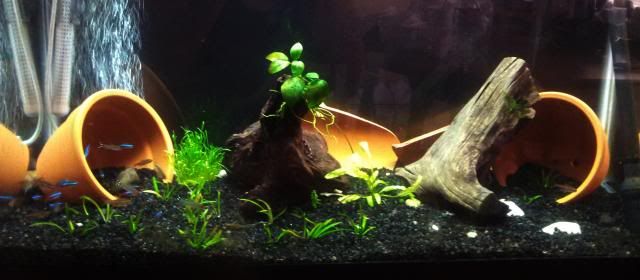 I'd look at removing the pots, and replacing them possibly with some inert rocks or wood. Maybe some thicker plants would also make a good impact too.
I did plant some moss on the wood on the left let's see if that will spread out. Think I might keep it like this for a while kind of like it more now with the wood now. Maybe i'll move some stuff around we'll see how i feel with it.
Re: Don't like my scape part 3
---
Ditch the pots. Unless you're breeding.

I am Rowdaddy.
SC Aquaria

75 Community
20H Community
20L Convict "Bedroom"
20L Growout
10gal RCS
1.5gal in progress
55 gal Paludarium/Vivarium coming soon
Planted Member
Join Date: Jan 2013
Location: NE Victoria, Ausrtalia
Posts: 151
Quote:
I did plant some moss on the wood on the left let's see if that will spread out. Think I might keep it like this for a while kind of like it more now with the wood now. Maybe i'll move some stuff around we'll see how i feel with it.
Still don't like the pots. If it were me I'd find some nice rocks. But I must admit that I always say you should be able to make something nice out of very plan things if you place them right.
If you like the pots then that's fine, work with them. But it is pointless to keep asking for suggestions and advice if you don't listen to it.
At the moment your scape lacks interest because of the flat nature if all the the elements in a line. If you want to use the pots you could make a very interesting scape with them but you will have to move them.
Imagine you walk down in the back garden of an old house that has not had anyone living there for a years. Down the back corner is a garden shed the owner used to use for potting plants. The pots you have are pots that were neat beside the shed but over the years have been knocked over and have made and interesting shape. some weeds/plants have kept growing even though they were knocked over.
look at these images...
http://4.bp.blogspot.com/-FD2l2oLj5i...0/old-pots.jpg
http://image.shutterstock.com/displa...s-11306809.jpg
You need to create a focal point. A good rule of thumb is to make it 1/3 of the way from one side of the tank.
Try this...
Move the pot on the right so it sits the same as it is now but where the wood is now. Put some more substrate and a few pebbles in it like the one on the left now. You can grow a plant here too as it it was in the pot and the pot fell over. You might also like to get a twig/small branch and lay it as though it was once a pot plant.
Move the left pot so that it is standing upright. Just to the left and behind the rim of the other pot. Fill this pot with substrate and put a plant in it. Whatever plant is there should be a focal point. Make it nice
As for the broken pieces, they will fit (or at least one) maybe buried partially or leaning. but just wait until you can see where to put them based on the other pots.
The wood will work too most likely just wait til you do these things though.
Here is a rough pic. The red vertical line is a good spot for the center of your cluster of pots. 2/3 up this line is an excellent place for a focal point. Maybe a nice plant.
You don't have to take my advice but if you want a nice planted scape you will have to change those pots.
Linds
I am not sure why you keep asking the same questions, getting much the same in the way of answers, and do not respond to any of the ideas, either verbally or with action. People are taking their time to give comprehensive and full answers to the big picture of your tank and all you have done is add a tiny something here or move a little something somewhere else.

Tell us what you think of the responses and why you disagree with their points they mention. Or leave us alone.
I'm here to listen and get ideas I didn't disagree to nothing. I'm always open to new ideas. That pic helps a ton I'm going to try that out thanks. Where would I place that piece of wood on the right?
---
Last edited by Neatfish; 03-30-2013 at

01:45 AM

. Reason: ?
Like this?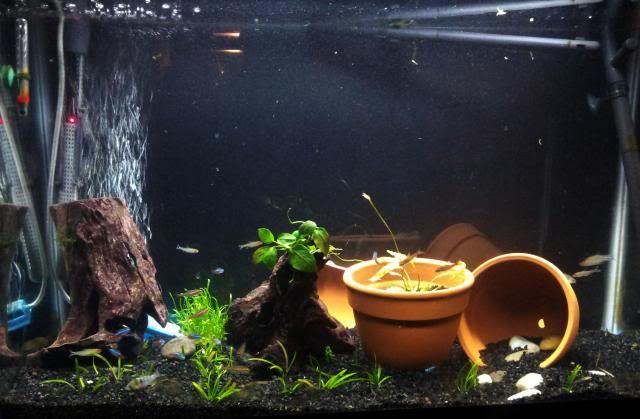 Planted Tank Obsessed
Join Date: Jan 2013
Location: Northern Virginia
Posts: 436
Like what another member has said, focus on growing the plants until you have a high enough budget to afford quality materials. It is impossible to make a natural aquascape using pots. They are circular, even, and smooth. They have no interesting texture and it looks too artificial and unnatural. Again, collect the SAME hardscape material, it would make it much easier to aquascape. Here's what I would do:
1. Buy the same type of wood, at least 2 interesting, curvy and branchy pieces.
2. Go to your nearest river and collect inert rocks with texture. Make sure the rocks colors match up with the driftwood.
3. Remove pots and plants. Drain tank and aquascape with newly acquired hardscape.
4. Ask for feedback
We cannot give you helpful feedback if you have little to work with.
Re: Don't like my scape part 3
---
Remove the pots and replace with nice rocks
---
I give my fish coffee
Planted Member
Join Date: Jan 2013
Location: NE Victoria, Ausrtalia
Posts: 151
Quote:
Like this?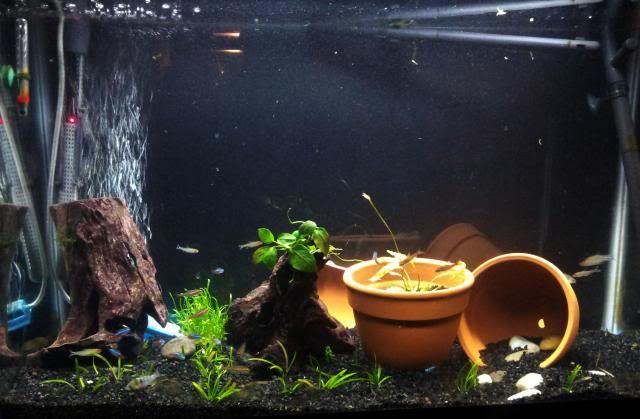 Yes, close. I didn't realiase your tank was that tall. You chopped the top off in the photo so what I said to do won't work. Sorry. Thanks for giving it a go. You need something higher in your tank. I'm afraid I can't help you with the pots, what I was seeing won't work.
While I disagree with growing the plants first I agree with what I3raven in that you won't have a natural looking scape with pots. If natural is what you want then they have to go.
You need some other materials to use. You can buy them like has been suggested or you can pick them up free. Depends how much work you want to do looking. I don't know Texas at all so I don't know what rocks and wood you have around to get but have a look around. Get out of town and look. You can usually find amazing rocks.
Whatever you do you need a theme to the stuff you get. It has to work with your black substrate unless you want to change it.
Get more than you think you need.
Make sure the stones are large enough, big rocks are fantastic. Then get an assortment of the same type of rock (preferably) down to small ones like what you have in there now.
You can get wood to match what you have but what you have is too small for the tank. It can be thinner than what you have but it has to be bigger.
I also agree with I3raven that you should remove the fish, plants and water to do your scaping. It may seem like you are going backward but it will give you a better result. It is the way most people aquascape for a reason. It lets you get is and change stuff that is just too hard to do in water.
If you really can't do this then I suggest you set your scape up out of your tank in a box with the front cut out the same size as your tank. That way you can play around with the hardscape and transfer it to the tank all at once when you are happy.
Have a look at other people's scapes and see what you like.
Good luck mate.
Linds