Algae Grower
Join Date: Jul 2012
Location: Cape Coral
Posts: 123
Want more/new plants.
---
Where to add them and what should I get?
Copied and pasted some of the anubias petite nana on the driftwood so you can see what I eventually plan to do.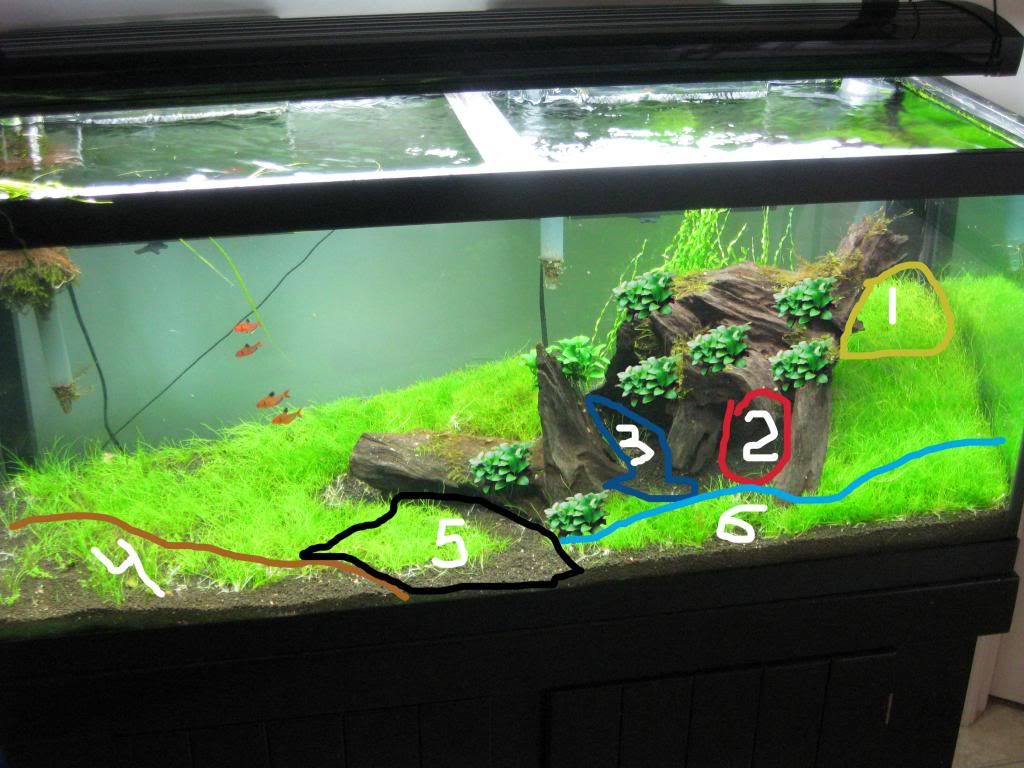 1. ????
2. Short plant. It is very shaded obviously.
3. ????
4. ????
5. ????
6. A very short plant/small leaved like hc or elatine hydropiper.
Ferts.
No Co2.
110W T5's 6500k (good reflector)
Algae Grower
Join Date: Jul 2012
Location: Cape Coral
Posts: 123
Was at a lfs today and they had a small plant in the corner that I liked, after much negotiation he sold me one runner... He didn't want to sell any of it. Now I have 4/5 little 'Pygmy Chain Swords' that I plopped in, seeing if I can get some growth. Interested to see what they look like in a few weeks.
Planted Tank Obsessed
Join Date: Jan 2013
Location: Northern Virginia
Posts: 436
Definitely get Blyxa Japonica, it has a very nice green color and it helps create depth. Can be managed to be a short to medium plant.
Algae Grower
Join Date: Jul 2012
Location: Cape Coral
Posts: 123