Planted Tank Obsessed
Join Date: Aug 2011
Location: Northwest Kansas
Posts: 307
Struggling aquascape
---
Hello all!
I have had this tank set up for over a year now and have made multiple changes to it, but have never been completely happy with it. It is in my kitchen, which is in the middle of the house and is a room we are constantly walking through and spending time in so I want it to look good. However, I think it is only mediocre right now... This is where you guys come in.
The plants I have in the tank are plants that I personally like. I would prefer to keep most of them, though I am open to selling some of the italian vals and some of the trident java fern. I am also open to buying a few plants but prefer to stick with low maintenance plants... I have been considering buying a jungle val or two. I have so far stayed away from crypts because the "leaf melt" they are known for scares me. However, I am open to trying some of the more readily available, EASY variations. I bought the frogbit because I read that the gouramis like it. After a rough start, it has been doing really well recently, and I think it is getting close to being thin it out.
I do have a couple pieces of hedge branches that I've used in the past. I have a few, small white rocks as well, though I'm not so sure that they fit with the black sand in the tank.
I would like your help figuring out how to arrange things for the best effect. I really like most of the pictures I've seen of the scapes I've seen on here, but I am one of those people that must see it before I know if it looks good. This is where you guys come in.
My original plan was to have the italian vals as a "curtain" along the back. They didn't stay as tall as I had hoped, though. The amazon sword was supposed to fill in most of the middle portion of the tank, and I was going to put smaller swords in the middle of the spaces on either side of the amazon sword. Then, I changed my mind and decided bolbitis on one side and java fern on the other. Neither of those has worked as well as I had hoped. I originally wanted the crinums to cover the top of the tank, but then the frogbit took over the area I had planned for it and then some...
Basically, my design failed and I need input!
Suggestions? Opinions? Please!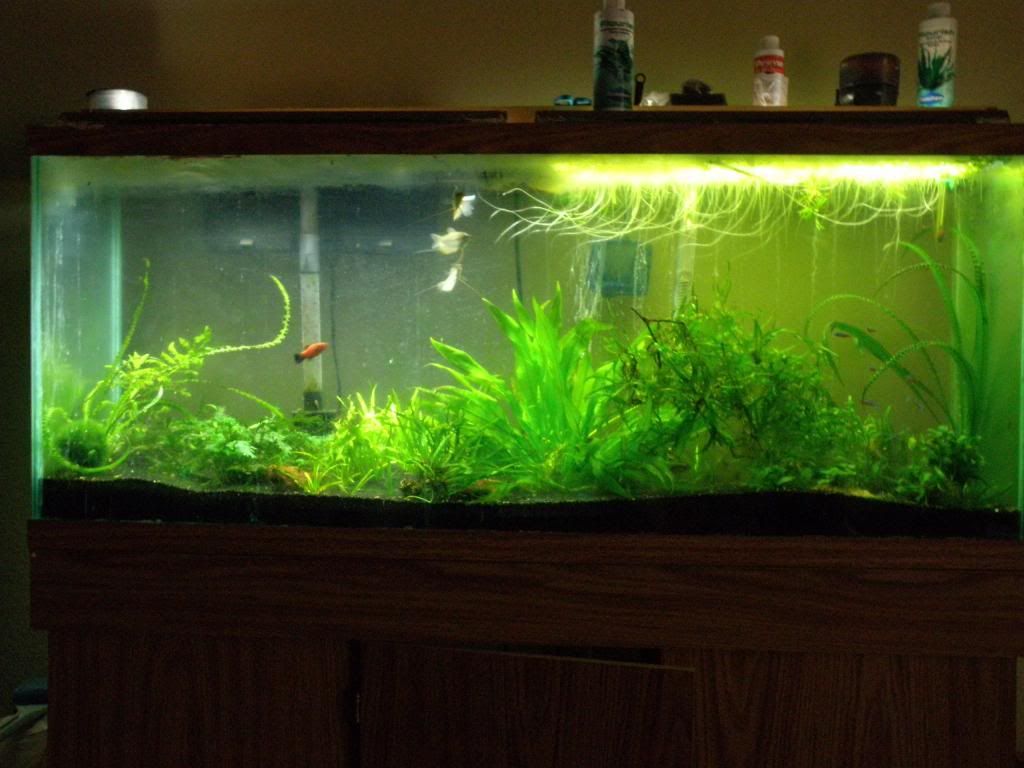 The current inhabitants:
5 pearl gouramis
3 bolivian rams
1 oto
10 cardinal tetras
MTS
Plants:
2 crinum variations
trident java fern
narrow leaf java fern
needle leaf java fern
2 species of anubias
marimo moss ball
amazon sword
LOTS of italian vals - spreading fast
water wisteria - not growing as fast as I expected
bolbitis heudelotti
This is a 55g tank. I have a high ph (~8.0). The other water parameters are in normal limits.
Planted Tank Obsessed
Join Date: Jan 2013
Location: Northern Virginia
Posts: 436
Your plants are looking really healthy and good. Well, In my opinion I think you tank needs a focus and order. That does not mean you have to get a piece of driftwood or a rock, although I highly recommend it. If you do choose to acquire some driftwood, search " The Green Machine" They are very professional at creating aquascapes and they sell plants, mosses, rocks, driftwood, etc. The Green Machine also provides help to achieve a aquascape you want to create.
Anyways, when I say order, I do not mean practically symmetrical, I mean by acquiring plants for a foreground, midground, background and placing them appropriately. For foreground plants, you should get Marsilea Hirsuta or Minuta if you are running a low tech tank. If you have a high tech, you should get some Glosstigma or HC. I really think you should get crypts. I moved my crypts about 4 times and they never melted.
Planted Member
Join Date: Dec 2007
Location: LA Mirada, Ca. USA
Posts: 170
I read your opening statement and just had to respond.
I wouldn't call this a failure. Your plants look green and healthy.
I agree with a piece of driftwood. Since your tank looks long,
a nice long and thin piece would look good. No more than two.
I don't know that much about Vals, but I would get some more
and hope that the roots get established. Keep to your original
plan. They need root tabs and nutrient soil. Your tank has a lot
of green. You need an accent color. I agree with some crypts.
A couple of wendti bronze crypts would give it that touch. Don't
touch the left side plant. IMO
I think a lot of us are never satisfied with our layout and so we keep changing it hoping we get it where we want. So don't feel alone if you keep changing the scape. That being said, it seems your tank is more of a jungle style tank. Although jungle style is typically wild and random, i think a well planned random is a good approach. Think about where you can place wood and plants such that it would look natural. You can start with some paper and first get the hardscape the way you like it. I guess ull need some wood haha, hit up Tom, he has tons. then from there you can start placing the plants. As you know, amazon swords get huge. But do you want to highlight the beautiful broad leaves or simply use them as a background to add contrast to other plants? These questions will help guide you where to place certain plants to achieve your goal. It took me 4 months to finalize mine.
I agree that a hardscape focal point would help, but my first reaction was that the concept of foreground, midground and background is missing. The sword could be the focal point if framed properly with plants of varying heights.

At least you have passed the first milestone: growing healthy plants. I look forward to this tank's evolution.
Planted Tank Guru
Join Date: Jul 2011
Location: Gone
Posts: 5,993
As Tom said you are off to a great start since you are growing healthily plants.

My advice, based on my own tastes and observations of winning aquascapes I've viewed, it to keep it simple. Pic the 3 species that grow best and make them the main elements.

Looking at the pic of you tank today. I would move the Amazion sword in front of the intake tube. Plant all the corkscrew val in the left tea corner in a triangle pattern along the back and left side glass. I've keep the floaters and sell/trade/or remove all other plants. When the Amazion develops baby plants The 1st new plant goes left of the mother plant toward the front. Basically you would develop two Triangluar patches in each corner. Keep some free space on the substrate between the plantings. The goal being roughly 1/4 sword / 3/4 corkscrew vail. This gets you some heavy cover and some swimming are. Also height differences.
Algae Grower
Join Date: Feb 2013
Location: Bergen Norway
Posts: 14
Your tank looks amazing i think :-) a nice piece of bogwood would also look great in there.Very imprive though great work :-)
Planted Tank Obsessed
Join Date: Aug 2011
Location: Northwest Kansas
Posts: 307
Thank you all SO MUCH for your input! First off, I want to apologize for not responding sooner. My internet has been down, so I have had to work around that, which is a big pain because we are so far from town...

My original plan was to use the amazon sword as a focal point, and I would like to stick to that idea. I had some wood in there at one time but I took it out because it would catch the air hose I was using to contain the frogbit when I was cleaning the tank and I'd then have to go catch my frogbit again... I can upload some pictures and you all can give me opinions on whether you think I should use it or find a different piece(s) of wood.

I really appreciate the input and look forward to getting some feedback on the my branches once I get pictures uploaded! I look forward to improving upon the scape I've got! thanks again for all your input! Keep it coming!