Planted Tank Obsessed
Join Date: Jul 2012
Location: Olympia, WA
Posts: 457
12 Long Seiryu Hardscape
---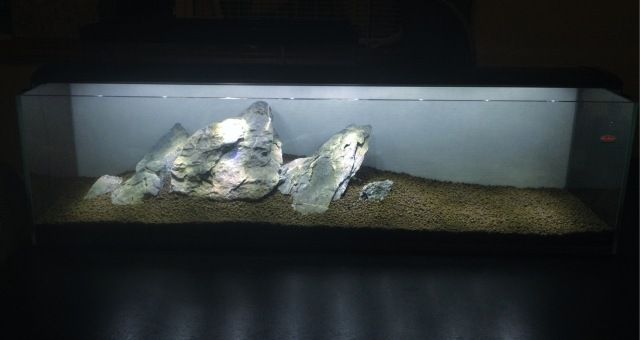 gonna start my DSM pretty soon now. Gonna go with an HC carpet.
looks awsome, has a very nice vocal point and rock formation. great start!
it looks GREAT.

The only slight change i would make is to move the secondary rock (the smaller of the 2 large ones) back just a hair. maybe an inch if that. just so that the focal point stone stands out a tad more.

good luck
---
There are 2 types of people on this forum. Those that have algae, and those that lie and say they don't.
Planted Tank Obsessed
Join Date: Jul 2012
Location: Olympia, WA
Posts: 457
thanks for the comments. I made some changes let me know what you guys think? i think i will start my DSM today or tomorrow if i can find healthy HC. This will be my first time using HC, first time trying DSM any tips would be great as well.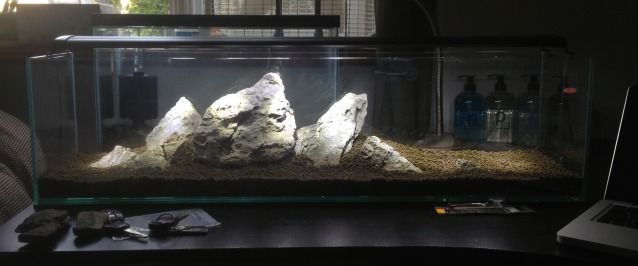 Nice hardscape man! Click the link in my signature for my 12g Long Iwagumi journal. I have a pretty in depth journal.

Key to DSM is to not over do it with the water in the substrate, you want it just below the substrate, don't allow it to pool up anywhere.
Planted Tank Obsessed
Join Date: Jan 2012
Location: Seattle
Posts: 451
I just ordered my 12G L so Im interested in seeing how this is coming along.