Rotala Macrandra and Ludwigia Sp. Repens
Algae Grower
Join Date: May 2012
Location: Mobile Alabama
Posts: 108
Great looking tank!! This is exactly what I would want in a tank, the only thing that I'm missing is uhmmm.....ability.
Wannabe Guru
Join Date: Jan 2012
Location: Portland oregon
Posts: 1,077
That looks awesome, I love it!


Sent from my iPhone using Tapatalk
Algae Grower
Join Date: Apr 2012
Location: Redwood city, CA
Posts: 125
wow great growth and great dutch style aquascape. i think grouping the rotala macrandra together more would make it look better
Gosh id love some trimings of the red ludwigia youve got there in the back. And Absolutely awsome scape, i really like the one active school of fish as well, it really helps move your eye around the tank. Great job
---
"
Obviously you're not a golfer.
"
-The Dude
Planted Member
Join Date: Oct 2012
Location: salina kansas
Posts: 153
That tank is amazing. Where do you get your plants at? We have two fish stores here where I'm at, PETCO and a LFS called petlife. Neither of which have very good choice for plants. I'm in the begining stages of building up my low tech 55 gal. To a hi tech plant aquarium.I'm debating ordering plants online when I get better lighting and more ferts.
We are lucky enough to have several LFSs around the twin cities. You have to go on fish/plant order day to get the prettiest specimens. Honestly Petsmart is the Mart/CO with better in-the-box plants. I have collected my plants from the 5 local fish stores, a few friends in the Aquarium Society, and through trades at my MAPC meetings as well. Sometimes you have to buy the best you can find, and wait for the new growth to look better.

IF you are lucky enough to live farther south numerous species have invaded the native areas. I found 5 different stem plants on my last FL manatee tour. Plus removing invasives is relatively free and helpful as long as you do not re-release them.
I knew I would be getting new plant species this week. Along withe the
fact that I simply have not been happy with the layout led me to let most
areas grow out this last week.
Trimmed what I had to, and left anything that wasn't casting serious shadows.
All three cabombas, rotala wallichi, and the glechoma hederacea (creeping charlie)
will be moved next week when I re-organize the colors.
Added Blyxa Japonica, Staurogyne Repens, and Hygrophila Odora. Once these
grow out things can really start to take shape.
Like the thread title says, especially this week it is a jungle in there.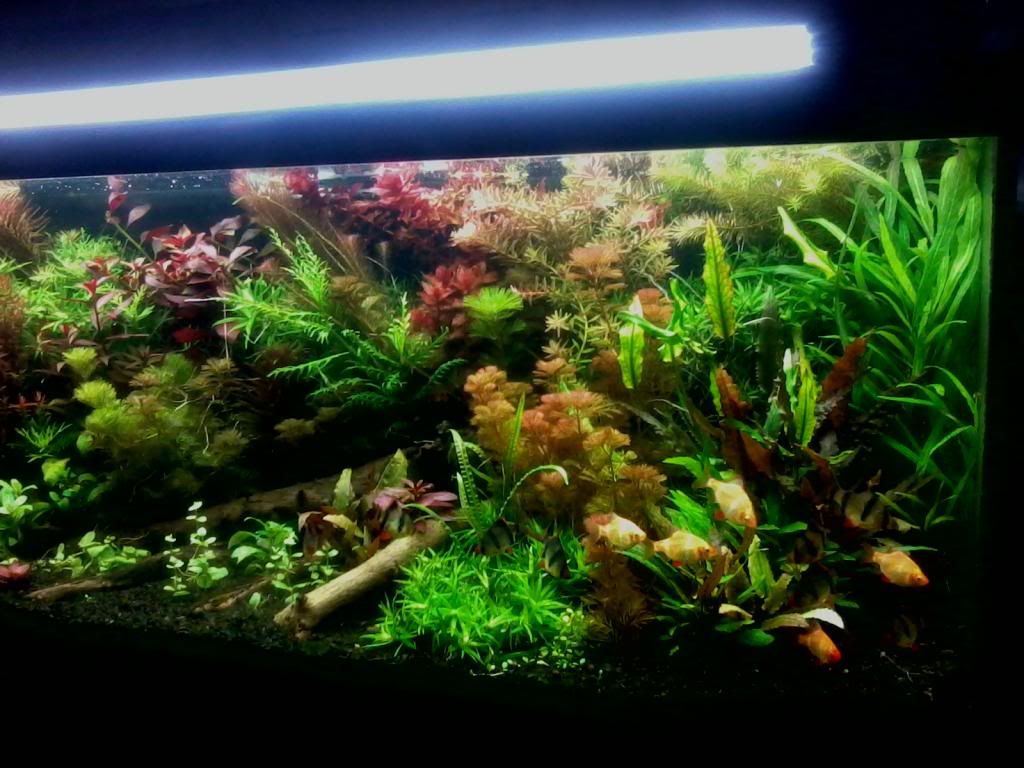 Planted Member
Join Date: Sep 2011
Location: east syracuse NY
Posts: 251
correct me if im wrong, but i looked at some pics in the photobucket album and i see a very familiar tank, looks like a tank from the youtube video "discus feeding on beef heart" or something like that
This is my first post on planted tank and I just want to say that I am in awe of the beautiful aquascape you have created. It is breathtaking.