Algae Grower
Join Date: Apr 2012
Location: Stony Point, NY
Posts: 53
Help with Firstime Hardscape
---
Hi All,
Im in the process of setting up my first planted tank (journal to come) and have started in on the hardscape. im a huge fan of minimalism so its going to be very close to an iwagumi style.
Here is what i've gotten so far (i apologize for the picture quality im still pretty new with a camera), i really like the flow and the way the rocks flow is very similar to how i found them when i pulled them out of the ground.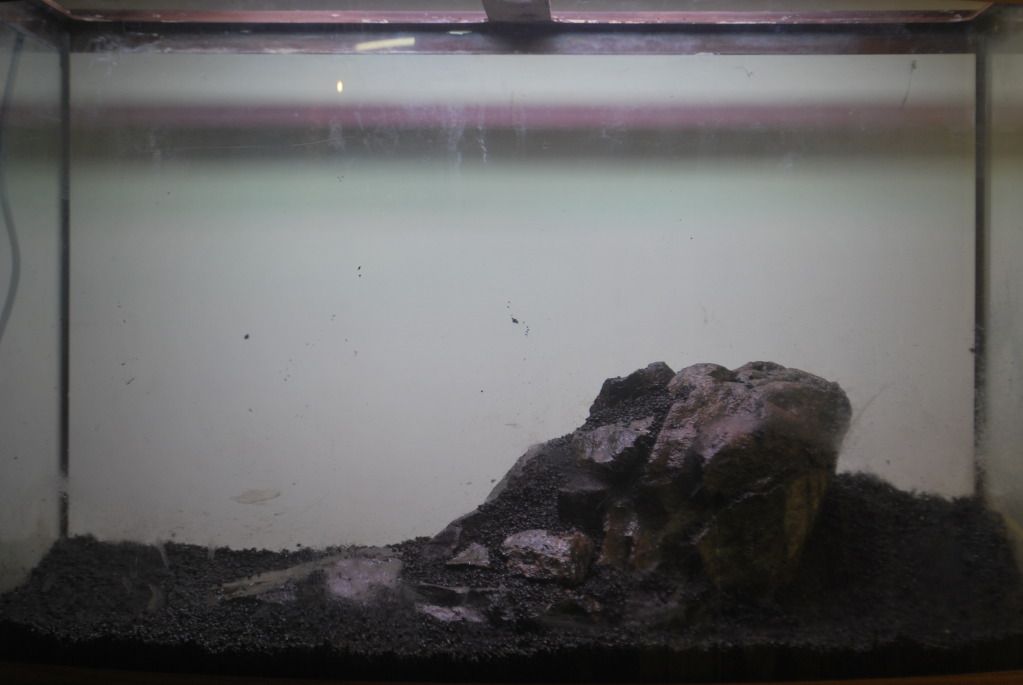 The more i look the more it feels like i have alot of unutilized space. i was thinking of maybe adding a piece of wood with a lot of branches to come out of the peak of rock on the left and branch into the open space on the right. also i was thinking about doing some more rock work on the left, or maybe adding a significant amount of dirt to the right and highlight a change of height.
Can anyone with more experience with this aspect possibly help me out?
Wow. I love this. Take it from me, I'm a huge Iwagumi scale fan, and I'd consider my Iwagumi a success (see signature), that this is perfect just as it stands. What's important now is what it will be planted with. Remember, the rocks/hardscape are ony half the story you're trying to tell here, half the picture to paint.

I would suggest HC as a carpet plant, Blyxa japonica just behind the stone(s), and something like DHG along the back wall and possibly some of the sides. Very straightforward, traditional Iwagumi, but perfectly so. Great job with this tank, can't wait to see it develop.
---
"Simplicity is the ultimate sophistication." -- Steve Jobs
Algae Grower
Join Date: Apr 2012
Location: Stony Point, NY
Posts: 53
Thanks Geniusdudekiran!
This is kind of the idea that i was basing the hardscape on, i think i might tinker a little more tonight, but id really like some more feedback.
Any help is greatly appreciated!
Wannabe Guru
Join Date: May 2012
Location: Atlanta
Posts: 1,113
I think it looks fine as it is ! If you want it looking like the above then just stick some seaweed on top ;-)
Honestly, I wouldn't touch it unless you really get a stroke of brilliance that says otherwise. Don't forget as well that once you add some plants in there your eye will look at it differently.
What kind of plants are you thinking about for this anyways? I'm assuming some sort of carpet lol
Algae Grower
Join Date: Apr 2012
Location: Stony Point, NY
Posts: 53
for right now, with some help from everyone here i am considering for carpeting: HC, glosso, or elocharis parvula or combinations of them. for accents/background i was thinking of blyxa japonica,echinodorus tenellus and hemianthus micranthenoides. i haven't put too much thought into it, im having a hard time visualizing how it will fill in. most of my decisions on plants will come from what the LFSs have available. im pretty much overwhelmed. lol.
I've gone ahead and done a crude sketch of what I'd imagine this scape as being.
The greenish-yellow would represent either glosso or HC, whichever you'd like.
The curly green plant behind the rocks would be Blyxa. It'd fit the scape so perfectly.
The straight plant along the back wall is DHG (Elocharis parvula/belem).
I'm very jealous of the scape, to be honest. It's got so much potential. Make it great.
---
"Simplicity is the ultimate sophistication." -- Steve Jobs