The beginner's Peco-scape saga...
---
Hi eveyone,
Im new to the forums but have been around here unregistered reaping the benefits from the plethora of knowledge here.
Anyway, recently I have made plans to set up a 13gal aquascaped shrimp tank. It would be my first time REALLY trying to do the nature aquarium amano kind of look (I have a run-of-the-mill 16gal planted too). I have been playing with ideas and set ups in my head but I didnt want to go into the experiance with dry feet (especially with my limited co2 knowledge). So i decided to really challenge myself in re-doing my Betta 3/4 gal onto a picoscape; co2 injection and all.

I realize this is not really an easy thing to do which such a small amount of water, and equilibrium is hard to maintain. So that is why i decided to post my adventure here, also I would love to here any advice or feedback!

-John




DAY 1- "The Epic Fail"
-Pre-existing Deco art aqua vase w/light and nano filter
-Purchased substrate (Fluval planted tank subsrtate)
-Purchased Rock (petrified wood) for Iwagumi look.
-Purchesed 1 pot Dwarf Hairgrass.
-A friend had given me is Nutrafin yeast CO2 system to use and i planned to use that

So I got home excited as could be to plant my tank. I put the betta into a holding container and took out pre-existing plants (a bulb sand 2 other grass-like plants). I dumped the rocks (Including a snail that also lived in there R.I.P. -- first Fail).
Then I rinsed and scrubbed the acrylic bowl, rinsed the substrate, and rinsed the Petrified wood. After putting in a deal of substrate and settled on my Hardscape of a slight hill, with the rock coming out of the slope.
I took out my hairgrass from the potting material, and trimmed the foliage and roots down. I decided on the planting area and then used tweezers to insert them in the soil.
Finally preceeded to fill the tank, and put Sigmund (the betta) back in his new home.

THE EPIC FAIL
So I wanted to set up my CO2 system. But the pre-mix packets i had were expired. I went out to get new ones yeast and then came home to try it. I filled ingredients as the instructions had said; adding a whole yeast packet to the cylinder BAD IDEA!. I got bubbles pretty rapidly and hooked u the hosing and began the injection.
I left the room for 5 mins and came back... THE ENTIRE BOWL WAS WHITE... with yeast-sugar-water..... I scambled around saving the betta and water changing like crazy... 4 time to be precise; until clear & water tests read good.

I quit for the night and let the tank alone w/o CO2.
(to be continued)
Day 2 - Doin Alright
So today I went at the CO2 system again. and now not like a moron did some recipe research and found only to add 1/4 tsp to the nutrfin canister (also measured the amount in the expired pre-mix to confirm).
I put all my ingrediance together and got the reaction. I watch vigilantly this time for a few hours, with no mis-hap.
Now the bubble problem, I saw my hose was just farting out a bubble and really not getting and efficiency diffusing into the water. So i brainstormed and came up with the idea of stuffing a piece of sponge into the tube... and viola! it worked like a charm! small bubbles come out and by the time they reach the surface they are almost invisable.
BUT
Now that i have been doing water tests, between the substrate and CO2 my PH has dropped in the 6.8 range, and i fear it to go lower....
So my plans to help stabolize PH
-add some coral/shells to the filter
-Take out the CO2 hose at night?
and also is this amount of co2 ok for an aquarium so small? I am maintaing surface agitation (ripples) but I still worry.
Here is a pic of the current set up.
I am currently waiting for some Dwarf Baby tears to come in to carpet the foreground.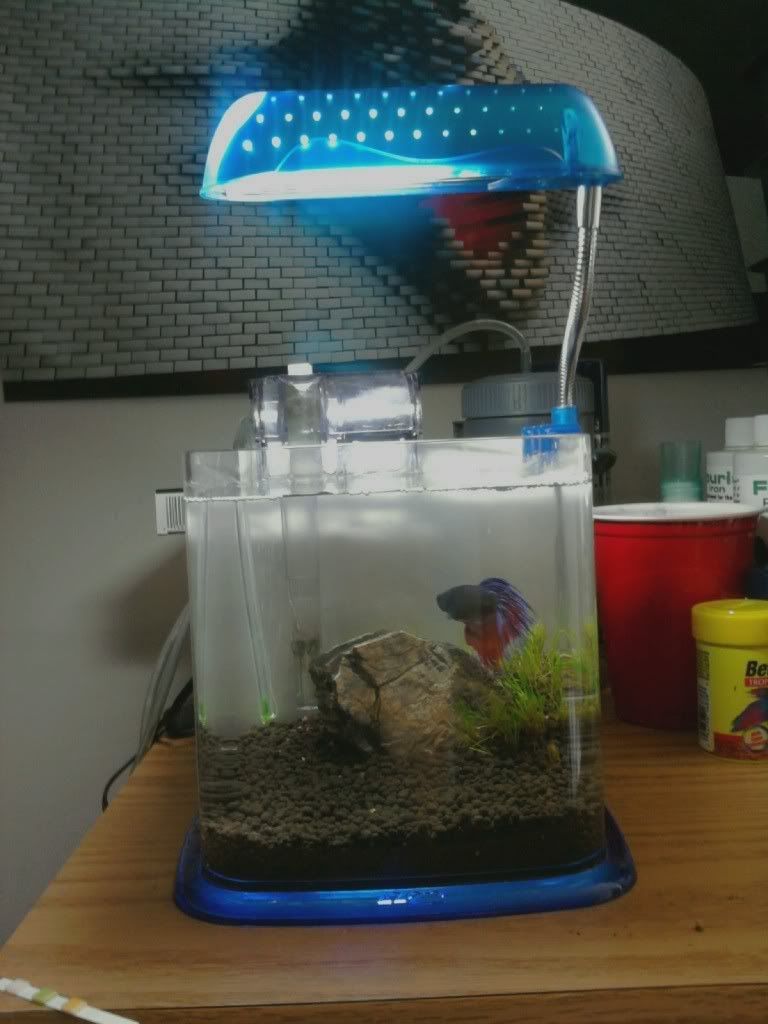 http://i986.photobucket.com/albums/a...ms_picture.jpg
-John
Looks pretty nice! That happened to me as well, i was testing mixtures when i started my DIY CO2 and it worked great for 5 minutes until the mixture bubbled up and out of the hose, luckily i was testing it first in a bucket filled with water to stop this very thing from happening in my tank. lol
Glad your betta is alright, hes very pretty!

Oh and i never thought of a sponge in the end of the hose...I use a shortened cut off bamboo chop stick for my higher pressured ones, and a cut off syringe stuffed with pillow stuffing that then goes into my filter and diffused that way. lol
With such a small tank you could eliminate CO2 by planting plants w/ tops sticking out of water. The plants get CO2 from air and you get a nice looking tank.
---
Multiple planted tanks 1.75g to 55g.
I know I could illiminate the CO2, I was running th tank for quite some time planted with no CO2 needs. But I just want the experiance from experimenting with a tough situation so I'll know my stuff for my 13 gal project.

...not to mention i was feinding to try my hand at iwagumi style.

-John
Here is an update on the ongoing learning process....
So after testing the ph consistantly at ~6, i got a little to worried my betta would be stressing out (as evident by his color). I added a little cruhed coral to the filter and do a small water change every other day and we are steady in the 6.7-6.8 range. problem solved.
also as a precaution i changed my CO2 bubble flow from constant fine grain bubbels to a short bursts of slightly larger bubbles.
Also I added dwarf baby tears to the bottom of the tank surrounding the rock and hair grass. I really think it will look nice filled in a bit more. i fallowed a you tube video on how to plant it and it came out realy nice.
But a few days later, i noticed there was some dead plant natter amungst my hairgrass so i decided to get a small rams horn, a little larger than a pea to eat it up.... Bad news.. the rams horn got under all my small bunches of baby tears and floated then.
So i then got rid of the rams horn for a cammon baby pond snail half the size of a grain of rice to be careful. Also, I anchored the babys tears with cut/bent paperclips temporarily, as the DBT fill in and stop the "melt" process...
And here it is as it looks now: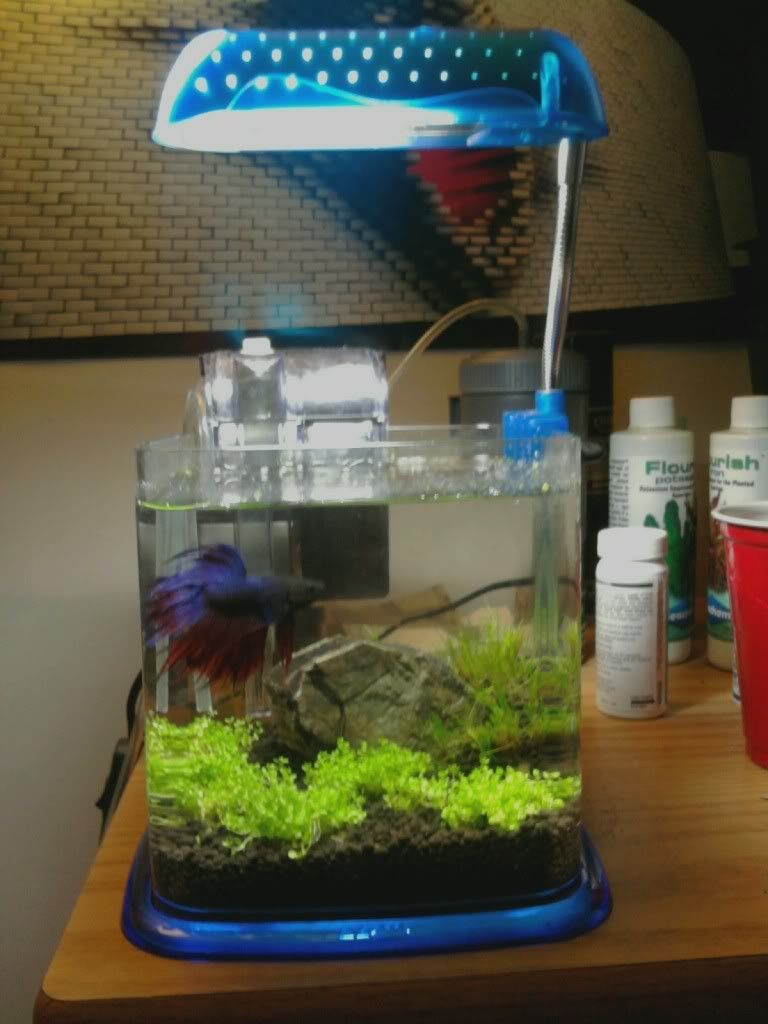 now my question...
Is it ok to use the paperclips as an anchor for dwarf baby tears? a friend of mine said the paper clip could rust and poisoning the water? but this doesnt seem right to me...
Generally you don't want to put metals in the tank that are coated with something. Most paperclips are sprayed with a shiny coating, this may break down with in the water and could release toxins. Generally the thought is stainless steel is safe for the tank, not sure if you can get stainless steel paperclips.

Oh and nice start!
thank for the advice, its not coated with like "coating" its like a plastic covering. but ill have to switch it out and see what else i can use.

Any good solutions to anchoring DBT?