First Time Aquascaping
---
Before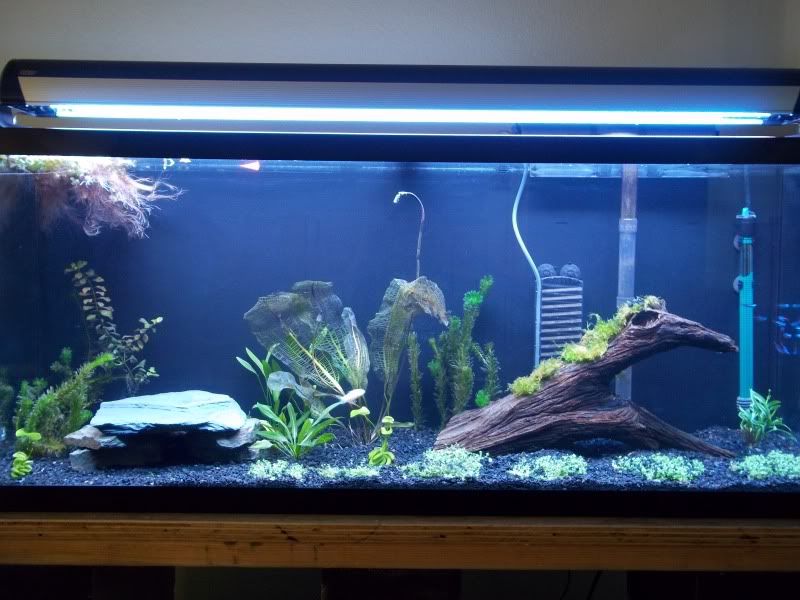 After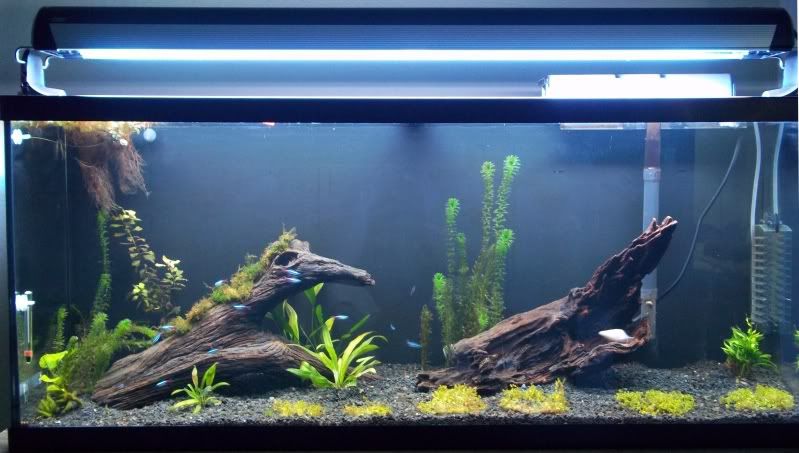 ---
Last edited by latnem; 04-18-2011 at

07:07 AM

.
Planted Tank Obsessed
Join Date: Mar 2011
Location: Atlanta
Posts: 314
I would see if I could get some plants to cover up some of the equipment on the right. I think another piece of DW would look could, might be able to keep the rock too. It will look better once the plants start filling in and when you add some fish.
IMO a large plant (like a sword) or stately looking rock with some plants around a little off center would make a nice focal point.
---
--90 gallon planted tank

EHEIM #460-- Eheim Pro II 2026
You could turn the existing piece of driftwood, so it looks like an
upsidedown Y, and it'd look like a stump.
That would hide your heater and your filter intake.
Figuring out a way to cover up my equipment is definitely a priority!

Thanks for the advice! I will update with pictures once I'm done rescaping!
That's an awesome Madagascar plant you got there, I just got mine today.. 2 little bulbs.. kinda anxious waiting to see how they turn out to be.
I rescaped my tank and added another piece of wood. Let me know what you think! Welcome suggestions!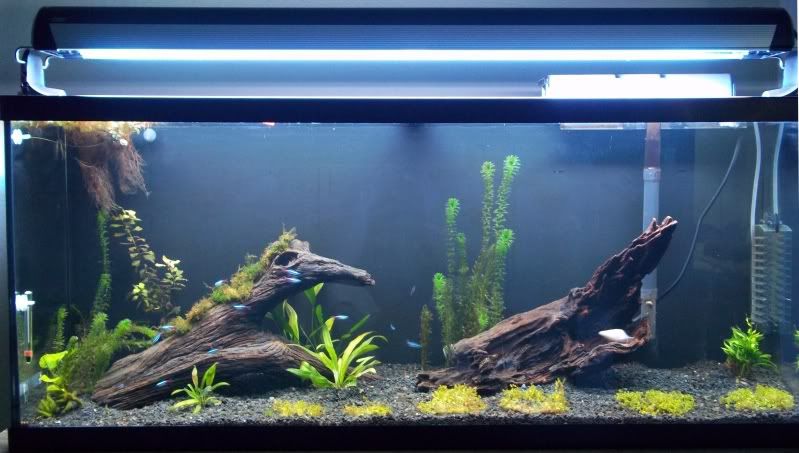 Still think you need a larger plant to cover up the equipment on the right. I would maybe think about moving some of your stem plants over to that corner, and then adding maybe nice red leaf plant where the current stem is in the right center of the tank...maybe a crypt wendtii red or red melon sword or something like that. A highlight of red would look good in your otherwise green/black/brown tank.
Thanks for the feedback, I actually have another thread open regarding choosing good background plants. I do definitely want to cover the equipment with plants. As you can see I hid the heater behind the piece of wood, so thats one down!
Hi, looks good! i like the idea of a large plant in the back right, off center, hiding the equipment, too.

another thing that might work well is to change the angle/location of the wood on the right, since the two pieces of wood are exactly parallel and even with each other, so it doesn't look as natural as it could be. maybe play with shifting it around so that there is more variety (shifting it farther back or front, and shifting the angle so it's facing in).
---
55 gallon planted with a pair of Apistogramma cacatuoides, praecox rainbowfish, bristlenose plecos, neon tetras, australe orange killifish, amano shrimp, & bamboo shrimp. Dwarf baby tears, dwarf sag, Amazon sword, guppy grass, moss, java fern, anubias, & several crypts.
You're on the right track - keep playing with it till you get it looking the way you're well satisfied with it. As SamandAnne mentioned, try changing the position of the wood on the right side - maybe flipping it over would give it a more natural look, A few more plants in the right spots could finish it off nicely.