Algae Grower
Join Date: Sep 2008
Location: Las Vegas
Posts: 72
Help me pick a hardscape! Pictures included
---
Ok, everyone.
I have found this site to be a huge help in every facet of keeping a planted tank. So I am going to come to you once again and ask your help in choosing a hardscape.
The tank is a 26g bow front with a 24"x12"(15" in the middle) footprint. Its going to be home to a pair of apistos, a bunch of cardinal tetras, ottos and whatever shrimp can survive the apistos.
The tank will be viewed from 'front on' almost exclusively, sometimes from a front right or right side angle (left hand corner next to the sofa).
Option #1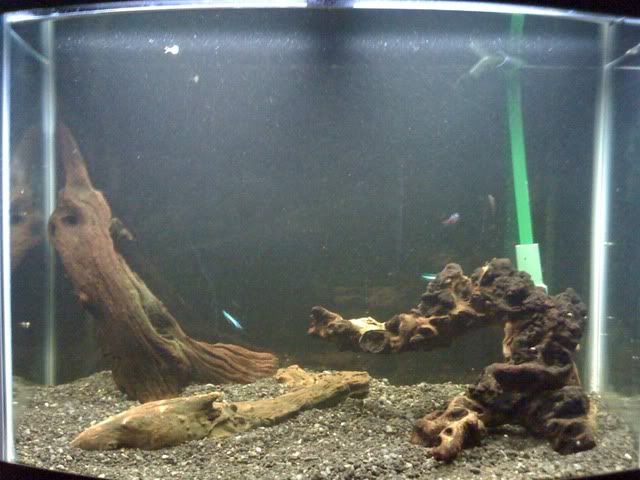 Option #1a
Driftwood on right side is turned around
Option #2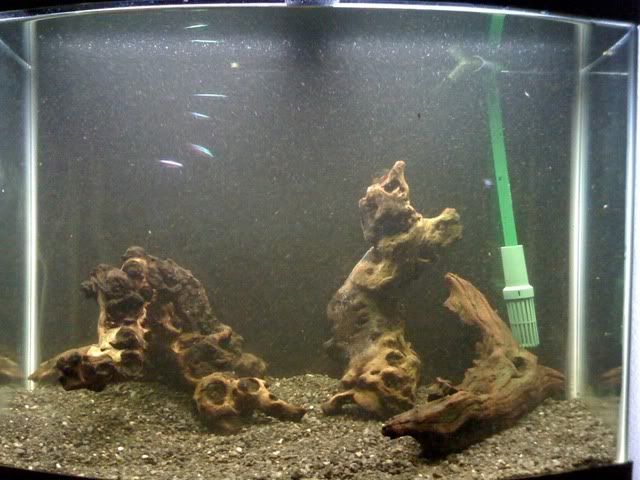 Option #3
Option #3b
Center driftwood is standing
Let me know which one you like and why. If you have any other suggestions I'd love to hear them.
Thanks, Kyle
If I had to pick I'd go with 1. Depending on how that filled in with plants it could look really nice. I usually try to keep a general shape in mind when I scape though. So you can do a U shape where it's high on both sides, or an inverse of that where the sides are low. I tend to gravitate towards the slope effect though where the back of one corner is very high and the opposite corner is very low.
I think I'd go with #2.
---
"My next hobby is going to be tearing up $100 bills while simultaneously banging my head against a wall and flooding my basement."
"Ask not what the hobby can do for you, but what you can do the the hobby" - ScapeFu

I like option 2, as well.
---
Pimp #418: 2075, 2217
MARINELAND Pimp#5: C-220, H.O.T.
I owuld go wiht 2 but get rid of the piece of wood that is the odd one out.
---
93g West African Biotope
Quote:
"C'mon, they're just plants, man, no big deal -- try some"
Algae Grower
Join Date: Sep 2008
Location: Las Vegas
Posts: 72
Thanks for the input so far!

I am surprised that most people like #2, it was my least favorite. What is it about #2 that makes it better? What does #2 have that #3b doesn't?

Initially I liked #1 but feel once the foreground plants grow out the center piece of driftwood will be lost.

I was thinking #3b would look good with some tall bushy stem plants in the back left corner and somewhat obscuring the center piece of wood. Then have marsilea minuta in the front and Staurogyne 'repens' around the edges of the wood and in the center. Cover the right driftwood with dwarf Anubias and/or moss and find something for the back left. In my mind it will be a V shape from left to right and back to front.
Planted Tank Guru
Join Date: Jan 2010
Location: Contra Costa CA
Posts: 11,721
I would group the woods so they are all touching in the middle.
Cube tanks work pretty well with a symmetrical layout.
This tank is so small it looks too busy with the 3 separate pieces of wood.
You can use zip ties if needed to hold the pieces together.

Maybe: Lean two pieces together to make a peak in the middle, and lay down the third piece in the front.
Start with option 2.
Move the left piece to about the center. Put it on a bit of a mound.
Keep the center piece where it is, just lift it up on the mound, too. These 2 pieces will be made to look like one piece. If the tall one does not want to stay zip tie it to the other one. (You can drill holes in the wood if there is not a good place to anchor the zip tie)
The piece on the right looks like a different species of wood. Bring it to the front. Maybe centered, maybe still to the right a bit. Sink it in the front of the mound so it makes a retaining wall to hold up the mound, and the vertical branch is still sticking up the way it is in the picture.

This same set up could be moved to the left or right, following the golden mean.