Algae Grower
Join Date: Jan 2016
Posts: 43
Medium(?)-tech Spec V build
---
Hi all! New to the forum here. This site is the best I've seen for planted tanks, which I am just now getting back into. Given my current circumstances, a small tank fit my needs pretty well. Was about to buy a small tank just before Christmas when, to my delight, someone thought of getting one for me: a 5g Spec V!
I've spent the last several weeks getting everything I need and tinkering with the hardscape. Here's the list of equipment for my new Spec V FW planted:
Lighting:
Finnex Planted + 24/7 dialed back to ~40%. Idea is to have low to low-medium light for controlled growth, but CO2 for increased health.
CO2:
CO2Art Pro dual stage regulator w/ GLA atomizer and plastic bubble counter. 5 lb aluminum tank that I got for free.
Ferts:
just seachem NP (K, but not using unless I have to) and Flourish comp. Will be dosing a light EI schedule, probably 1/2 to 2/3 dosage 2x weekly. If I need more, I'll up the dosage, but I like the convenience of the Seachem and want to keep usage low if I can. Otherwise, I am open to dry stuff later. Or I can always dial light lower.
Plants:
Haven't received them yet, but they will include:
Cryptocoryne lucens
Cryptocoryne wendtii 'green' and 'red' (will watch latter and may need to remove or otherwise keep well trimmed)
Vallisneria nana
Microsorium pteropus 'WindelÝv' for the driftwood
Anubius barteri nana 'petite' for wood and stones
Marsilea minuta

May, if I can find some decent ones, Bucephalandra species for some of the stones
Hardscape:
Some progression pics. Can't say they are terribly good, either pics or layout, but it gradually progressed to where I like it, which is what counts.
First layout:
Second version (getting a bit better, but too much gravel to me and rock "wall" is a little too directionless and disorganized):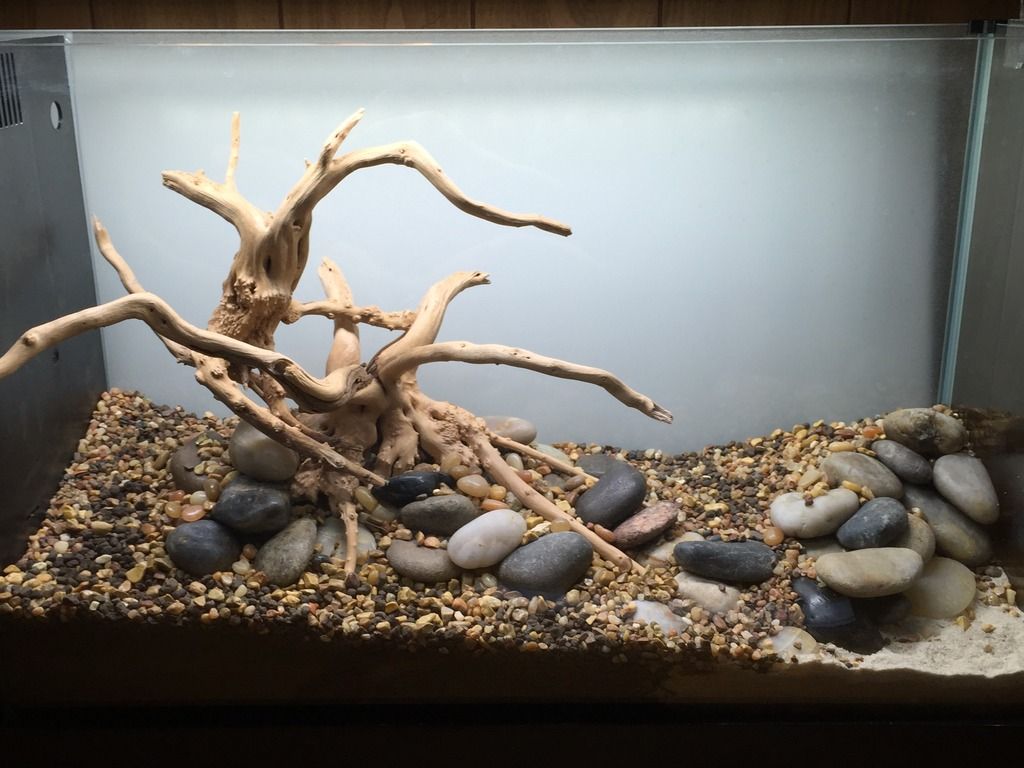 Third version (added more aqua soil to make it more suggestive--like rocks, etc. sliding down a river bank and 'rock wall' is much better looking, IMO):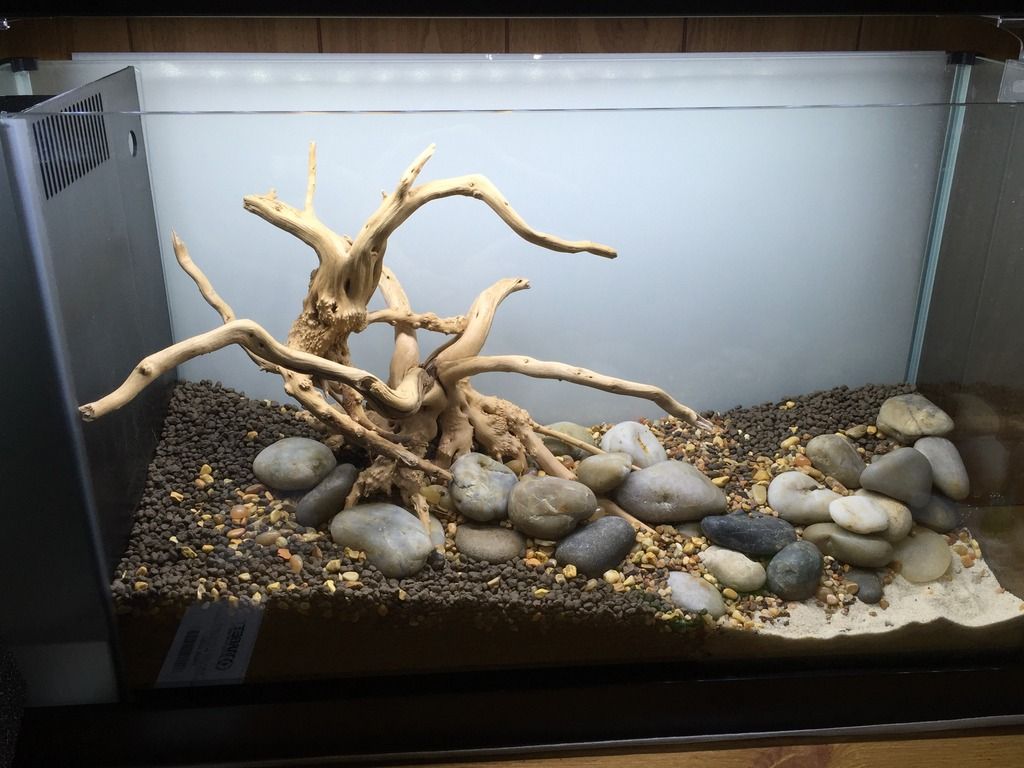 Now to wait on plants! I'll update when I get everything in. Thanks for looking! Hoping this will be a successful and enjoyable experience.