Wannabe Guru
Join Date: Apr 2008
Location: Glendale, CA
Posts: 1,020
congrats back Mizu!!! Surely I'm not the only one but your OG 20L was one of the first tanks to get me hooked into this hobby...now I have a garage full of tanks and equipment...let me know if you ever need anything













The tank is looking pretty okay at the moment. I'm keeping up on water changes which is nice. I've trimmed a bit so that I can start and fill it up a bit more. I recent had a leg injury that has put me out of commission so once I'm %100 again I'll probably do a little rescaping. I'm just not too happy with the layout at the moment. It's hard to keep my hands out of the tank to be honest. (:

I'll be posting pictures tomorrow with a more in-depth update on how everything is coming along. I hope everyone is having a manageable week! In other news - I turn 21 on Thursday!
---

Planted Tank Guru
Join Date: Sep 2008
Location: Alameda, CA
Posts: 2,214
Quote:
In other news - I turn 21 on Thursday!
Want some Cocktail recs?
I'm glad to see you back in the hobby, the progress you showed over the course of your 20L and then this journal was staggering, and I can't wait to see it continue.
---
Wabi Kusa is just an Aquascape Katamari
Quick Update
---
It seems that I am becoming more accustomed to Denver water. I had trouble growing even algae in it before.
I'm happy with he layout for now. I'll probably be trying to get some livestock in there before the end of the week. It's just not as nice without fish and friends in it! I'm also in the market for some nice hardscape material.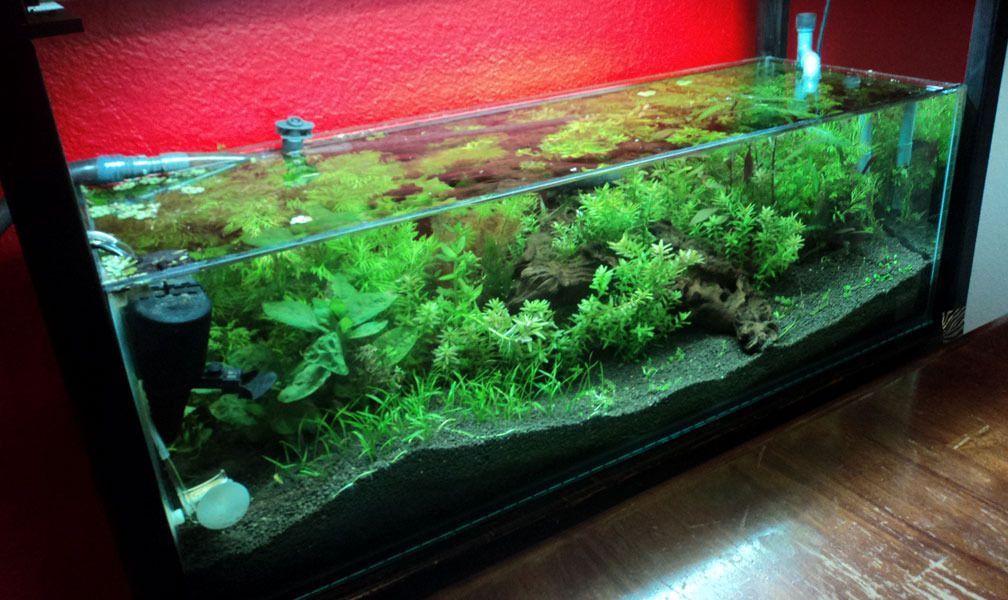 ---

Looks great. Have you considered adding any color?
Oh yes. I'm hoping to trade a friend for some rotala colorata to start off with. I'm not quite sure what else I'll add in - if you have any suggestions I'd appreciate it!
---

So far ludwigia red is my favorite red plant. It's easy to grow and stays red even for me. It has much smaller leaves than ludwigia glandulosa which is another favorite.
Tank looks good any updates?

Curt