How many chocolate gouramies do you have in the tank? Have they been nesting at all?
I´ve really wanted to get some chocolate gouramies but I've been nervous about them jumping out, since gouramies are notorious jumpers. Have you had any jumpers in your tank?
BTW, great looking tank, in spite of some off-season slacking
---
Eheim pimp #127.
600 ltr (160g) planted tank. Pressurized CO2, Eheim 2260 & Sacem Marathon 2000, 156W T5.
Planted Tank Obsessed
Join Date: Apr 2009
Location: King George, VA
Posts: 357
Quote:
I'm just a noob compared to most of you guys, but... jeez. What a waste. Why don't you try a few days of darkness first? The algae will die before any of your plants will.
If you've never had this stuff or tried to fight it you have no idea. Just be thankful....
Demosthenes: Thanks, that means a lot to me! I thought the tank was pretty cool too
Tex Gal+everyone else: This is one of the most stubborn algaes I've ever encountered, Excel and H2O2 seem to slow it down a bit, at the most.
I will try blacking out the plants for a few days before I replant, and see what happens. Maybe I'll try that potassium permawhatsit stuff if the blackouts don't work. Some of the plants I would like to keep, some I would like to sell, and this algae is starting to hurt my pride
I put my fish into a brand new tank, so I can take my sweet time thinking about my next 'scape and do things like go overboard with the CO2, and maybe try to get a carpet going without my bulldozer bristlenoses interfering.
I went for the answers in your quote style response, it was easier that way
Quote:
How many chocolate gouramies do you have in the tank?
Currently 7, down from 10.
Have they been nesting at all?
Nope. Are they bubble nesters? If so, I have too much surface movement.
I´ve really wanted to get some chocolate gouramies but I've been nervous about them jumping out, since gouramies are notorious jumpers. Have you had any jumpers in your tank?
I consider all fish jumpers, and don't keep uncovered tanks anymore. So no, I haven't had any jumping problems
They are really cool fish. Make sure you have plenty of hiding spots, as they can get aggressive with each other from time to time. They do well in groups and even school occasionally.
BTW, great looking tank, in spite of some off-season slacking
Thanks!
Minsc - look at this thread. There are some suggestions in here.
http://www.plantedtank.net/forums/al...lgae-woes.html
I've been experimenting a little bit. I increased my w/c frequency. I did a 3 day black out. Next I hit it with peroxide with the filter turned off. I've limited light. I think I may be putting a dent in it. I've pulled out big pieces. After the peroxide treatment it seems to change color to a darker green.
The stuff they use to kill it in ponds and lakes is sodium percarbonate. I haven't tried that yet. Hoppy did an experiment with the sodium percarbonate and didn't see any change. I'm beginning to think that the key to killing this stuff is to weaken it by black outs, less light etc. and then it opens it up to chemical treatments. I guess time will tell. I do have a lot of Sodium percarbonate. Maybe I'll try it if the H2O doesn't work. It's basically the same idea - an heavy oxidizer. The only difference is the sodium percarbonate is power so it stays where you put it - as opposed to the H2O which can be displaced by water current.
Good thread, thanks!
So far I'm enjoying the blackout method. The plants are all in a bag, and I'm free to worry about fixing my electricity instead of playing with my plants.
To those interested about the algae issue:
When I moved this tank, I unceremoniously dumped all the plants into a couple gallon bags, and left them in the dark for four days. The good news is that all the algae completely died!
The bad news is that it killed over half my plants as well. All my wallichii, macrandra green, HC, and UG was completely wiped out, and I'm down to a single stem of fluviatilis and erio type 3. Most of my erio type 2 is still alive, but it is brown instead of green. Many of the other plants suffered as well.
It wasn't a complete loss though. YikesJason and MyEdSul provided me with a ton of plants to fill the tank in again (thanks, guys
) and with the current regimen of easy on the lighting, heavy on the CO2, all the wounded plants look like they are starting to come around.
An interesting contrast is what happened with my 10 gallon during the move.
I drained the tank, but left the plants and substrate in place, and partially refilled the tank within hours. The plants went just as long without light, CO2, ferts, etc as the plants from the big tank, the only difference being they were in a tank with water instead of crammed into plastic bags.
With the exception of fluviatilis 'lotus' and a couple stems of downoi, all the plants from the 10 gallon look great. Some of the stems were pale and a bit distorted/misshapen, but everything bounced back within a couple days of firing the tank back up again, and now look as good as ever.
Glad we could help. I can't wait to see that the "Rebuilding Mars" rebuild is going to look like.
Planted Tank Enthusiast
Join Date: Jan 2013
Location: Boston ma
Posts: 741
Nice tank, I just wanted to know what's the purpose of havin the pump on your filter output? I thought about it so it would be more pressure for a DIY spray bar. Or to put my co2 to it an have better diffusion of it in the tank an mainly just to see if it would give my filter a boost.
Quote:
Filtration and CO2
Filtration, flow rates and patterns, bubble counts and injection techniques... This is where all the problems started and all my headaches began.
Anyone surprised?
The tank started with an XP3 powering a Rex reactor at 1.5 bps, through a spraybar across the top of the left wall. This is the same setup that grew blyxa, lobelia, HC, Limnophila and others beatifully for me previously, but had mixed results with more delicate Rotalas. This time it failed spectacularly.
I'll skip all the intermediary steps I've taken the past few months, and get right to what is working
now.
Flow Rate
Flow rate is driven by an XP3 and a Gen-x 1000 needlewheel pump run inline. The XP3 gets an approximate 160 gph, and the pump seems to nearly double that when on, so I am guessing there is 8x turnover of the water column per hour.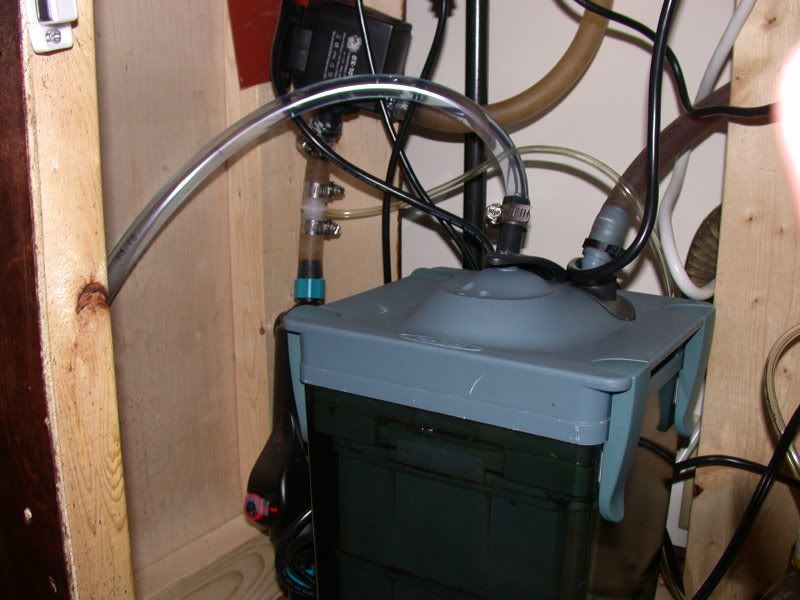 Flow Pattern
The flow pattern in the tank has been vastly improved by removing the spray bar, and replacing it with a marineland output, similar to a plastic lily pipe. The output is positioned in the back left corner, at a 45 degree angle towards the front glass. This pushes the water down the front, across the foreground and back into the corners. This pattern does a much better job of pushing the current down into the plant beds than the previous set up, which seemed to just circulate around the top of the tank.
CO2 mist
CO2 is pumped into the system just below the needlewheel pump at a rate of 3 bubbles per second. The needlewheel impeller chops the CO2 into a mist of fine bubbles that are pushed around in the current.
I'm not exactly sure why CO2 mist is more effective than dissolving the CO2, but it does seem to be. The same rate of bps through a reactor would kill all my fish, yet with this set up they are happier than ever, and my plants look healthier than I have ever seen them.
Future Plans
The tank is finally shaping up, but there are still a few changes in the works. Some plant species need to be moved or removed, and the middle section needs to get cleaned up. There is still some residual BBA that needs to be spot treated, and the substrate has leveled out a bit and accumulated in the foreground and needs to be removed (I am so not looking forward to this).
In additon, all my shrimp have been removed or murdered by my checkerboard, so it is time to copper the tank and kill off all the plant eating pond snails and foreground disrupting MTS
Once the MTS are gone, hopefully my UG will form a tighter carpet, otherwise I will switch to HC or maybe the mysterious microsword I have a tiny piece of will grow out.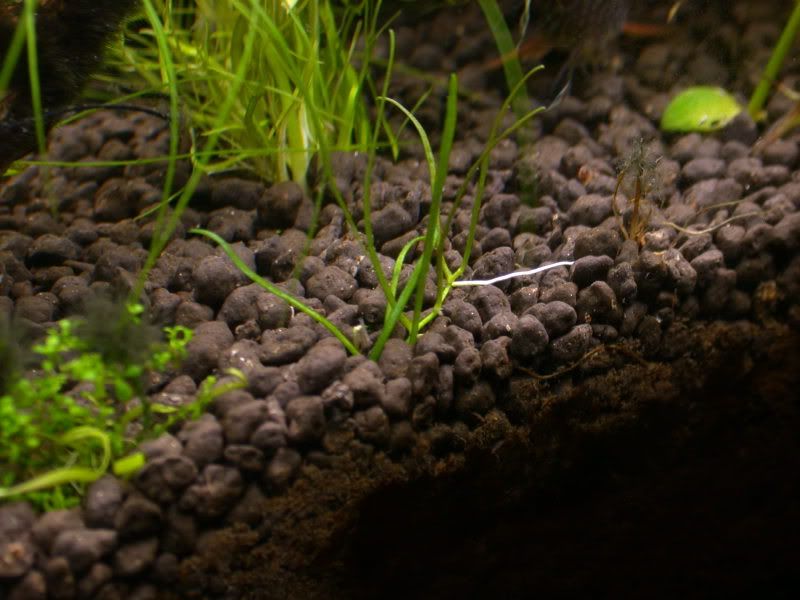 Other than that, it is just letting the plants grow out, and hopefully soon I will have the tank I always wanted
Thanks for reading, Rupert says "Happy Holidays!"