Rescapeing reflection from the past 2 years, from novice to progress.
---
I will start this Journal for reflect on my aquatic venture from the past 2 years. I never thought I would to keep a journal when I first started this hobby, thus I had very few photos from the past year. found a few photos here and there to get this Journal started. Hopefully I will take more photography for my future tank maintenance.
Oct 2012
It all started when I decided to buy my 5 years old daughter a fish tank. Went and bought a 70L Juwel tank, and 20 fish. I was a complete beginner, and learnt the nitrogen cycle the hard way. Surprisingly, the two keyhole cichlid we first bought still living in the tank today. I started to add plants into the fish tank after reading it will help to absorb the Ammonia. soon I got hooked, though my little daughter lost interest completely as I had to keep telling her not to overfeed the fish.
Mar 2013
An old video clip snap showing my first attempt into "Aquascaping", looking really horrible, had bad algae problem, the java moss tied on branch starts to turn brown and dirty.
Tank: Juwel 70L
Filtration: Eheim internal aquaball
Substrate: JBL Manado
Lighting: the T8 dimmer comes with the Juwel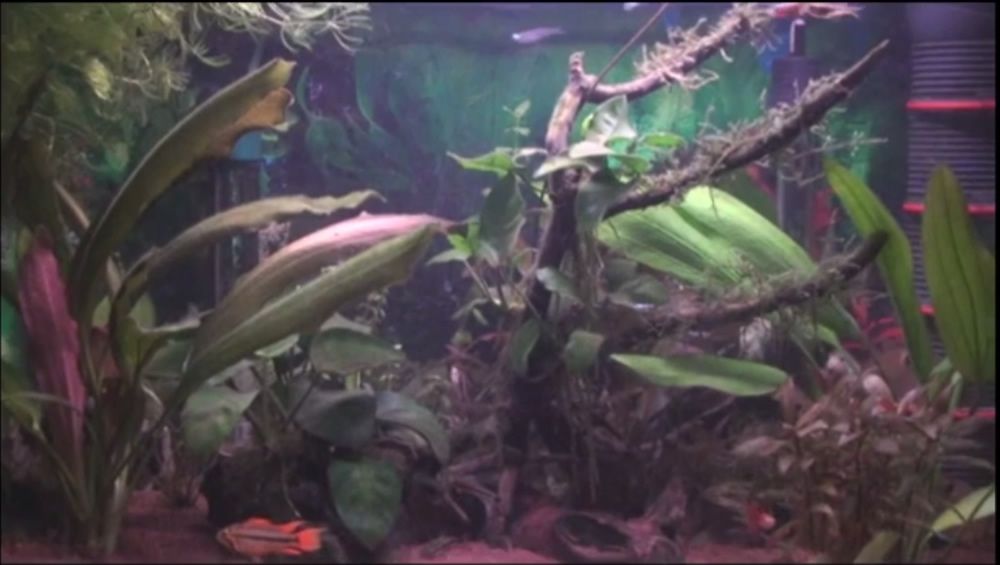 Dec 2013
I had an apartment move in May 2013, and neglected the tank for sometime and caused an blue green cyano boom, that nealy killed off the hobby completely, In the end, I had to dose Maracyn at the expensive of two Sepea tetra and large daily water change. I decided to rescape.
Lighting: Changed to Beamwork LED 45cm, All white heads.
Plant: added
H. Callitrichoides
Ludwigia repens
Vallisneria spiralis
Pogostemon helferi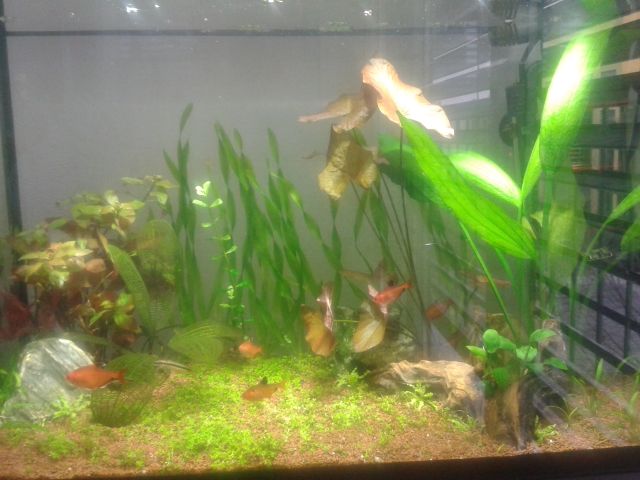 Feb 2014
The HC carpet is growing nicely, Added a few more plants.
Alternanthera reineckii 'Mini'
Rotala 'Bonsai'
Crinum calamistratum
Dwarf sagittaria subulata
Staurogyne repen
Eleocharis parvula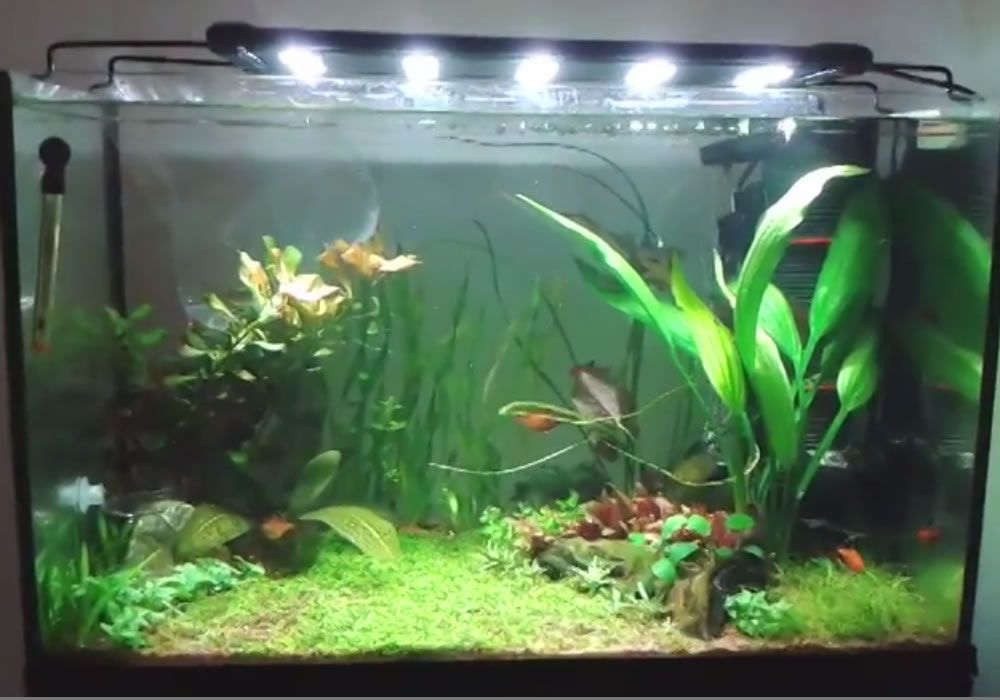 April 2014
I put in quite a lot of ADA Amazon powder at the back to raise the slope. the HC Carpet was doing nicely and dense. have a little alage here and there.
Removed the Eleocharis parvula, as its attracting alage, and put in the Hydrocotyle verticillata,
Also added Pogostemon stellatus, Cuphea anagalloidea, and I made my first moss wall, see on both side of the tank.
The plants are doing nicely, I really the Crinum calamistratum's tentacles floating around in the current.
May 2014 (Forest Side)
Decided to do a major rescape after bought two nice piece of driftwood. The rescape turned out to be a bit of disaster in the end, I had to drain all the water out of tank and disturb the substrate quite a bit. The short term end result was looking good for a short while. However, I had a algae boom due to the substrate disturbance. and the HC cuba was turning yellow and was dying due to the insufficient lighting, which I had pull all them out in the end.
Added 30 Fire Red shrimps and built a shrimp cave from the filter media.hanging on the wall left side.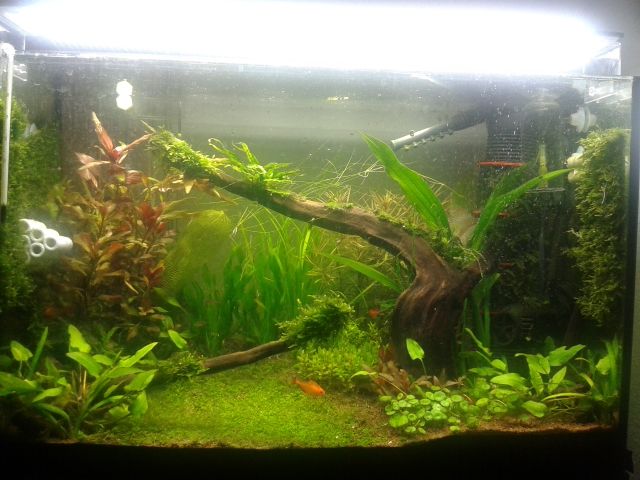 July 2014
The tree trunk and branch are out, and clean out the alage boom. threw away a lot of plants had a bad alage infestation: Vallisneria, P stellatus, HC cuba and Hydrocotyle verticillata.
At the back, Added Micranthemum micranthemoides, and Rotala super red. At the front, I made a nice riccia fluitans on stone.
The Dwarf sagittaria subulata on the left side decides wanting no longer be a dwarf, starts really shots up.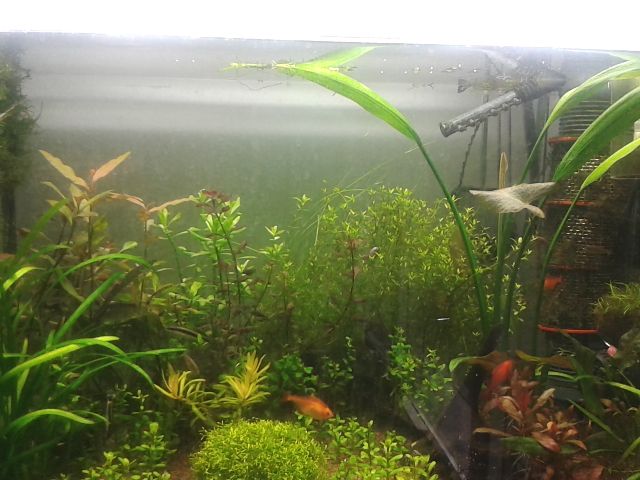 Sep 2014
The Cryptocoryne wendtii on the right side is on steroid, and really shots up.
Decided to put Micranthemum umbrosum to the front to give a fresh look, deicdes to give Cuphea anther try, as this time I got some healthy long sterns. Put in L. Incilinata at the back.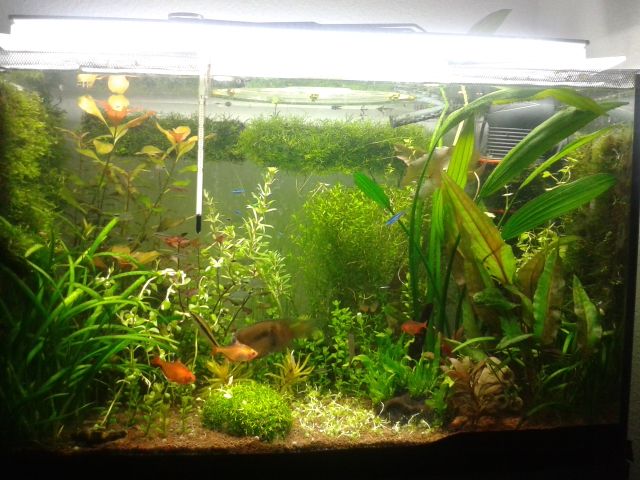 Oct 2014
Its looking pretty good so far. Now the Journal begins.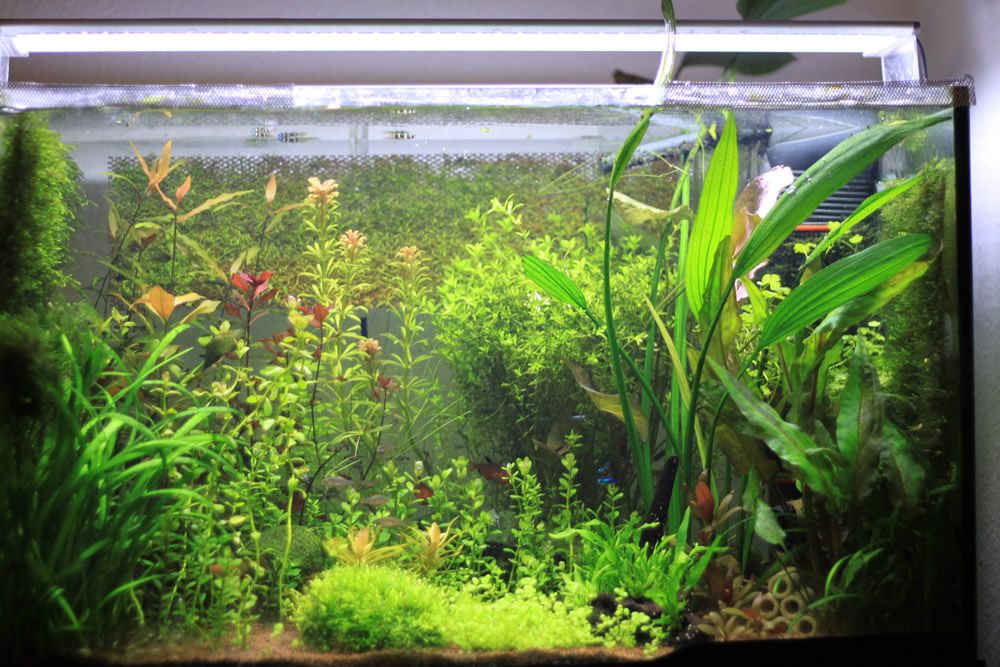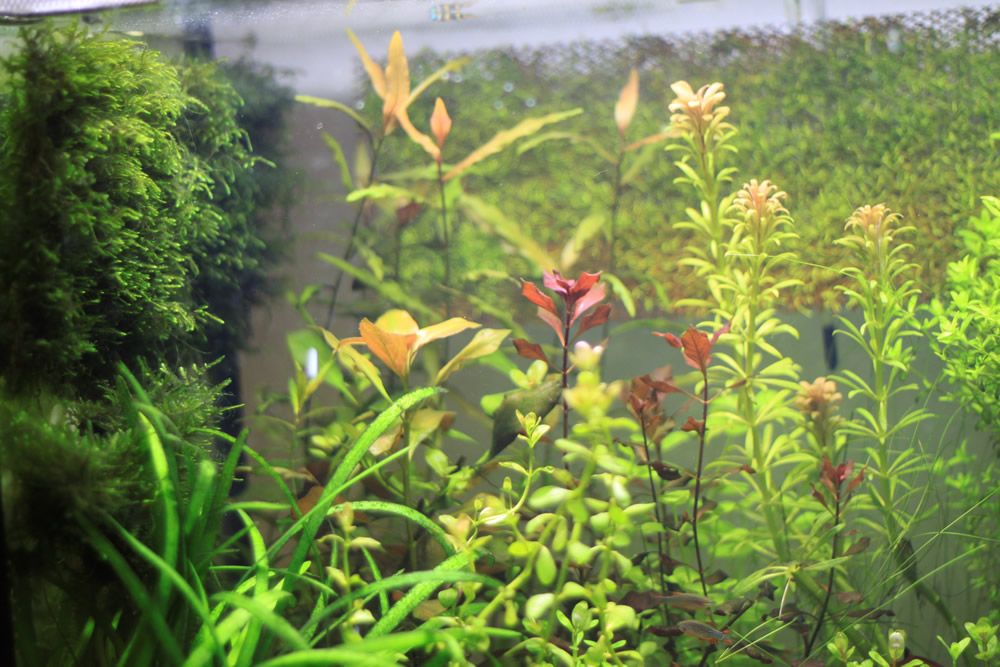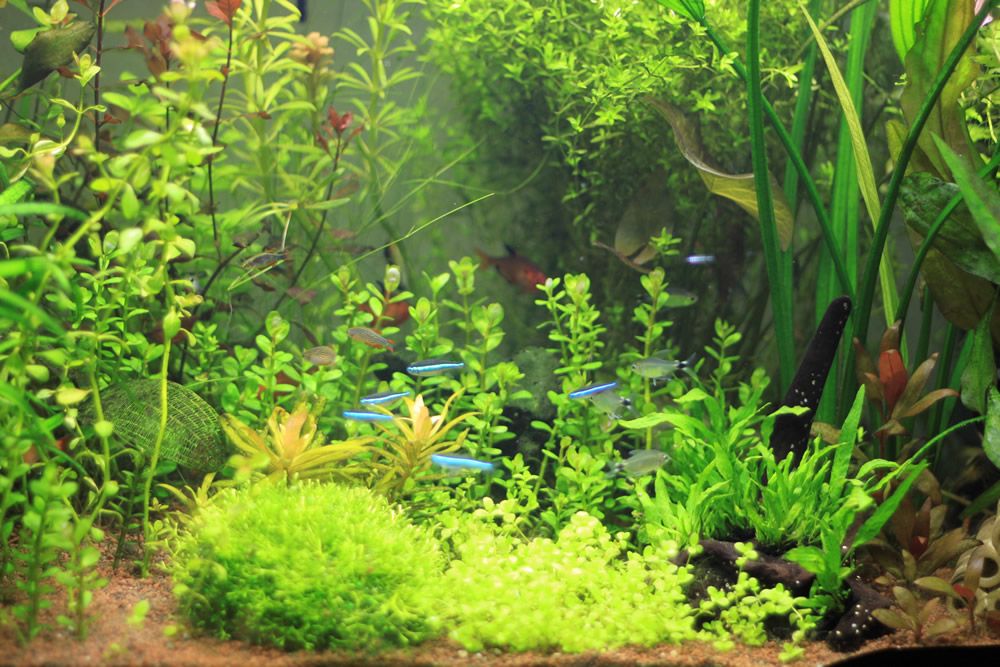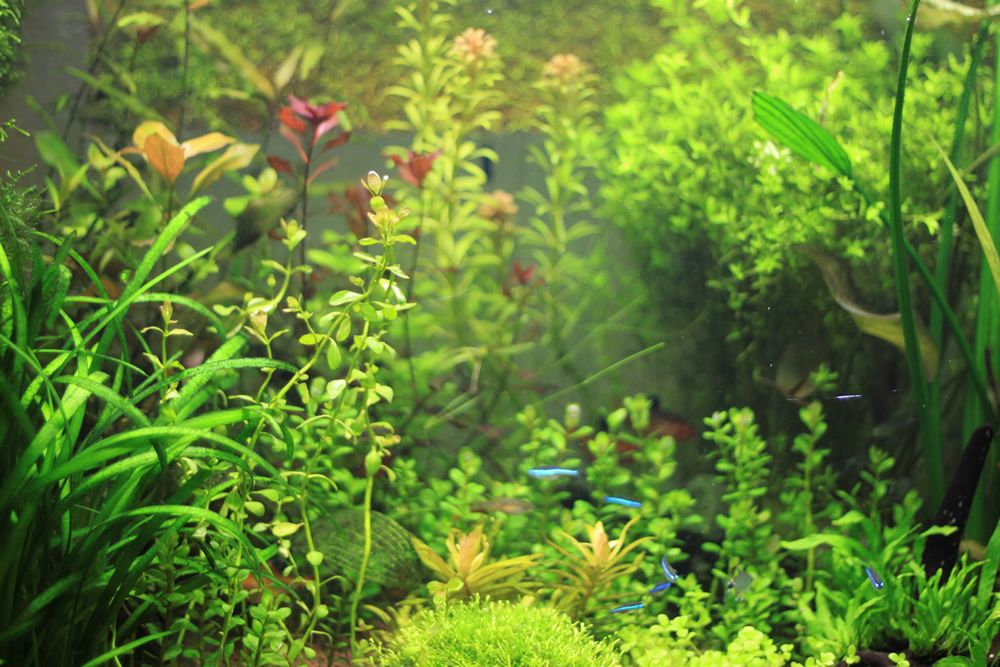 Algae Grower
Join Date: Oct 2014
Location: Boobies Land
Posts: 37
The April 2014 looks like a magical forest in Walt Disney movies. Eventhough in your recent pics, the plants look much healthier and cleaner, the April 2014 tank looks the most impressive! (to me, at least
)
---
Don't judge me by my English. I'm a new ESL graduate.
All corrections are welcomed and appreciated!