Algae Grower
Join Date: Aug 2013
Location: PNW
Posts: 9
5.5 gallon finnex fugeray DIY co2
---
This is my first shot at a planted tank. I started gathering things about a year ago. At the time I was very busy and didn't feel like doing much when I got home from work. Work has slowed down and I feel I have a little more time to put effort towards other projects. So I picked up where I left off and went for it.
Equipment list:
AGA 5.5g tank that I took the upper rim off of.
A fluval aqua clear 20 HOB filter
Finnex fugeray 16"
Thermometer
Need:
Heater
DIY CO2:
20oz paintball tank
On/off Asa with gauge
1/4" clear vinyl
Check valve
Need:
Needle valve
Bubble counter
Defuser
Testing equipment:
API freshwater master kit.
Need:
Not sure, please recommend.
Ferts:
None, please recommend.
Inside the tank:
Eco complete
Java fern
Compacta
Wisteria
I'm starting this thread to gather advise and log the results. Your opinions and input are greatly appreciated!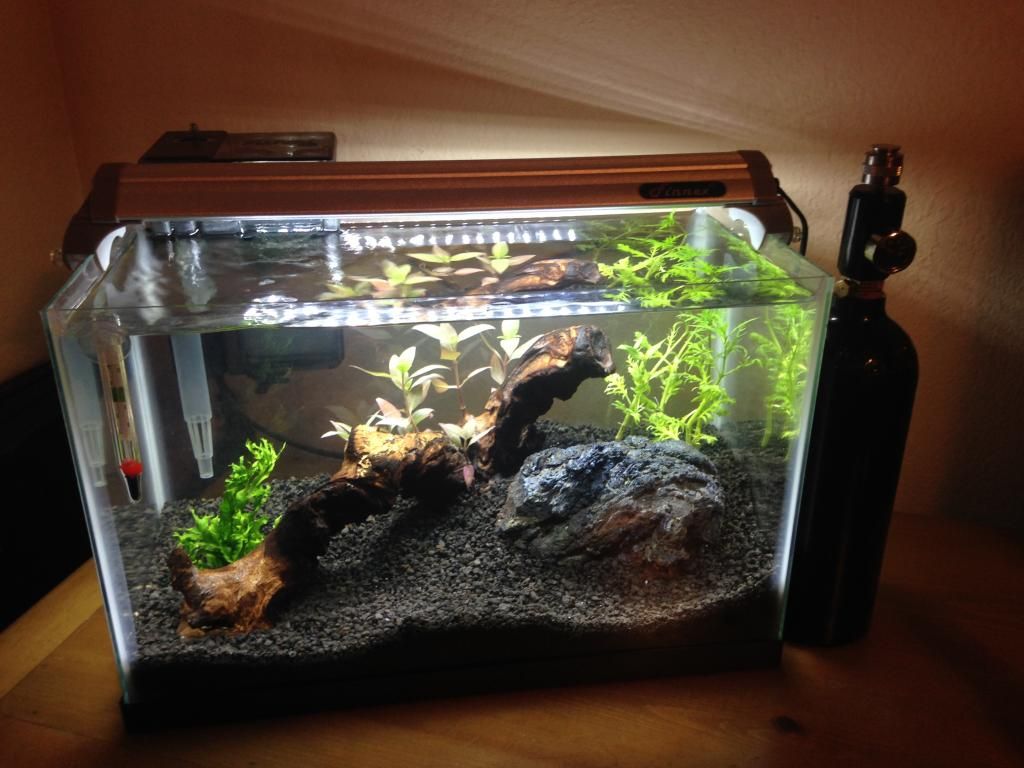 ---
Last edited by Jerd; 08-04-2014 at

02:11 PM

. Reason: Title change
Algae Grower
Join Date: Aug 2013
Location: PNW
Posts: 9
---
Last edited by Jerd; 08-07-2014 at

02:25 AM

. Reason: Some times things dont work out.
Unless your really need the money, I think you owe yourself the opportunity to try. 4 days and you are selling, after a year of gathering? I don't want to try to pressure you but I do think you should just see how it goes, unless you need the money ASAP (which is often very hard to get out of this hobby).

You can diffuse your CO2 through your AquaClear filter, it actually works well, should be easy to search. That will save you some cash and you don't need any more.

Just saying, it's a nice setup and give it a chance.
Algae Grower
Join Date: Aug 2013
Location: PNW
Posts: 9
Thank you Matt. Its not that i need money or that i feel its too challenging. I just have so many other hobbies and i feel that id be more ready for a nice healthy planted tank once i find a solid home. I wouldn't do it justice right now. I like spending too much time doing too many other things to really do a planted tank right.

I will get back into this some day, i know it because i truly enjoy the idea of having such a beautiful piece of nature right at home. Now just isnt the right time.