3ft setup (about 48G) rescape
---
3ft setup on 05 march 2004.
hydor prime 20 external canister filter
filter wool (coarse and fine with biohome in between)
surface skimmer
2fans ~ temp 27-28 during lights on (maybe add another fan to bring down temp further)
base fert with normal 2-3 mm gravel on top.
root tabs inserted all over for added fert as base fert added was on the low side.
ph 6.5-6.8 kh 4
122 watts (PL) 10 hrs
co2 cylinder type using internal reactor 2-3 bps (soleniod)
just started liquid fert dosing today using easylife pro-fito (weekly dose)
the lotus leaves has holes due to mishandling during transfer from a 2ft planted that i tore down.
fishes:
40+ cardinals
20 rummy nose
6 rainbow fish
8 gobies
50+ shrimps
2 rams
10 badi badis
10 guppies
8 otos
4 cories
4 pencil fishes
---
Last edited by elimmel; 08-10-2004 at

03:46 AM

.
I can't load the picture..
Edit your original post by deleting the ".orig.jpg" portion of the image URL, and your picture should show up fine.
Elimmel, what kind of apisto is in your avatar? is that picture modified?
looks great, wish mine had same flair, oh well back to the drawing board.

Paul
---
Eheim Pimp Club member #3: Scribe to the Eheim Pimp Club

90 gallon, CO2 dupla injection, Dupla substrate heating, Dupla Laterite with iron stone substrate, Aquastarlight future 3 x 150 metal Halides, Eheim 2026 pro2's and heavily planted with Discus
Planted Tank Obsessed
Join Date: Jan 2004
Location: Montana
Posts: 312
Finally got the pic to work by cutting and pasting the link from your first post.

Tank looks great. I like the front left, is that a group of small swords? And is that moss growing up the wood in the middle?

Tony
hi Tony
i'm not really sure about the name of that plant.
all i did was go to an aquaplant farm and pick out those that caught my eye. can't really remember names but i did try to make sure whether the plants i got were suitable for foreground, mid ground or background.
cheers
melvin
48G rescape
---
hi, did a rescape last month.
got really frustrated with the maintenance required for the stem plants (not to mention the bba).
and since this tank is not at my place (in-laws), thought i'll try my hand at doing a low-maintenance setup.
before
=====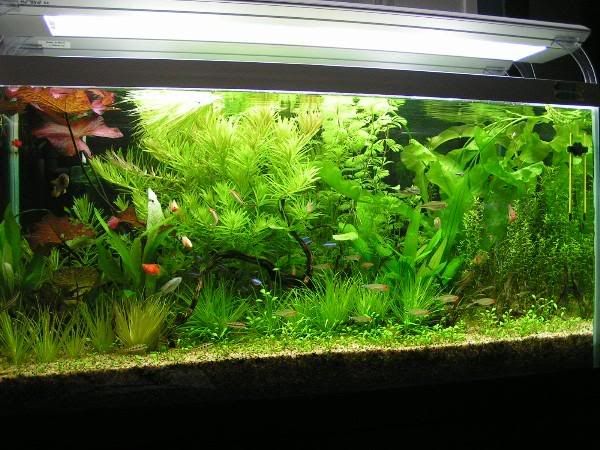 after
====