Algae Grower
Join Date: Feb 2013
Location: Canada
Posts: 112
First TRUE Planted tank- High Tech 20L journal
---
Hey everyone, this will be my first ever TRUE planted tank, i have my 10 gallon that ive been messing with, with about 5-7 different plants, but it was nothing serious, i decided to really try to do a great tank, so here i am. i have a 75 gallon sitting empty, but decided to buy myself a new 20Long to make my first go at this on a smaller scale as it is much more expensive im sure to setup a 75 gallon planted tank.
The Equipment i will be running is
Light
- 30" Finnex Fugeray Planted+
Heater
- Eheim Jager Heater 9" 75 Watt
Filter
- Yet to be determined (I have an Aquaclear 50 im not using, should i use this or get something different?)
Co2
- 15-20lb tank with CHOICE CO2 Regulator from GLA
Diffuser
- Atomic+ from GLA - with Check Valve - 60mm
Substrate
- ADA Aquasoil
Fertilizers
- i really need to research this subject ALOT over the next 2 or 3 weeks as i know nothing about this at all, and every time i try and learn it i get so overwhelmed with it all, im really looking for something easy, that will do the job and keep my tank super healthy.
everything is brand new, and now i hope im done spending money as wow... just wow. i blew alot of money on this project, but the way i see it is the CO2 regulator will last me forever, and the Finnex will last me a long while as well.
What my goals are
:
My goal like everyone else is to keep Algae away, ive been battling it in my 10 gallon, and do not want to go through it in this 20 long, i really want a lush healthy tank.
im thinking of trying to go for a Dutch style, but im not sure i have the skills to make this happen. im really going to take this day by day and see where it takes me, and hopefully i get some guidance in this thread from experienced hobbyists, as im sure i can use all the tips and tricks i can get as i stumble through this.
Plant List
This is also on my list of things to study, as i have NO CLUE what plants i want to get, i know i want everything to look orderly like a dutch style, so i have alot of studying to do..
i AM going to have a bit of a HC carpet though, as you can see in the pictures below i just planted the plugs today! hopefully it works out during this dry start..
So! here is what i have so far, and the 2 next steps are
1)Plant list
2) Figure out what ferts to use for this system!
First layer of paint for the backround!
here is what i will stare at for the next 3-4 weeks
this is an idea of what i have in mind, but im not 100% on this yet.
Thanks for joining me! i will be sure to update alot! if anyone has any tips on what ferts to go with that is very much appreciated!
Always exciting to get a new tank going!

As far as fertz - quariumfertilizer.com is the best place I know of. A few 1lb bags will last you over a year with this tank.

i would at least recommend Potassium Niyrate, Monopotassium Phosphate and Plantex CSM+B. Dosing guides and calculators are all over the web so just do a quick google search. Off the top of my head rota.la is a good one.

As gar as scape goes, play around some more, you have the luxury of sitting with it for a while before you get going. IMO, (and this is just constructive criticism, everyone has their own taste so do what you think looks best) Wood usually looks better coming from a corner. The position you have it in looks a little out of place, but if you plan on filling in the left rear with tall dense plants, this could change completely. Maybe turn it around and break off the end if you have to and have it spreading to the right side of the tank from the back corner? I have seen a lot of successful scapes done that way.

Either way, great start and look forward to the updates!
---
http://www.plantedtank.net/forums/sh...d.php?t=582193
"We are star stuff which has taken its destiny into its own hands." ― Carl Sagan
Planted Member
Join Date: Nov 2013
Location: Jacksonville Florida
Posts: 297
I found this a little too late. This is a link on how to trim plants. The advantage here is not only keeping healthy looking plants, but saving money on how much of a plant u buy. If u know how to trim a plant correctly then u can make a little bit look like a lot.
http://api.viglink.com/api/click?for...rknmUubfyBkvAA
---
Warranty not included
Algae Grower
Join Date: Feb 2013
Location: Canada
Posts: 112
So im almost at a month now, and this is my "Progress"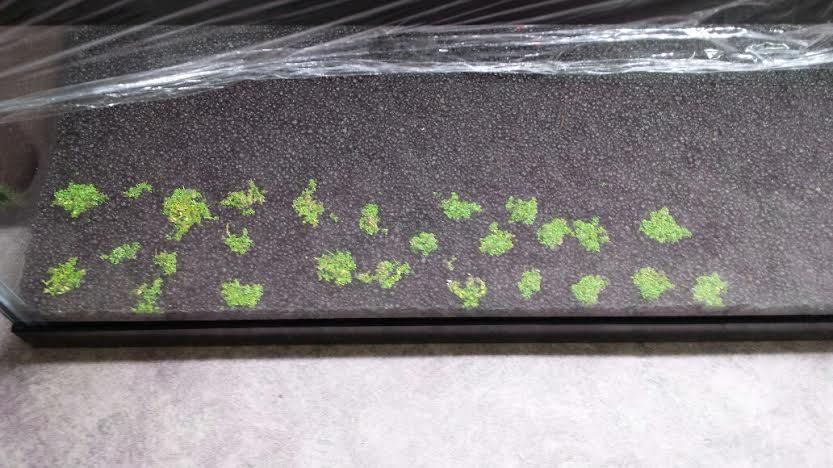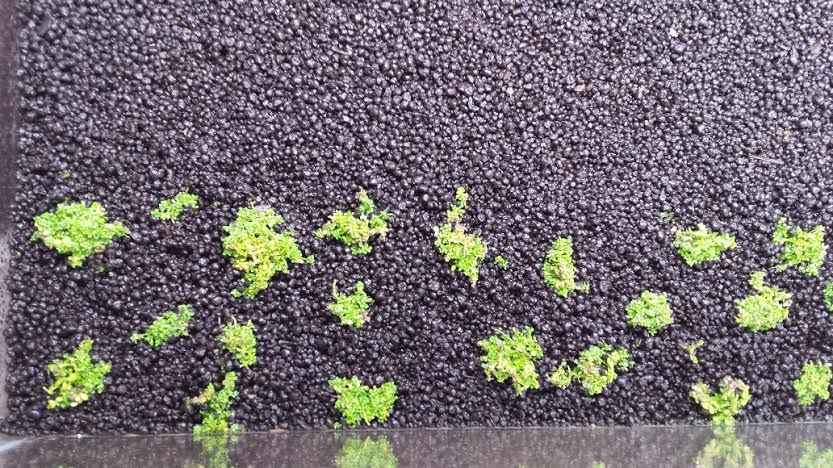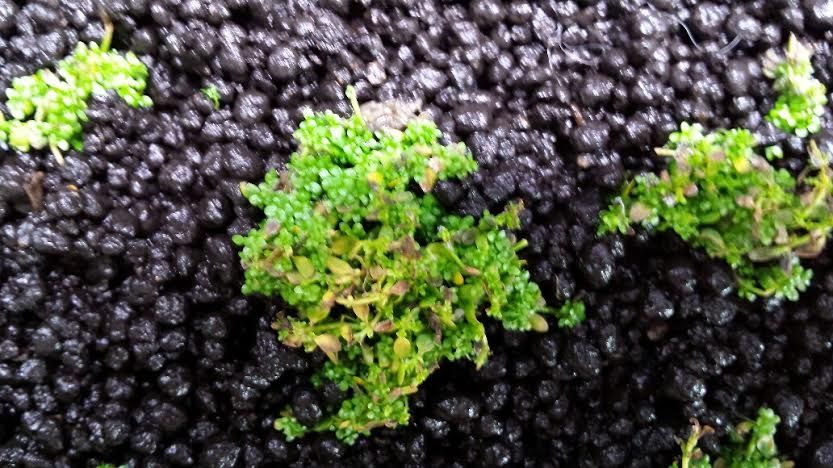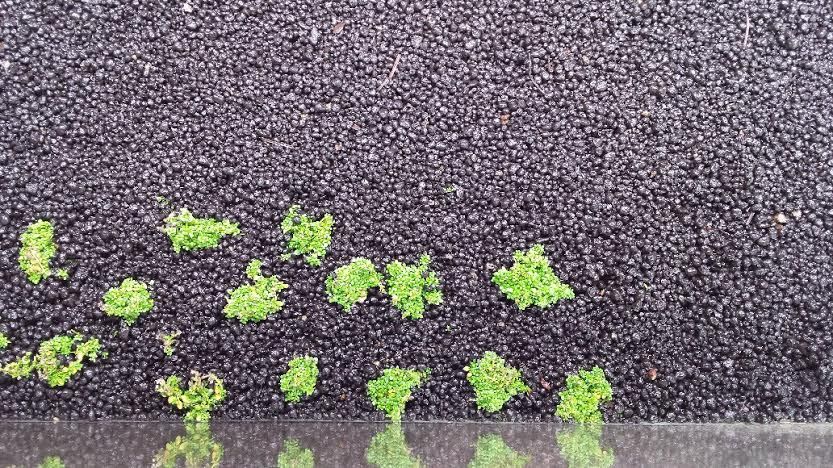 So ive had a little die off, but im not too concerned as i think this plant was grown submersed, so it had to re-adjust. and ive seen alot of new healthy leaves pop up, i havent seen anything start to spread yet, but i do see some nice roots going down against the glass,
im a little surprised that i havent seen much progress after a month, i thought after week 2 or 3 it starts to blow up once the roots anchor themselves!
i got the HC in little pots like this, with water in it, so im assuming they had to re-adjust to being grown emmersed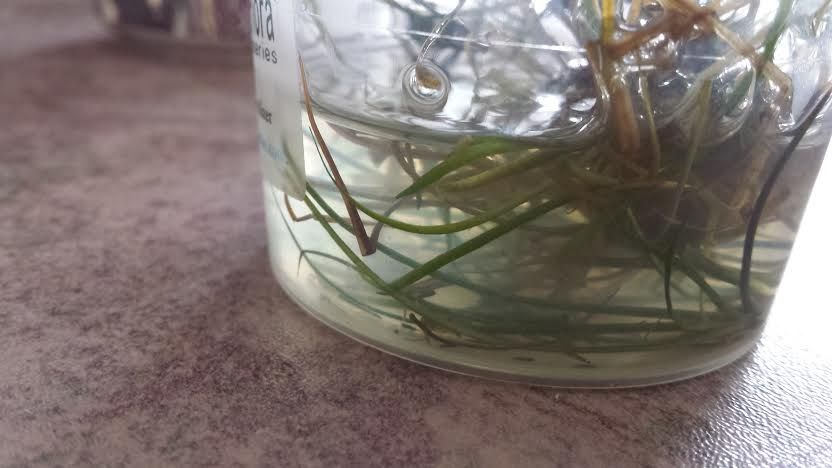 i guess we shall see over the next 2 weeks or so and see how much more growth i have noticed.
as of now, i am spraying well once a day with distilled water, i have lights on 12-14 hours per day, and i let air out once a day for 30 mins.
If you spend the time to split the HC into single stems and plant in a 0.5 or 1" pattern you'd be surprised at how fast they fill in.
---
93g West African Biotope
Quote:
"C'mon, they're just plants, man, no big deal -- try some"
Algae Grower
Join Date: Feb 2013
Location: Canada
Posts: 112
im in no rush, ill give it another month in dry start, i was just hoping for more progress than this, after a month!
Algae Grower
Join Date: Feb 2013
Location: Canada
Posts: 112
2 month dry start,
I guess there is some progress, the pics are crappy, but everything is very lush and green now, but not spreading very fast!!! verrrrrry slowwwww!
but there is progress!
hmmmmm, spreading speed on most foreground plants seems to vary a lot. wonder why? I mean I don't see any thing your doing wrong then again im not the expert.
---
''To screw up a 180g does not take much, to fix up a screwed up 180g is an effort beyond most mortals.''
first planted tank 180g
http://www.plantedtank.net/forums/sh...d.php?t=643914
(I'm 13
)
Algae Grower
Join Date: Feb 2013
Location: Canada
Posts: 112
there is a huge difference in health from last month to this month, im not dealing with anymore melting, i think i went through a transition stage from submersed to immersed, so that could be it?

i was expecting to be further along at this point though. its ok though, as i still havent picked up my new filter. i think i will give it another month, and fill it up then. i would ideally like to fill it now, as i have my 10 gallon overstocked right now i took a trip out of town and picked up some of my stock that will go in this tank (6 Clown Killifish and 3 electric blue rams)