90 Gallon Revampped for Emersed Plants
---
Long story short, we had several pipes break in our dining room (fish room) last month and had to break down my 90 gallon (don't have any recent pics, but here is an older build thread:
90G Blackwater Tank (9/20 update)
). We are probably moving in a few months, so instead of rebuilding the sestup, I'm going to go for an emersed / pseduo hydroponics setup. I will be updating pictures over the next few days with plans and some early attempts at growing from clippings. Here is my proposed list of plants:
From junglefowl:
- rotala colorata / rotala rotundifola (a mix)
- ludwigia sp. 'red'
- ludwigia repens 'green'
- bacopa carolina
- hydrocotyle sp. japan
From barakinus:
- Myriophyllum mattogrossense
- Alternanthera reineckii
- Heteranthera zosterifolia
- Hydrocotyle sibthorpioides
- Ludwigia repens 'Rubin' 'Extra red'
- Ludwigia repens 'green'
- Rotala wallichii
- Rotala indica 'green'
- Echinodoru tenellus
- Eleocharis 'belem'
- Lilaeopsis novae-zelandiae - 10+ nodes
- Fissidens - small clump
I'm sure some won't end up doing too well as an emersed plant, so I have my 20 gallon long that I can always throw the plants back into and go a different route with those.
Here is the big chunk of plants I got from junglefowl (if you're in the Charlotte area, check out his plants):
From left to right: rotala, bacopa, ludwigia red, hydrocotyle, ludwigia green
So to start the propagation, I figured I would try what I'm used to doing by placing the cutting in a bag holding the pot/soil to keep humidity up.
I went to Lowes and picked up some plastic pots (they don't have small square plastic pots for whatever reason??). They have rather large drainage holes in the bottom, so before adding the perlite + Miracle Gro Potting Soil, I put a paper towel in the bottom: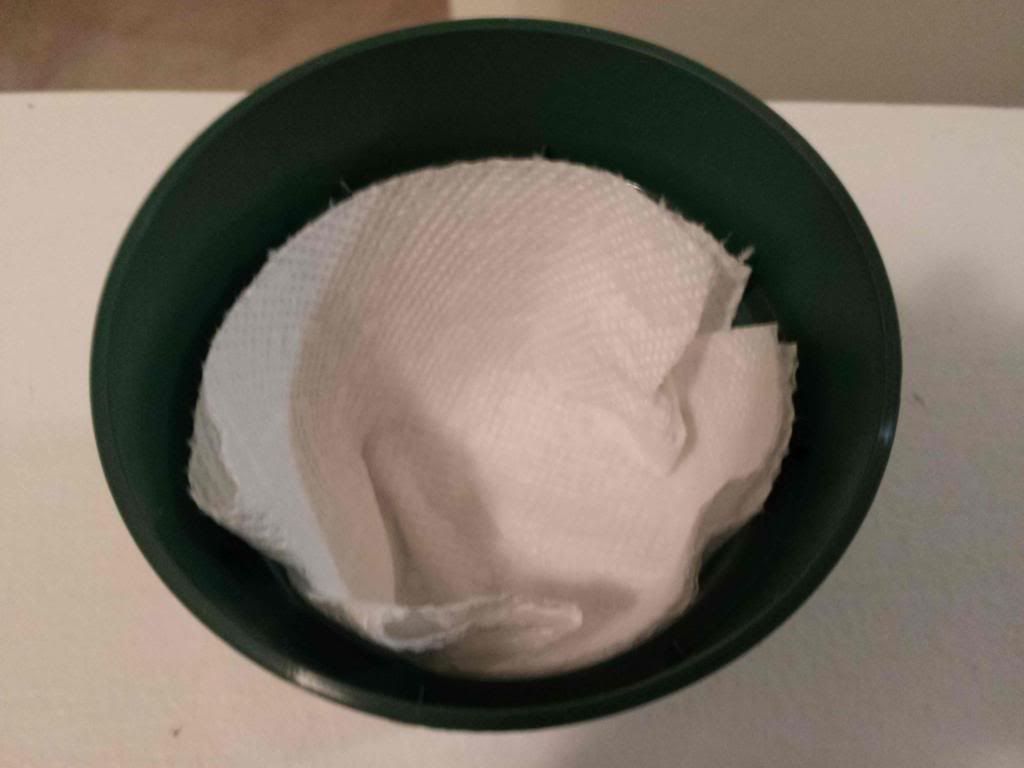 Then I put in my soil mix:
Then used some of the red ludwigia as the guinea pig and planted. I then placed into a ziploc bag and blew it up and sealed it up(just a word to the wise, I wouldn't use the zip-top ones like I have pictured since they usually have a pinhole leak at the top where the zipper slider ends; I just don't have any of the snap-closed ones). I have the bag sitting on the other side of the room, away from direct sunlight. I know that a lot of plants don't like to be in direct light during the rooting phase, but didn't know if that also applies to aquarium plants. Anyone have an opinion: is it fine there, or should it be in direct light?
Ignore the pencil and food thermometer holder in the bag, I didn't have any skewers in the kitchen so this was the second-best option in the heat of the moment
.
I'll be updating every day or so for the next week to keep track of the ludwigia. I expect some melting during the transition from immersed to emersed, but hopefully this will be minimized with the high humidity in the bag.
Cheer!!!
Hope the plants will do well for you. I'm sure to follow this thread to learn how the emersed plants growing. So update!!!
Wooo! I can't tell you how glad I am to see planters in Charlotte! Are you members of CAAS? It's been years since I lived there, but back then there were quite a few serious planters in the club.

I'd love to see your setups next time I go to visit my family down there.
---
I've never regretted over engineering a system, but often regretted under engineering one.
Aquatic Gardeners Association
Current 60g build
300g Dutch (torn down)
60g Dutch (torn down)