Planted Member
Join Date: Jan 2013
Location: Maryland
Posts: 234
Simple 29 (56k)
---
Hello all,
So, sever months ago I found a 29 gallon for free on the curb. I finally got around to setting it up. It's been running for about a couple weeks after the cycle with some moss and java ferns for plants. My hope is to create a relatively simple tank with easy to grow plants so that when I leave for college I don't leave my parents with too much work
The light right now is just a regular CFL bulb, but I have a Marineland LED fixture I will put on it in a couple days.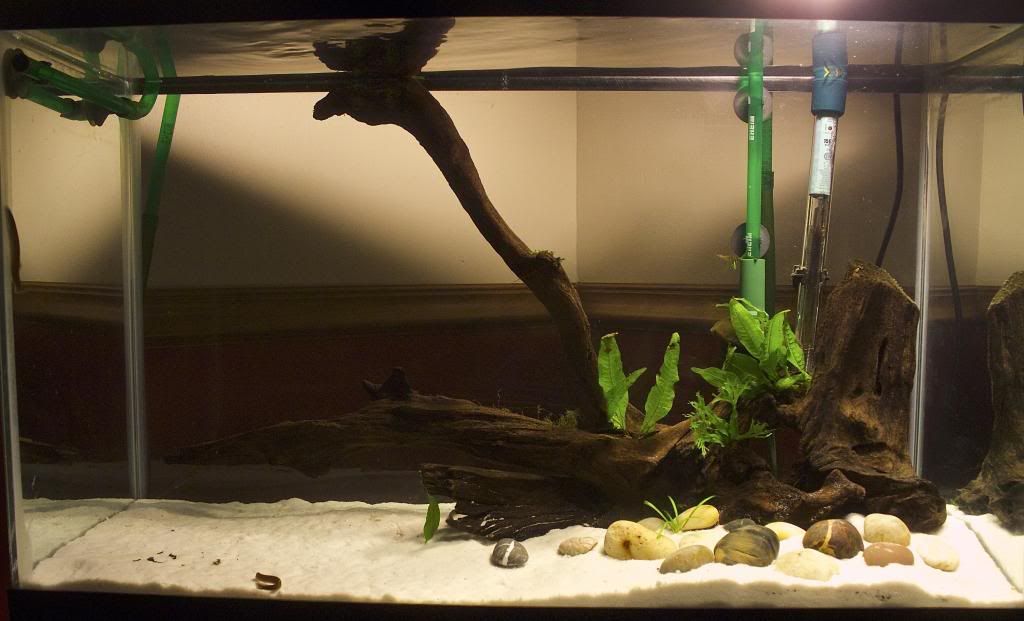 I added 3 Kuhli loaches last week, and they love swimming in and out of the nooks and crannies in the driftwood.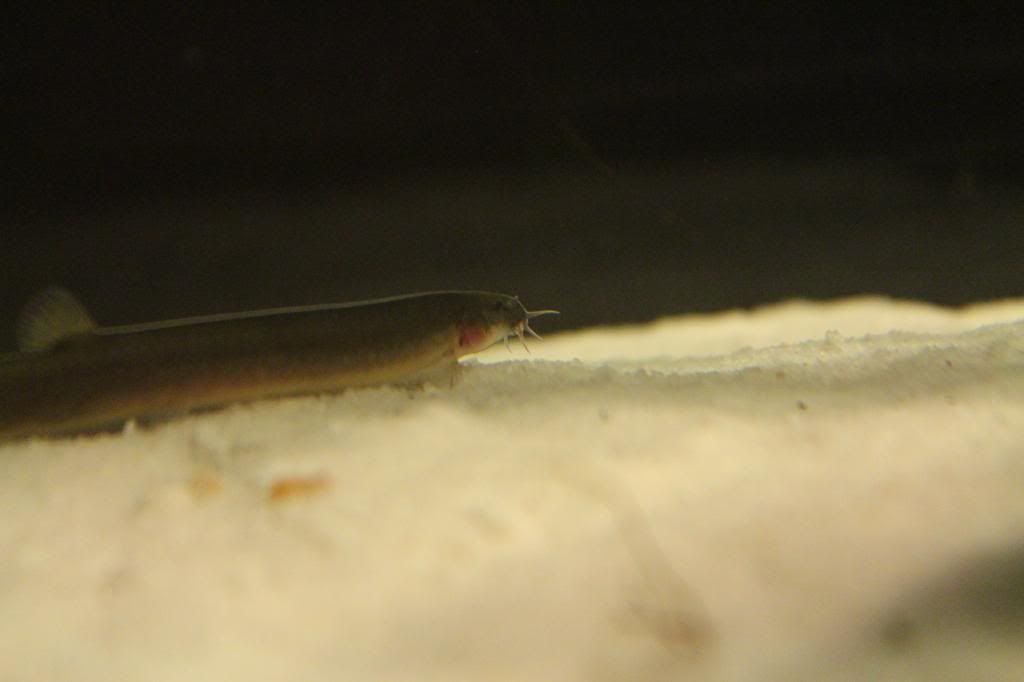 The tank will become significantly more interesting over the next week:
I have some more java fern, mosses, and fissidens courtesy of flyfshrmn98 coming in wednesday. And I ordered 4 electric blue rams, which should get here friday!!! (I will definitely post pictures of them when they arrive)
I'm thinking of adding 15 or so
Corydoras habrosus
or maybe 7 Panda corys (I can't decide
) and a shoal of small schooling fish--I don't really want anything that gets over 2" because I'm afraid they'll draw too much attention from the EBRs.
What do you guys think of the stock for this 29 gallon? Any suggestions for the schooling fish?
Very simple, and also very nice tank too!!!
I like the look of the sand and driftwwod together. I think the cory will love it. I'm thinking of putting ember tetra schooling will suit the tank.
Look for some anubias to tie on the wood, it will look awesome...
Planted Member
Join Date: Jan 2013
Location: Maryland
Posts: 234
I added a bit more java fern to the bunches and threw in some java moss. Everything seems to be coming in pretty well. I also changed out the light for a marineland LED whcih makes everything look a bit nicer.
I was thinking of adding some leaf litter to the bottom left corner. Do you guys think it would look good? Can I just use the dead, dried maple and oak leaves from my back yard for this, or should I look for something in particular?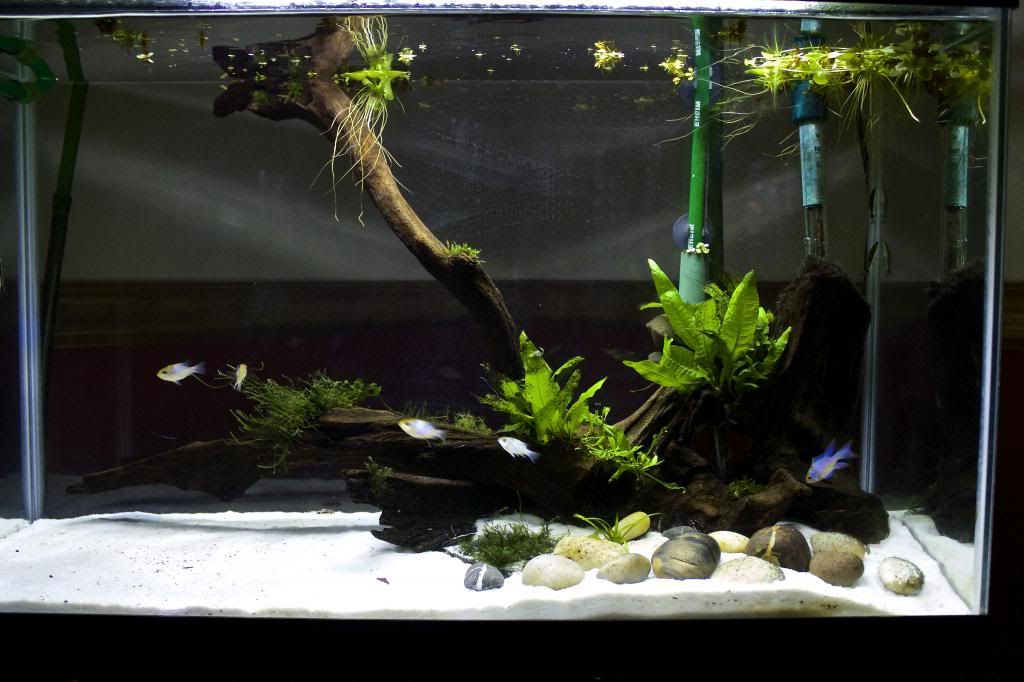 After a few weeks of waiting around because of bad weather the electric blue rams finally arrived and they look great! They've been in the tank for a little over a week now and they seem to have transitioned just fine.
Sorry this is blurry. I thought it looked kind of cool--I may try to get a similar shot in focus later.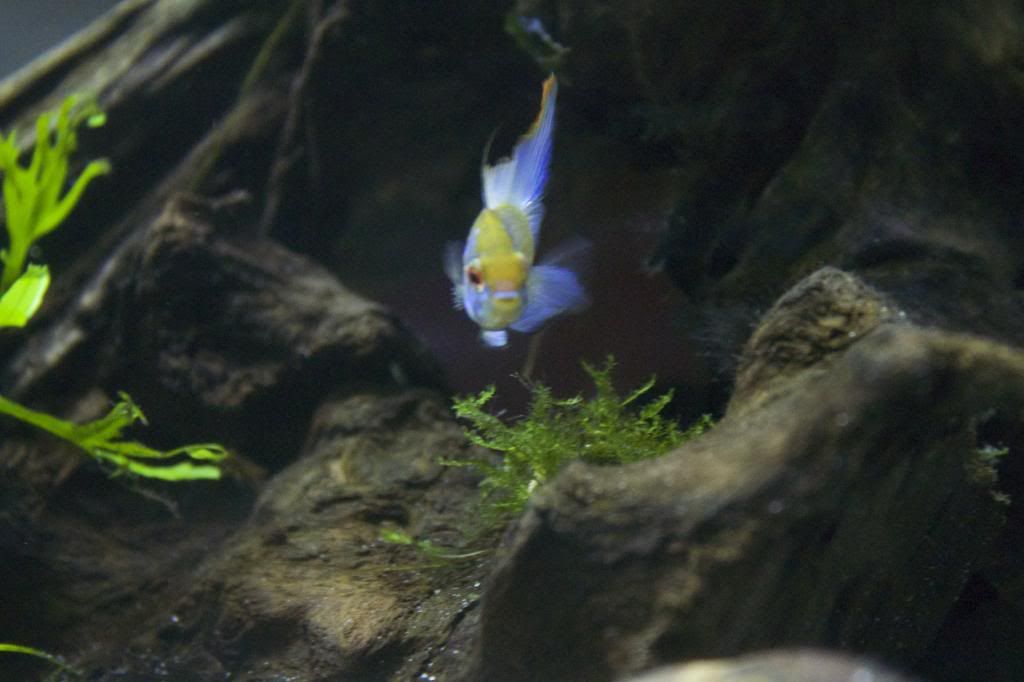 The tank is currently stocked with 3 otos, 5 EBRs, 3 kuhli loaches, and 8 C. habrosus. Over the next 2-3 weeks I plan on adding a school of 10 or so ember tetras to add a bit more action to the upper levels of the tank.
The corys and kuhlis decided to hide when I was taking pictures, so I didn't get any shots of them, but they are doing great too!
---
Last edited by holoublahee; 03-05-2014 at

02:18 AM

. Reason: photos
I love that piece of wood, looks nice, simple and beautiful.
Regarding adding leaf litter, Oak and beech leaves work best, as well as Indian almond leaves (but unless you live in the tropics, you would have to buy the IALs)
---
WHYARe youlooking at my signature?It's boring.
DBP Club
check out my
3 gal long
Planted Tank Guru
Join Date: May 2009
Location: MICHIGAN
Posts: 3,465
Nice rams their beautiful!
Planted Member
Join Date: Jan 2013
Location: Maryland
Posts: 234
Thanks! I'll look around for some beech and oak leaves in a park nearby.
It's actually 2 pieces of wood that I tied together. Hopefully some more of the moss on the tall branch will start to grow in soon.

GMYukonon24s, thank you I really like them. They're become a bit more confident and now even come up to the front of the tank when it's feeding time!

Hopefully the ember tetras I special ordered will come in to the LFS tomorrow! I'll be sure to post pictures if they do.

I forgot to mention, the floaters were from an RAOK. They are salvinia minima, amazon frogbit, and a bit of duckweed.