first attempt at a scape
---
This is my first attempt at an aquascaped tank. It has been running for about 3 weeks but has only been planted for 1 and a half weeks. (Val planted 3 weeks, & glosso planted 2 weeks)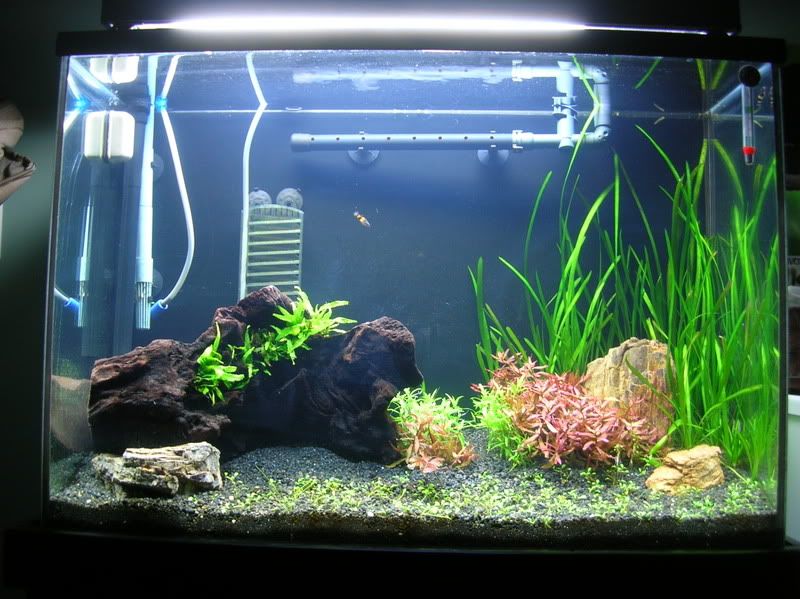 I am planning on planting on top and behind the driftwood, and maybe put some anubias under it. I'm thinking of turning it into a tiger shrimp tank.
any advice?
Nice setup~ I like the clean look in the photo. Very clear waters.
As I often do, I would advice you to tie some Riccia Flutians on the DW and/or the rocks on the left. Would grow to a nice scape but regular maintenance required.
About background plants recommendation, I would recommend Hygrophyla Corymbosa 'Stricta' (Broad leaves Hygrophyla) since I'm planting it now, and it seems like a easy fast-growing, beautiful plant to have.
update
---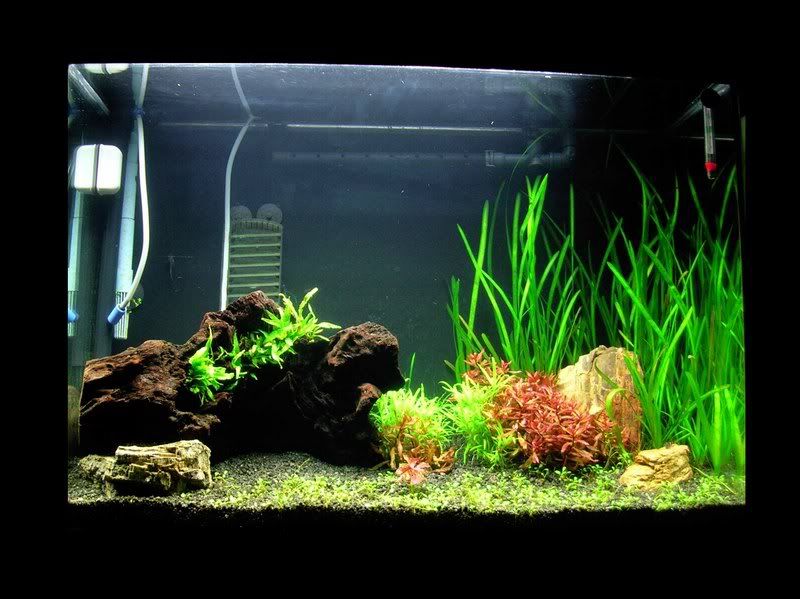 another full shot
closeup
wow your glosso is growing fast. what kind of lighting do you use?
a full vallisneria background will be great, but that's just me
thanks for the help!

Ikuzo, I'm using 130watts of current lighting. i think it might be less because i think one of the bulbs might have some actinic lighting in it or something (not sure though). At first one of the bulbs was completely actinic but I switched it with an older (5month old) current bulb i had in an older 65 watt setup I had.


Sorry about the delay but here are a few spec of my tank:

~35-40 gallon

Substrate
-3(soon to be 4) bags of eco complete

Ferts
-Kent Freshwater Plant
-Flourish Exel
-DIY CO2 with hagen ladder diffuser

Plants
-Nesaea red
-Heteranthera zosterifolia
-Glossostigma
-Microsorum pteropus Phillipine
-Vallisneria (I think?)
-Red Tiger Lotus

Fauna
-x4 otocinclus
-x2 bumble bee goby
-x4 unknown shrimp

right now my water is hard alkaline and has a high ph. I am gonna get an ro filter(maybe) and pressurized co2(I hate refilling my yeast factory) within the next two or three weeks.


one question, what is the difference between reverse osmosis water, deionized water, and distilled water? When should each be used, and what is their individual effect on the water chemistry?


TFTH
Planted Tank Obsessed
Join Date: Aug 2006
Location: Canada
Posts: 302
RO water is from water going through different stages of filtering, and through a membrane which strips everything that is in the water, leaving you almost pure water without minerals.

Deionized water is pretty much the same.

Distilled water is that water are boiled, and the steam travels to another chamber, which is cooler, then the steam turns back into liquid water. The impurities are left in the boiling water chamber.

Therefore, all three are about the same. There won't be differences.
if you're using plants that need soft water you can use reverse osmosis.