medicineman's natural nano
---
Taking a break from heavy projects and big tanks....
Another attempt to create a somewhat natural setup, on nano scale.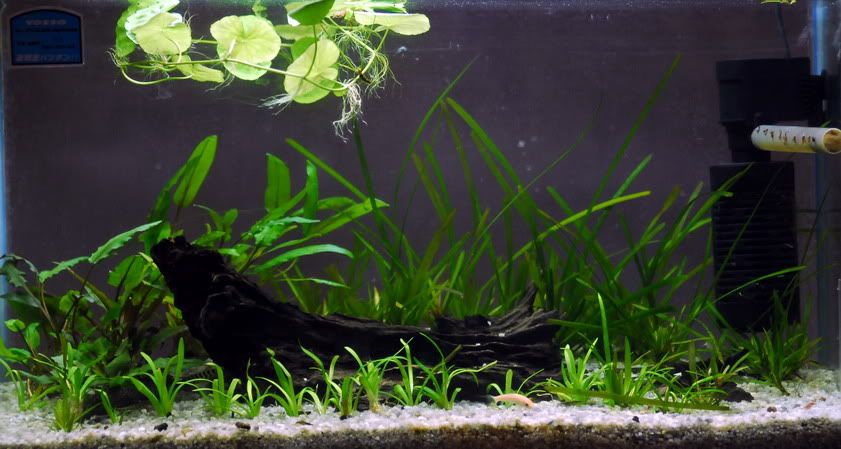 Tank age : 2 weeks+
Tank size : 2 feet standard (15 gallon) acrilic
Filtration : Internal boyu powerhead
Lighting : DIY T4 1x16W, 6500K (5 hrs) and indirect sunlight
CO2 : none
Substrate : mix of Wonder-Gro prototype base fert, soil, plant organic matter topped with silica sand
Fert : Wonder-Gro macro/micro plus 2-3ml/week.
Flora : Vallisneria tiger, Cryptocoryne sp, Saggitaria subulata, floating plant (temporary).
Fauna : cherry shrimp x8, SAE x1, CAE x1, Nerite snail x3, Upside-down catfish x1, Rasbora heteromorpha x7 (coming in a week or two).
Heavy and frequent WCs on the tank for the first few weeks in order to reduce excess leecing matter from the substrate.
As the setup will balance itself and substrate mix settle in and release steady, small supply of nutrients and carbon fermentation, so WCs will be reduced to light and infrequent.
So far the combo is doing quite well. No mass melting, no signs of plants dying out yet. Algae issue is kept minimum with typical new tank brown algae appearing and is under close control by algae eating squad.
I will closely monitor this tank and see if there is any substansial update.
Looks very promising! But then again, you're famous around here for having magnificent set ups!

One question --- why the CAE?
Planted Tank Enthusiast
Join Date: Mar 2007
Location: Plano, Texas
Posts: 974
Yay! Medicineman does a small tank!

Looks great. Why the CAE as Jessica asked.
@Jessica,
I use CAE in the tank because it is far much easier to find right now. Could have opt for ottos, which is a better choise at this tank size once stable enough.
According to personal experiece, they grow very slow in a clean tank, so slow that sometimes they become severely undernourished to the point of dying within several months if no artificial food is given (I have killed 2 CAEs this way).
I got these batch of (got them as babies) CAE in my 260g tank for around 2-3 yrs and yet they grow slow enough and have not yet reach that huge size people are so affraid of. Sure they harrash each other but that is OK and never happen seriously to other fish. I will just dump them to the pond the next time I tear up big tank since it is impossible to net out any.
Is is a small tank anyway and would be piece of cake to take the fish out without knocking any plant
@tropicalfish,
Hahaha... this is not the first attempt in smaller size tank. Already I got 20-25g tank running very well.
Oh, and this is a shot of the same tank long time ago (quarantine tank back then, plants you saw here made it into main tanks and still growing now).
In the essence, I would like to try out natural way, using mainly sunlight to illuminate the system (in this case with addition of 16W T4 bulb) and without any CO2 addition or excel at all, following the guru Diana. However, I do still want to add some ferts in very limited amount using syringe. This tank also acts as my tester tank, a new base fertilizer product is coming out and I would like to see the initial result in a different condition of tank.
I guess that does make sense on the CAE. Either that or you have the magic touch and they behave for you
Either way, sounds like you have an excellent plan for them anyway, especially with what you have available to you.
Nice work-- can't wait to see how this one turns out!
Now we see how I did DIY lighting on this tank. I could have bought something straight from LFS but decided to have fun and give example for local crowd that creating a scape is not always about spending a lot of money.
Here you can see a simple reflector-hood I made myself. Made from 3mm aluminium sheet, cut and bent with the help of a cutter, wooden block and table edge. File off the sharp edges and finish with white spray paint.
This is the type of lamp I use. I decided to use something new, a T4 set.
You can see how slim the tube is.

Tube is attached to slim aluminium frame with built in e-ballast. Bond the frame to another rigid aluminium bar (I use leftovers from curtain rail), you got a sturdy backbone.

Stick this structure to a leg (I use leftovers/spare parts of a commercial aquarium lighting stand) and you are good to go. Place the hood over the top, finish the wiring (need just a single cable with one terminal) and you got yourself a new lamp for easy and cheap.

Need something with more punch?
Use more than one T4 lamp under the hood. The slim size means you can fit several of them in a confined space.
And there the whole thing runs with the lamp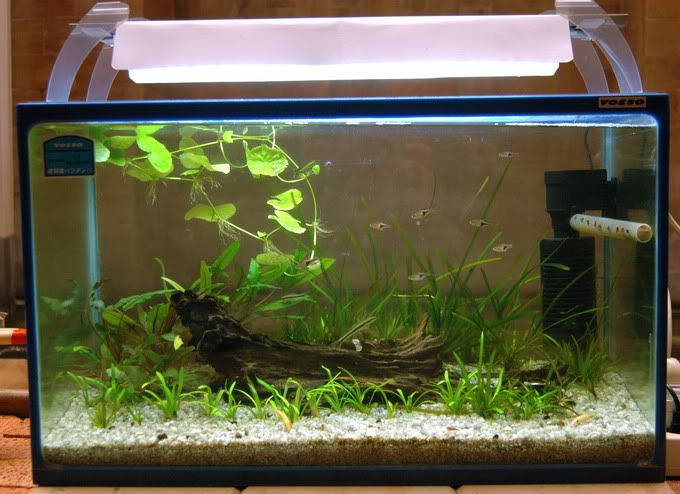 All rasboras are in.
These tiny fish are very hardy indeed. Initially 3 of them got ich, but totally dissapear within days! No medication is done.
Update on the natural tank.
After being used as holding tank for several fish and lots of nerite snails, the tank finally is quite empty again. Current dwellers are 1 synodontis, 1 CAE, 1 SAE, 3 nerite snails and a dozen cherry shrimp. I'm sure quite glad I did not crash this tank by overstocking it for a while.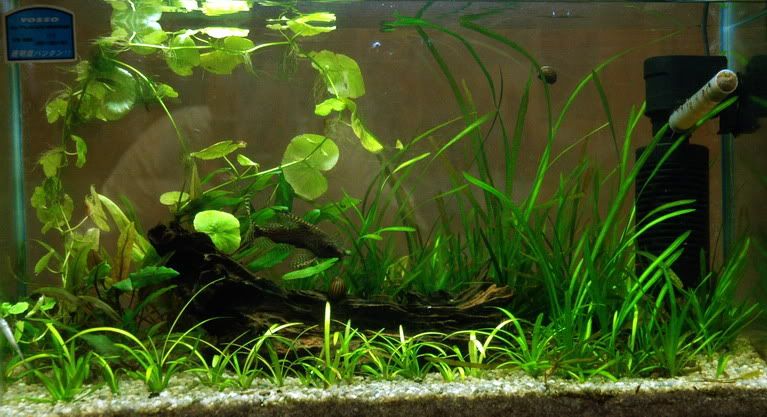 You can see lots of growth without any excel or CO2 addition. Water collumn fertilizer is being kept minimum, just once a week dosing of Wonder-Gro Macro+ and Wonder-Gro Micro+. Water change is being gradually reduced in quantity and frequency for a natural tank seems to benefit more from static stability. Algae is being kept minimal from day one, so far there has been no outbreak.
For now I can safely say that my prototype base fert product is working well in terms of stability, safety and growth. I can foresee that at this rate, in 2-3 months I will need to look for shorter growing plants to replace those saggitaria foreground which will go very tall.
Growth report one month after is very great. 16W of T4 proved to be consistent, more than enough for a standard sized 2 feet natural setup tank.
Saggitaria and Vallisneria spiralis are spreading so many runners though they seems do not grow tall yet. The crypt is doing very nice as well, forming groups while has not exploded in size.
I love especially the vals which form a close and very dense group. It seems this soil/base fert bottom thinly capped with gravel is some of the best way to grow them. If not due to restricted lighting and limited carbon supply, I'm sure the tank is already in the process of overgrown by now.
However one morning I found the water level to drop... and I wonder. The next morning (after I retop the tank the day before) what I found is more horrific view of even lower water level. A leaky tank just when my test natural tank is getting matured!!
The tank itself is actually quite old, it already got loads of water mark and some scratch. Cannot fully blame if for leaking.
Off I go to get a replacement standard 2 feet tank. $10 for a replacement tank is darn cheap, but tearing out a maturing tank makes me sick
So back to square one, some more soil with own brew base fert mix.
I'll take a shot again after all clears up for the fun of watching a tank grow
So here it is.
The old tank was torn down and most of the plants are replanted into the new setup, while some made their way into other tanks along with the fish. I use the same base layer again as proven great for such natural tank, some soil, compost and some base fert.
I use the old wood again, and this time with the addition of a lava rock to the hardscape.
You might think that the tall stuff on the background is vallisneria. Think again, as it turns out to be saggitaria subulata. Yes, the plant does go crazy after some wonder-gro root+ tablet is being inserted. The shorter ones by the front are also sag, but they are still young and I have no intention of giving them some tabs or else they will grow big as well.