Algae Grower
Join Date: Sep 2013
Location: Houston, TX
Posts: 75
AHP's 75G Low to Med planted tank
---
Here is my Journal on my first planted tank. I have been at this for about 6 months, I am learning alot from "The Planted Tank" and help from friends.
Here is what I have going on titled "Freshwater for the Kids! Build"
http://www.houstonfishbox.com/vforum...he-Kids!-Build
To get you caught up the speed, I have learned what not to do and what I like. If you are down for a read please click on the link above and you can see my progress but I will post my most recent post so you can see where I am now.
-----------------------------
I am in the market to find more Otos I was looking for about 10 more because I have 4 at the moment, they are great little algae eaters. But to kick the Green Spot Algae that I have I don't know what is best... Neritina sp. zebra snail? I will be getting two German Blue Rams and I have one Anglefish I am not sure the snails would survive! No to Amano Shrimp because the GBR and Anglefish will make them an expensive meal.
So here is a picture of my tank 2 weeks ago:
And here is a pic of my tank today: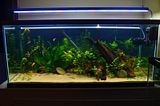 Notice a couple of things...
1. I made a new overflow w/ pvc, it is 5/8" and has about very small holes to give it good pressure. I don't like the flow of my Eheim's 2217, might buy a FX5 or FX6 later if the price is right.
2. I have some frogbit floating, maybe about 8-10 different shoots. This is growing fairly well, I get a new leaf on each one everyday.
3. I have 4 different Sagittaria, I am hoping they will break up the foreground and midground.
4. I wanted to try out a Dwarf Lily, I don't know if it is going to work. I has already melted within the first 2 days in the tank.
5. I had to do some trimming on the Water wisteria because the leaves were not growing under the tops. I thought of it like an umbrella and the light was not penetrating the middle and bottom of the stem. (See picture)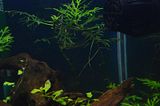 6. I am monitoring the HC, but I don't think it is doing well. It is really starting the thin out I can't tell if it is from fish or poor setup.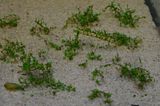 7. I am still fighting Green Spot Algea so I have decreased the lighting to below 50% and cut the lights back to 7 hrs a day. I am sure I will have to bring it down to 4 or 5hrs a day.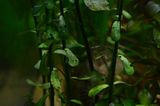 So here are all my notes that I have going on
Water test:
pH: 7.8
Ammonia: .25ppm
Nitrite: 0ppm
Nitrate: 0ppm
GH: 3 drops
KH: 2 drops
Temp: 80 degree
I am EI dosing 3xweek (K2S04, KN03, KH2P04) and adding MetriCide 14 10mL every morning before I run off to work.
As for my BML lights my PAR is 75degree @ 24", 85 - 80 - 70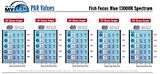 Max PAR value I would have to say is the 12" mark on 75degree.
I know this is alot of information but any help would be greatly appreciated. I am thinking the response is going to be lower the light duration to knockout the GSA. But after that I would love some help on making the plants fill out and stay full.
All in all I am really getting the bug again. Hope you enjoy my journal and I look forward to talk and learning from everyone.
Algae Grower
Join Date: Sep 2013
Location: Houston, TX
Posts: 75
Going to stop dosing CO2 for a bit and see how the plants do. I was trying to make the tank fill in faster but I think by doing that I was encouraging GSA.
Here are some pics of my progress to start up conversation.
Rommie noes tetras, I notice if is stress them out their black and white tails will loose it's color.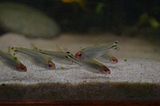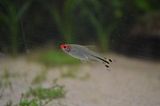 Neon blue dwarf Gourami, Might be the culprit of my frogbit's not doing well.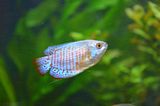 Silver Zebra Angelfish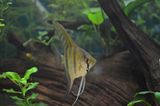 Time for plants:
Dwarf lily, this one is slowly coming back as you can see with the new growth compared to last week.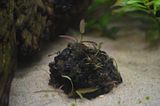 Randoms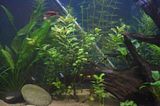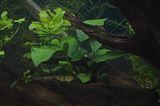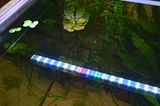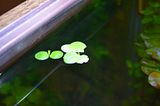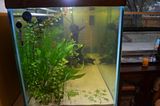 crypt parva, I like this stuff grows slow but looks nice.