Algae Grower
Join Date: Feb 2013
Location: wisconsin
Posts: 24
55 gal dirted. "work in progress"
---
History
My biggest tank I've ever owned. Always wanted a 55 and when my cousin was getting rid of it I took that opportunity.
Total cost of tank and his cascade 700 canister filter, $50! What a steal haha.
Previously when he bought it, it had this glass mirror piece that was glued to the back of the tank. Don't know why, but he tried to get as much as it off.
Still kinda plain right now, trying to achieve a clean jungle look type aquarium.
Also didn't come with a stand. I didn't wanna fork out money to buy one so I decided to make one myself.
Started this early october.
FYI my first diy stand!!
Don't mind the mess.
Tank finally on stand!
Put it by the corner where my 10gal used to be
Didn't have proper lighting for it except for my 24" finnex ray 2 led and my stock 10gal aqueon light. Wasn't bad though still saw growth, although slow.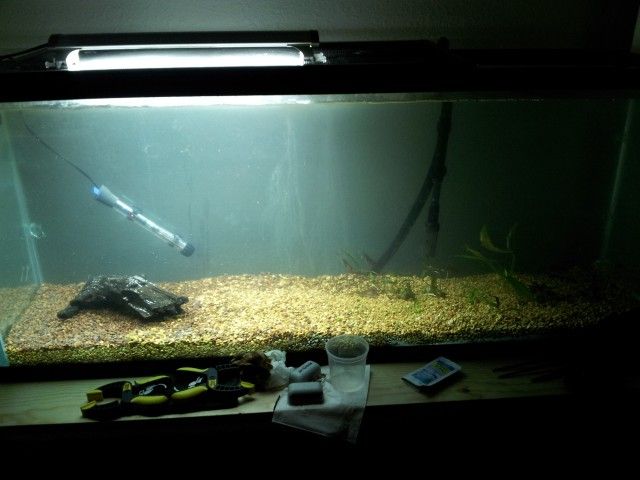 As to date. 11.28.13
Now has a 48 catalina t5 light fixture and hydor inline heater.
Plants currently in the tank
1 amazon sword
lots of crypts wendtii
and Lileaposis Sp "mini"? Not sure.
Live stock
2 otto's
5 spotted corys
1 royal pleco 1 1/2 inch so far.
---
Last edited by kl86; 11-29-2013 at

12:25 AM

. Reason: Better choice of word