40 breeder build
---
Hello, everyone! I wanted to write up a journal on my newest setup. This will be replacing my 55 gallon, because, 40 breeders are cool!
This setup will showcase my reverse trio of B. Macs of course. I may or may not toss my orange bushfish in with them since they are so beautiful. I am sure the macros will be nice as they are super gentle. Not sure how the OBF will be though.
Anyhow onto the tank specs, since everyone loves tank specs.
40 breeder
Current USA LED Plus- In the works.
20 lb pressurised CO2, atomic diffuser
Eheim 2222 canister
Cobalt MJ 400 powerhead
Fluval heater.
EI dosing because my plants love it
Flora-
Anubias nana petit
Java fern- maybe
Hybrid ludwigia
riccia fluitans
Willow hygro
Barclaya Longefolia
Hairgrass
some type of sag.
Fauna -
B. Macrostoma
B. Ocellata, some juvies that are growing out
Possible Orange bushfish.
Decor-
Manzanita driftwood
Here is the 55-
I know it looks bare, this was a while back. Everything has grown in. So much so that the top is covered with a mass of riccia and the hybrid ludwigia, starting to poke up and off the surface of the water. The color is pretty
Anyhow, I was tired of how narrow the footprint was. Felt that with a wider footprint, even if it is lower and less gallonage, the macs would appreciate the territories more. Plus I have seen some beautiful builds!
On the 55, I have a nice foam background, with my wood poking out in a root like way. I know there is no way I can pull that off without destroying it, its just styrofoam and I siliconed it heavily.
Here is the 40 on the nice stand my darling husband has built.
And here is a pic of the wood. I had to tie it back together since it was in pieces.
Now I am stuck because I dont know how to do my plant layout. Someone mentioned the riccia being on the substrate, but I fear the LED + wont be bright enough for it.
Also before I continue I will need to get a piece of the insulation foam, since the tank leans a little. Uneven flooring and all that jazz.
Anyhow, here is the beginning and ideas, comments and all are very welcomed!
Well, plants are planted and its filling. I need some shorter plants. The ludwigia was so tall I had to do a major trim. Planted willow hygro in the back left corner, and the ludwigia all around the left side. Its still needing a ton of work and will not win any scaping contests. Hope to be getting my light soon. For now I took the 4 ft 4 bulb T5HO light from the current 55 gallon. Is pretty bright on there LOL.

Pics will follow.
Algae Grower
Join Date: Feb 2013
Location: wisconsin
Posts: 24
Nice! I've always wanted a 40b. Keep us updated.
Here it is with plants in it. Nothing fancy and pales in comparison to most here. I can play with it more once I get a real light and hood over it. This plexiglass is hard to deal with and the light is way to large. Any how, for those watching/ browsing, enjoy!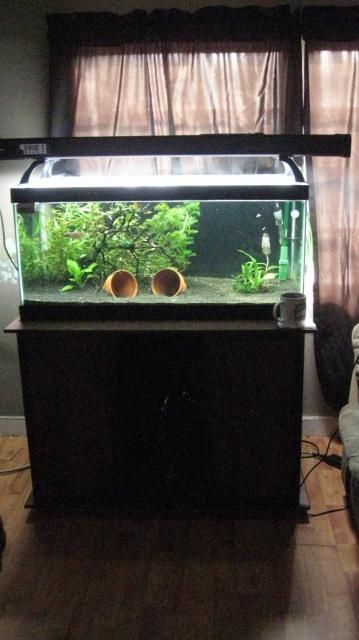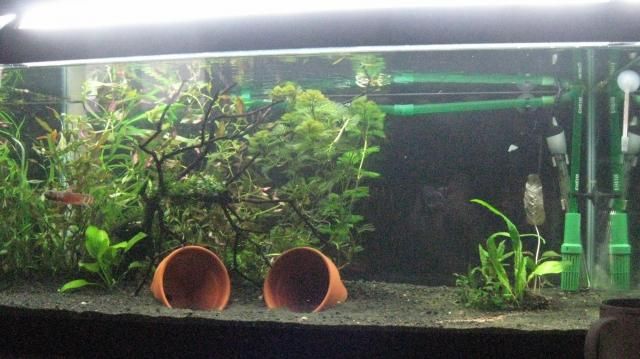 I need to trim that C. Furcata... Make it shorter. The ludwigia does need to straighten out more and I am on the hunt for some mid and low height plants. Ive a friend sending me some microsword, and was thinking of some st. repens.