semi-ADA 38 gallon update (was choc. milk)
---
Some of you may remember my ADA tank that I had so much trouble starting--I eventually topped the aquasoil with sand and here was the initial planting...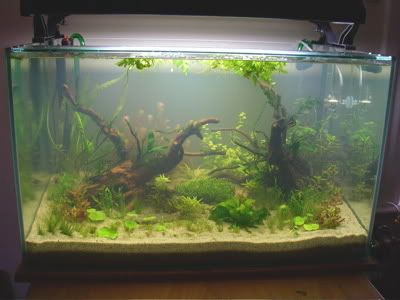 Well here's how it looks now about two months old: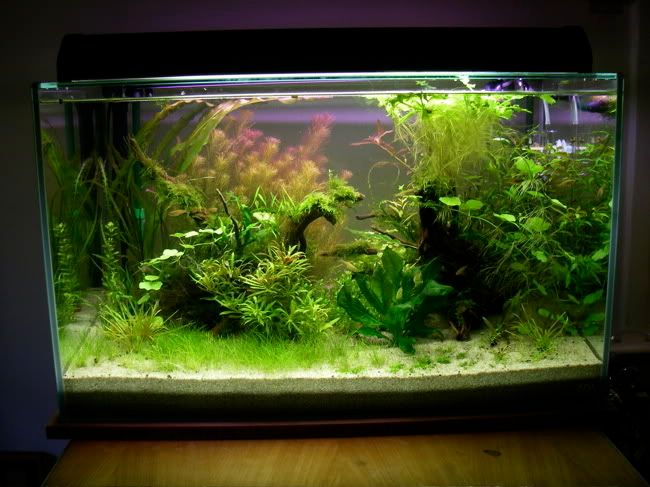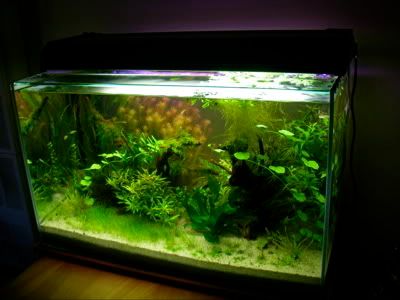 It's getting a bit hairy and I'd like to refine the look so suggestions are welcome!
i wish i can find some driftwood like that, they're beautiful. your tank is beautiful. i suggest you to put some anubias on the empty right foreground, it's nicely shadowed there.
Oh Yeah! Sweet tank, Monkeygills. What's that growing/floating on the top right? This is one of the very best tanks on the forum today!
It has a great sense of depth.
---




Three Tanks...Eheim 2128 & XP3-90G, Eheim 2128-65G, Eheim 2232-25G.... Tek 4x54 watt T5-90G, Aqualight 96watt PC 65G low tech, 65 watt Aqualight-25G.... Hydors-90G & 65G ... Flourite in 90, 65, & 25 Gallons, .... Auto Water Change/Auto dosing on 90 & 65 gallon..... AGA member......
---
gosh thanks for the nice compliments! Anubias is a good idea, or some other shade loving plant for that corner. The floating plant is wisteria, right now its roots are tangled in the top of the driftwood so it stays there. I used it to help start the tank, intending to take it out, but I kind of like it floating. I also have riccia floating... I prefer it floating to anchored, it makes these floating islands. I like how floating plants activate the surface of a tank.