20 Gallon Long "Dirted" Aquarium Captain's Log
---
FEEDBACK IS MORE THAN APPRECIATED
Some background:
My mother gave me her unused 10 gallon a few weeks ago so naturally I started researching about the different types of aquariums out there and much to my delight I stumbled upon a design I'd never seen or even heard of: the "planted aquarium". Instantly I knew that this was a new hobby I could really get into. Biology, ecology, and the natural sciences have always been a natural interest of mine and the opportunity to actively create my own slice of nature in the comfort of my home was appealing.
Fast forward to a week ago:
At this point I'd delved a little further and discovered that not only are there planted aquariums but they can be "high-tech", "low-tech", or even a "Walstad". Talk about an information overload. It got to be overwhelming for a moment however I knew I wanted to keep it simple but interesting at the same time. So I decided on a hybrid of sorts. I ditched the 10 gallon and bought a 20 gal long that's going to have a dirt/clay based substrate, low-medium lighting, good filtration, and some DIY co2.
With all that being said I'm still a couple essential pieces of equipment away from really getting my hands dirty and having some fun!
Tank:
20 gallon long
Substrate:
Mix of red clay powder and Miracle Grow Organic Choice Potting Mix capped with Flourite Black
Lighting:
24-36" Current USA Satellite Freshwater LED +
Filter:
Eheim 2213 Classic Canister
Heater:
Eheim Jager 75 watt
Extras:
DIY CO2 and some possibly Flourish Excel
Fish:
Not quite sure yet. Definitely some Pygmy Corys, some middle level swimmers and top level swimmers.
Plants:
Again not quite sure yet. Easier to grow plants seem like my best bet since this is my first go at it.
Invertebrates:
SHRIMP! Any kind haha. Just have to find out where I can get some.
Pic of tank and stand
Rinsed and strained the flourite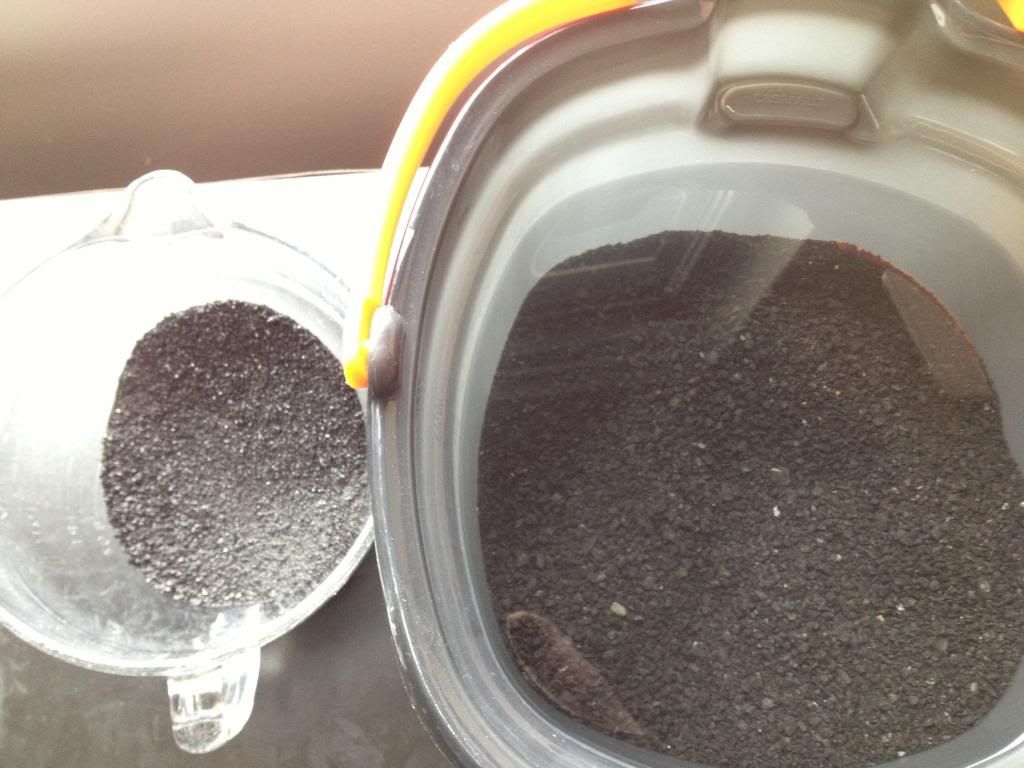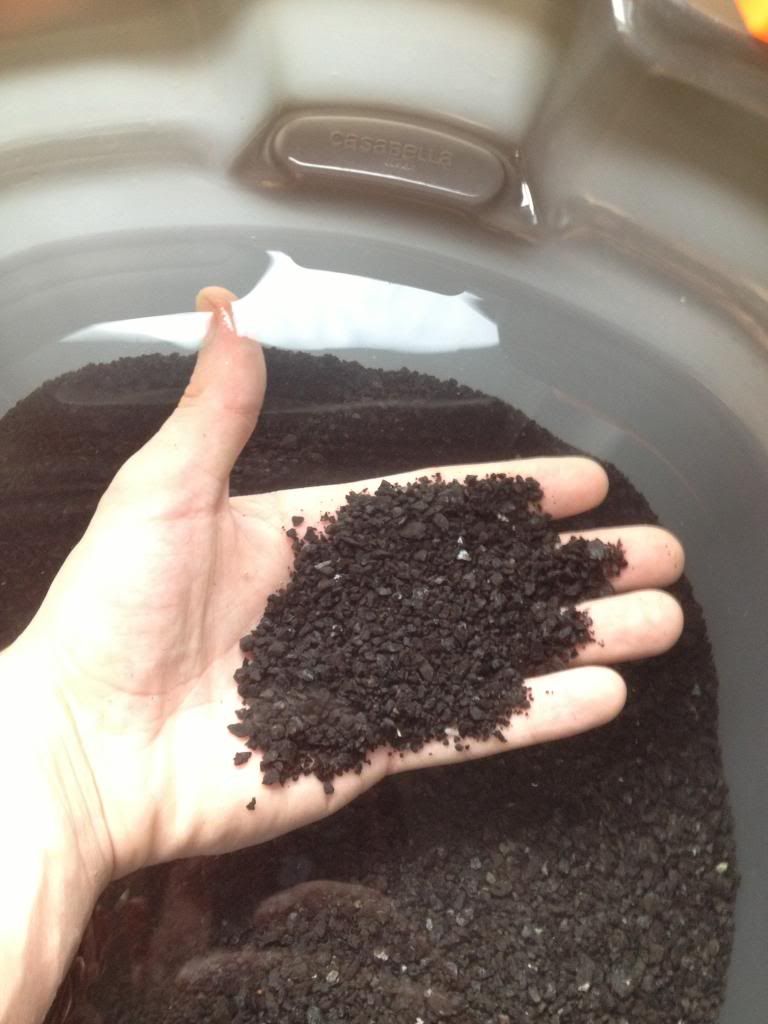 WHEW!! I completely understand if you don't read through all of this, but if you did cheers! I hope to have this up and running in the next month. Plenty more to come
---
- We're made of star-stuff. We are a way for the cosmos to know itself. -
---
Last edited by carlsagan89; 10-21-2013 at

12:21 AM

. Reason: Clarity
Welcome! It looks as though you are off to a good start. Keep posting, I look forward to seeing your progress.
Thank you! If my first aquarium turns into anything as nice as your 36 gal I'll be a happy camper
---
- We're made of star-stuff. We are a way for the cosmos to know itself. -
I dont recommend balancing the tank on the upright posts of that stand. It looks like a great start but I would reconsider the placement of the tank itself.
I completely agree chad320, I'd planned on putting some sort of material in between the two as a buffer because I don't have the money or time to have a different stand.

This one was free from an old friend in Grand Rapids and was meant for a tv lol.
---
- We're made of star-stuff. We are a way for the cosmos to know itself. -
yeah, a sheet of styrofoam from a hardware store might do the trick. Just be careful with pressure points on glass. Even when you scape the inside, be careful of laying heavy rocks on it. It usually seems fine then one day you living room becomes that indoor pond you never wanted
That would be terrible! Thanks for the wise words.

I will have a few rocks in there as well as a piece of driftwood on the left side of the tank with more open space in the foreground and right side of the tank. Hopefully the flow of the 'scape will look alright haha.
---
- We're made of star-stuff. We are a way for the cosmos to know itself. -
You could also add a small 1/8" piece of plywood under the tank slightly larger than the footprint. Either way Chad is right the pressure from the water substrate and hardscape is easily enough weight with an un-level stand or odd placement of pressure to break a tank.

P.S. Thanks for the compliment! My 20L is also dirted.
---
Last edited by JerSaint; 10-21-2013 at

01:34 AM

. Reason: Thanks
Thought I'd do a minor date on what I've been up to.
In retrospect I could've probably done all of this in a more efficient way but oh well..
Bought a 16qt bag of Miracle Grow Organic Mix and soaked it in the only sizable container I had which happened to be a 10 gallon tank lol.
Dumped the whole bag in there and filled it up with water. As you can see there was a lot of stuff to be skimmed off right away.
I skimmed off the top, drained the water until it was about an inch above the mix and filled it back up with fresh water, and mixed it up pretty good then let it set for another 24 hours and repeated that two more times.
Tonight I used a small mesh screen sifter from the kitchen (it's all I had lol) to get the mix out and onto a small tarp so it can dry and be processed further.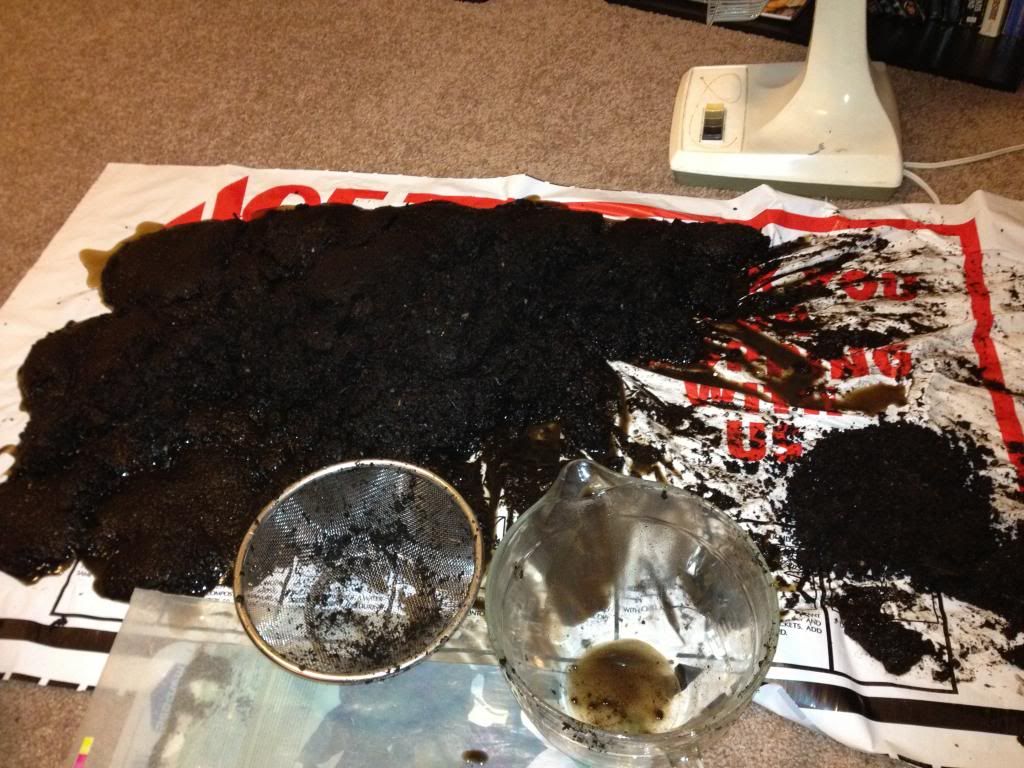 As you can see that mix is pretty darn good at holding water so I spent about an hour jamming to some music and squeezing the water out!
Re-bagged it for now but tomorrow (after the tarp is done drying after I cleaned it) I'm going to spread the mix over it and use the fan to speed up the drying process. That way I can pick/sift out the remaining sticks and whatnot. Heck of a process.
That small pile on the right up there is the consistency of the wrung out mix btw.
---
- We're made of star-stuff. We are a way for the cosmos to know itself. -