Algae Grower
Join Date: Oct 2009
Location: Orange County, CA
Posts: 11
Socalsun's 1st planted tank: Derimmed 5.5gal
---
I had a few hours to kill this weekend and, out of utter randomness, I thought I would visit a local Petshop that I hadn't been to in a while...
To make a long story short, I came home with this little HMPK (half-moon plakat) Betta! (sorry for terrible photo).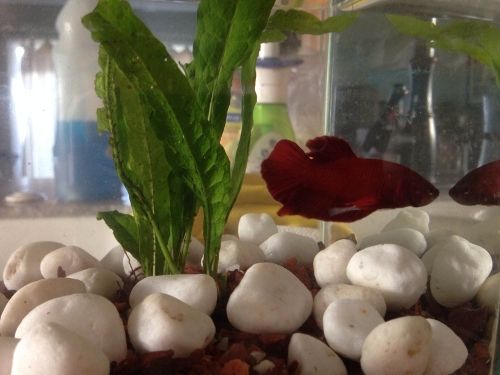 While I have kept betta "aquariums" *cough*bowls*cough* in the past (years ago), this will be my first planted tank.
Here's the run down:
Equipment:

Petco 5.5 Gallon tank that I've de-rimmed
AquaClear 20 Power Filter
Cobalt Aquatics Accu-Therm Heater 50W
Flora Max Red (might top with UP Aqua Shrimp Sand)
*Planning two 13W 6500K CLF bulbs for lighting
Fuana/Flora (Planned):

1 x HMPK male Betta
S. Repens
Anacharis
Anubis ( possibly nana?)
Amazon Sword
*
Possibly
some shrimp or other small tank mates in the future.
Ordered my filter and other components online, so I'm still waiting on those. Here's how I've 'scaped it so far, with some rocks and driftwood from my LFS; again, sorry about the photography. I'll spend more time on that in the future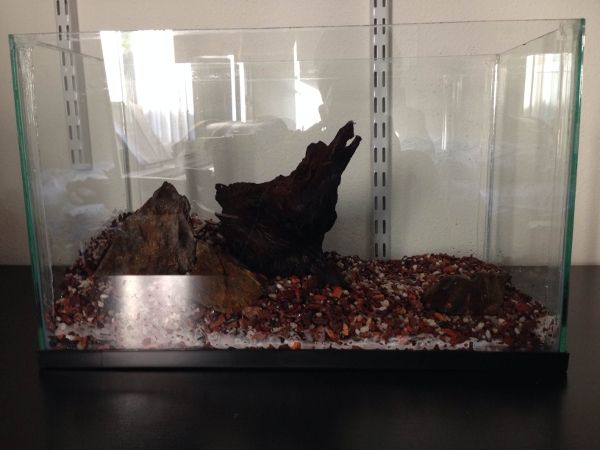 Let me know what you guys think. I am not entirely in love with the contrast (or lack there of), between the substrate and the hardscape. I Would love to hear any suggestions, constructive criticism, or ideas! I am completely new to this, so all the advice I can get would be great!
Algae Grower
Join Date: Oct 2009
Location: Orange County, CA
Posts: 11
Went to Lowes today and got a clamp light and an LED bulb (5000°K 490 lumens), for a cheap little DIY fixture.
FTS
Upper view
The bulb I used, in case anyone was curious