5.5 gallon college shrimp tank
---
Current as of 10/14/13
Lighting: 28watt 6500k CFL
Flora:
Anacharis
Watersprite
Frogbit
Marsilea minuta
Fauna:
5 Pygmy cories
~10 RCS (PFRs)
1 Bamboo Shrimp
Current Tank Shot
================================================== ================================================== ===================================
Here, I'll record my 5.5 gallon tank I'm growing in my dorm room.
First of the specs as of 9/18:
Lighting- 23w soft white CFL
Substrate- Eco Complete
Filter- Generic sponge filter
Flora: (All temporary till I get everything else set up.
Anacharis
Hornwort
Watersprite
Fauna:
5 Pygmy Cories (Pretty sure they're pygmaeus)
13 or so Young PFRs
This tank was started 3 days ago on Monday and I must admit, I did something very bad. I added the cories in on the first day and the shrimp on the second.
HOWEVER! The yellow sponge filter was already running for a month now and some parts of the substrate were taken from an old tank. So I hope I didn't mess up too badly.
Picture time! -Sorry for the bad photo's all I have is my Galaxy S3
Full tank shot showing the lamp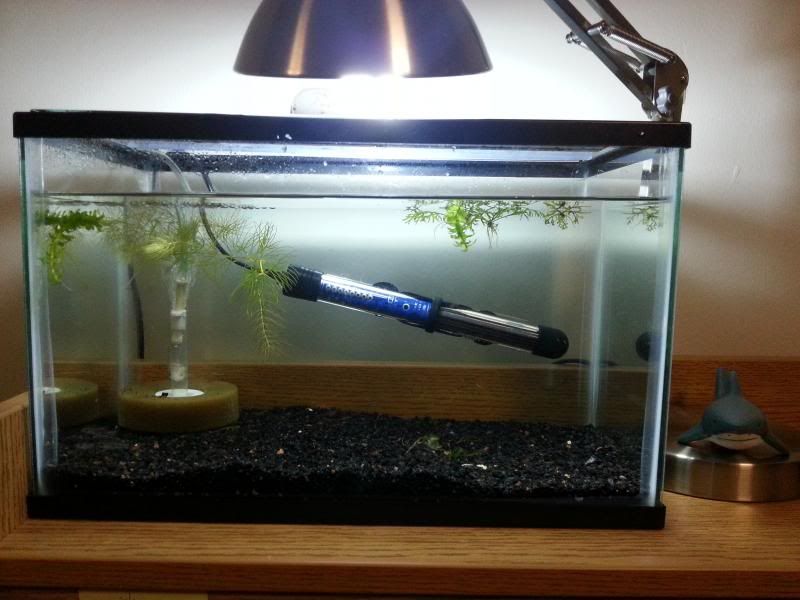 Pygmy cories!
Red Cherry Shrimps- Painted Fire Reds (Bought from rostick555)
To be honest, right now they just look like regular RCS you find in LFS everywhere. As they're still juveniles, I'm hoping they turn redder when they mature.
---
Last edited by Cokers; 10-14-2013 at

05:53 AM

. Reason: Update
I love the cories! They are very fun to watch! I have a moss ball and all of mine sit on it together and it's so cute. I would try to get more fun stuff like moss or wood for the shrimp and cory to enjoy.
Add a dual sponge filter. I squeezed the old filter to transfer some of it's bacteria but now my water's all cloudy. >.<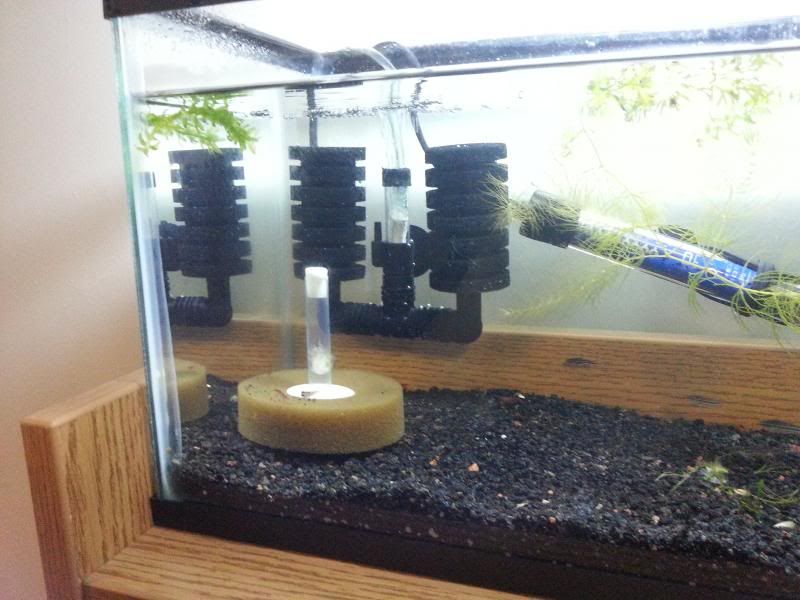 I can't help but notice that your water level is rather low. You might want to top it off! Also, I'd suggest a number more plants for a tank of that size with so many fish. Hope it works out great!
Sorry I've been lazy on the updates. I added more eco complete and a bunch of frogbit.
---
Last edited by Cokers; 10-08-2013 at

02:04 AM

. Reason: Adding picture
I think I've just found what appears to be a seed shrimp, and I'm worried it might take over the tank. How can I get rid of it!?!?!?!
Very cool! I have a 3 gallon betta tank right now but I might switch it up for a 5 gallon shrimp tank.
---
Chrisinator's Aquatic Project Journal
Update time!
Bought me some
Marsilea minuta
! This here's about 30 nodes that I bought on Ebay.
I also got a bamboo shrimp that's currently latched onto my sponge filter and feeding from there.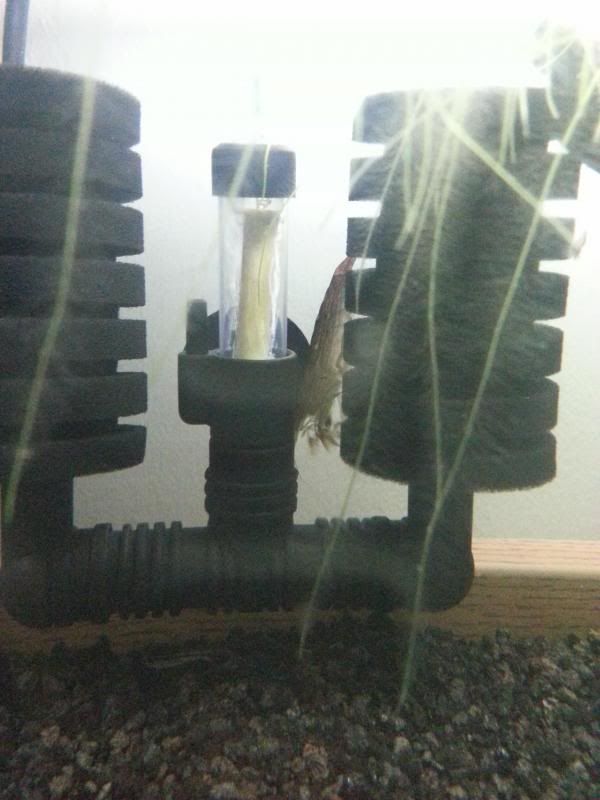 Current Tank Shot
Time for an Update!
So in about 1.5 weeks, these are the only growth in my Marsilea minuta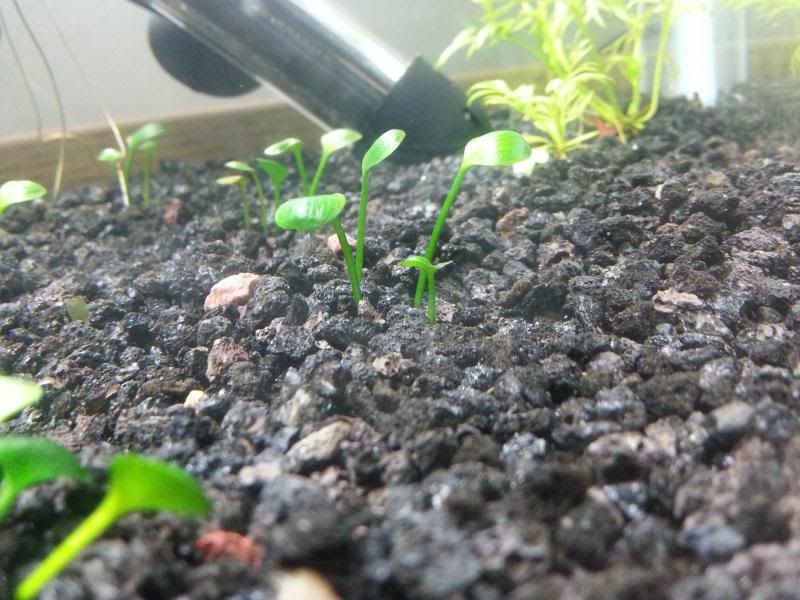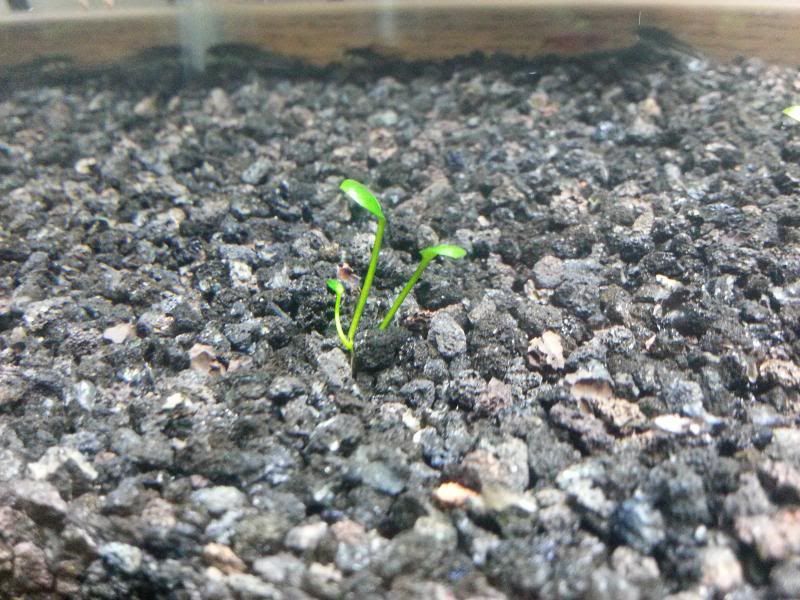 Yep that's right, two new leaves~
My empty aquarium is now.....an iwagumi!