3g Bow Front: First shrimp tank
---
Since I was only doing small tweaks to my 90g the last couple of months I needed something to build. I've had 3 African dwarf frogs in a breeder net hanging in the 90 for months now. My daughters really wanted them when we were at the store. I finally pulled together the list and started the build during Labor day:
Tank: Mr Aqua 3g bow front, plastidip black
Filter: Azoo Palm Filter
Heater: Cobalt Mini-Therm Heater 5W, free hydra glass thermometer
Light: Finnex Fugeray-R Ultra Slim LED Light
Substrate: MGOCPM & Floramax
Plants: DHG, micro sword, downoi, blyxa j, ludwigia inclinata curly, echinodorus vesuvius, riccia, and duckweed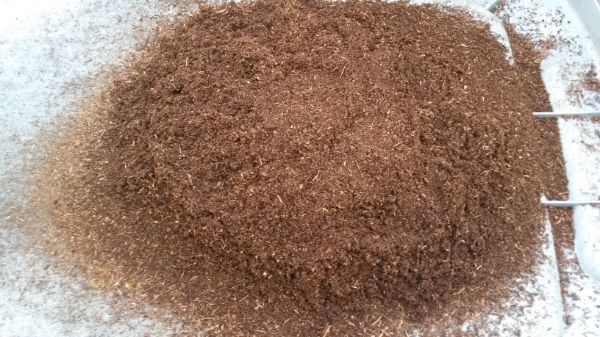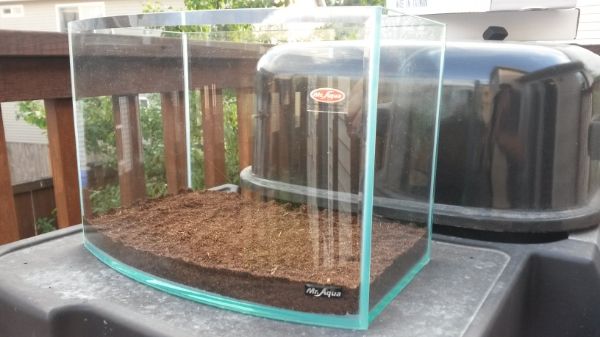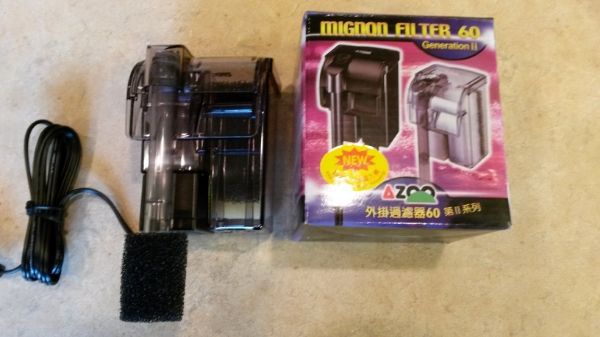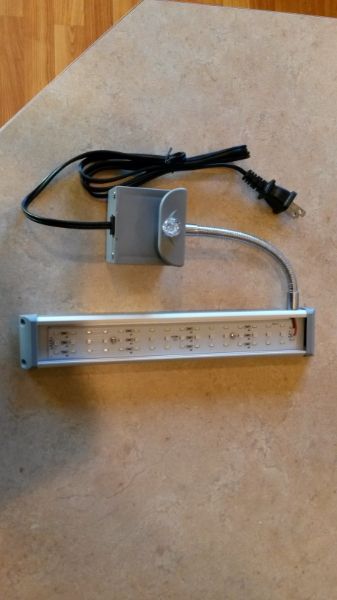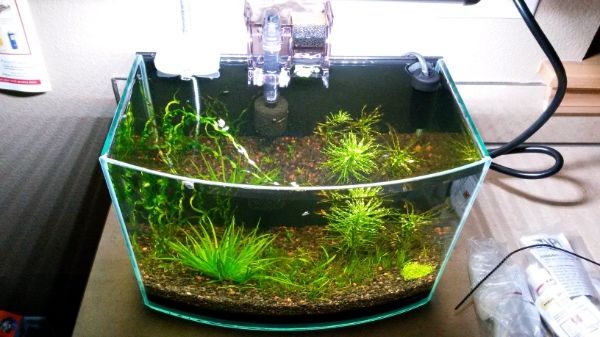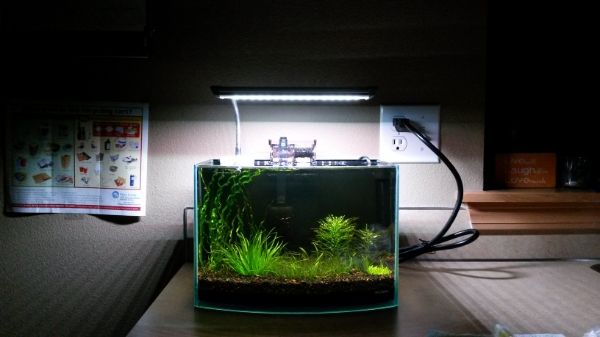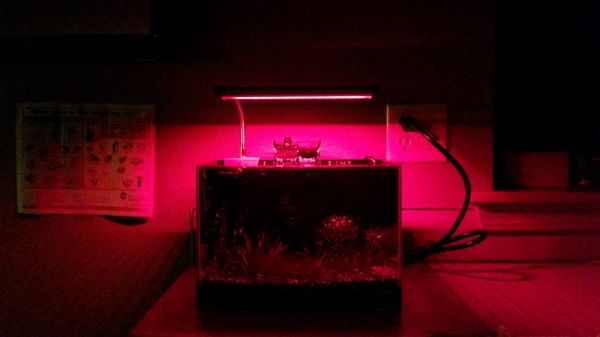 Almost done cycling. 0 ammonia and nitrites about to turn into nitrates. It should be done this week.
It's such a change going from 90g to 3g.
---
Last edited by BHolmes; 10-21-2013 at

03:15 AM

. Reason: ...
So, after the tank cycled I let one of the ADF's loose and quickly found out that it wasn't going to work. It managed to dig up about half of the floramax and uproot the plants. Now they remain in the 20g qt until I figure something else out. Good news is now I have a 3g to play with and I have the shrimp itch (that sounds bad).
I've recently had some inspiration to rescape this tank and add all dwarf plants for scale. I also want to do AS instead of mgocpm capped with floramax. It takes up to much space to run that type of substrate in such a small tank.
It'll be pretty cool to work on such a micro build but I need some help.
First, this is going to be my first time with shrimp. What are a good, colorful, and hardy species to start with? How many is too much for 3g?
Second, is there a good list of micro plants anywhere? I'll be building an adjustable base to raise and lower the Fugeray-R for better light control. Substrate will be AS with NPK, micro, and iron being dosed (unless shrimp are sensitive to any of that). Non-co2, just weekly water changes.
I'll be researching a lot of this too in the next week but the advice is much appreciated.
Thanks in advance!
I like this bow front mini tank and i think im gonna get my self one when im able to get a light for it. For the species, i suggest ya go with Red Cherry Shrimp since they are colorful and really hardy! Beside that they don't eat their fry so your daughter will have fun time finding and watching them! Try to find some deal in the WTS threads for the rcs, i had a good deal there. You gotta cover the filter intake though. TPT member sell them about 25 for $25 and always come with extra. Most of them are juveniles so ill just toss them in the tank, if its too crowded, take some big ones to the other tank! Since you want to stick with no co2 tank, your plants choice will be limited but in my suggestions : Glossostigma or Hydrocotyle japan! The glossostigma might grow upward instead of spreading without co2 but you can always trim to lead them to the way you want! Good luck and hope to see more updates ( with pics ) !
That looks fantastic for shrimps!

How do you like the light?
So I completely tore down this tank last year do to a huge BBA outbreak. I put it all back together and did a dry start with micro sword and S. repens. The only substrate I used was sifted MGOCPM so I had to get it locked down tight with the dry start. After filling the tank I added Mayaca fluviatilis, Grattiola viscidula, Cuphea anagalloidea, and Rotala sp. mini. There are only weekly w/c done with no ferts dosed and no CO2. I'm still think about shrimp for this one. Here's a new pic: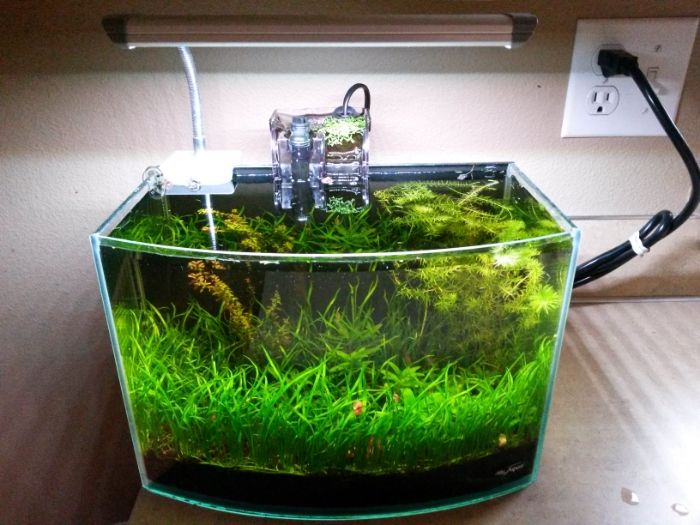 Nice!!!
---
45G long - Planted- G
uppies,cory's,Panda Gara
20G high -
brigs,Gouramis,cory's
15G
-
planted;RCS, albino cory's,& albino bushynose plecos
Planted Member
Join Date: Jul 2014
Location: San Jose, CA
Posts: 217
New tank looks really nice! What type of shrimp are you planning on adding?
Nice!!! Carpet looks perfect.
Thanks Zetvi! I think the RCS and Hydrocotyle japan would look really good in the tank. I definitely need to get one of those stainless screens for my filter intake.
Quote:
That looks fantastic for shrimps!
How do you like the light?
Thanks Aplomado! I really like the FugeRay-R over this tank. I think the micro sword liked it more though. The only downside for me is the way the light connects to the tank. It would be cool if it had its own stand.
Thanks Suebe! It's still a work in progress but its coming along nicely.
Quote:
New tank looks really nice! What type of shrimp are you planning on adding?
Thanks Dragon! It grows slow and steady. I'm thinking about adding some RCS for my first shrimp. I think the red will pop in all that green.
Quote:
Nice!!! Carpet looks perfect.
Thanks Aguilar! The micro sword and S. repens really liked the dry start.