Algae Grower
Join Date: Aug 2013
Location: St. Louis, MO
Posts: 10
2.5g Planted Office Pico
---
Started on 9/7/2013
Setup:
2.5 g glass aquarium
Desklamp w/ 14 watt, 5000K, PC bulb (10hr light cycle)
Hydor Slim Heater (holds at 77-78F)
Azoo Palm Filter
DIY Paintball CO2 System
Organic Choice Potting Soil
CaribSea Black Sand Cap
Tapwater treated with AquaSafe Plus and Seachem Neutral Regulator
Dosing with Flourish Excel
Inhabitants:
Java Fern
Dwarf Hair Grass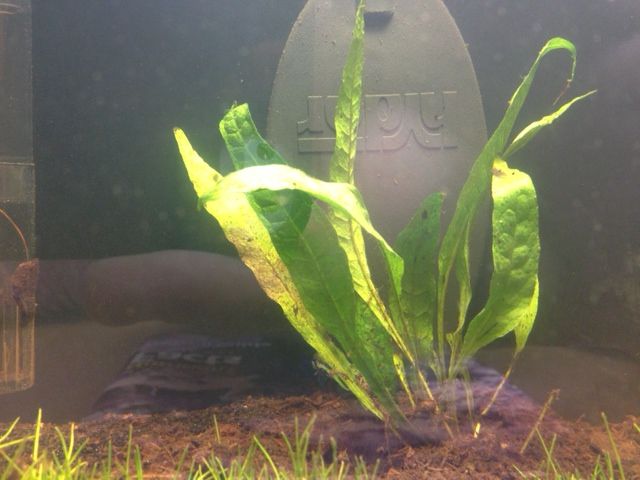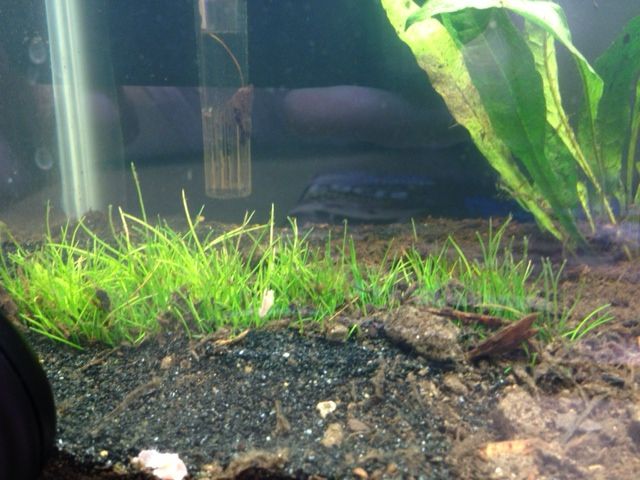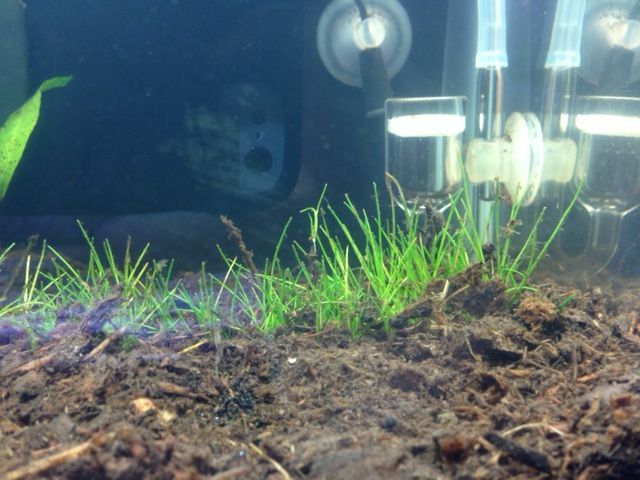 Nice start. A couple things though: why are you doseing excel when you are running a paintball co2? Also your sand cap doesnt look like it went to well on the right half of the tank and could mess with doing tank maintenance. Is your Java fern planted in the substrate? if so it needs to be pulled up so that just the roots are in the substrate and the rhyzome is out, would possibly be better to attach it to a rock or some drift wood. (you could attach it to a nice small piece of cholla and that would be cool)

Got plans on what you are gonna put in this tank yet?
Algae Grower
Join Date: Aug 2013
Location: St. Louis, MO
Posts: 10
Yeah i initially put the soil in and covered it with the cap, but then while trying to plant it got mixed up pretty good. I was going to give everything a week or so to root and then put another thin layer of sand back in the tank. I'm not planning on leaving it as is. The CO2 technically won't be working until tomorrow so I haven't been using both yet. Is that bad? Will one work better than the other? I thought the excel was for more than just CO2? Thanks for the advice! I'll see if I can pull that fern out a bit.
I mean its not bad really i dont think, more of just a waste.
Excel
is a carbon replacement and
Flourish
is more of the comprehensive supplement for the plants.
Also, the sand will cap the soil but I think a thin layer will still eventually migrate down into the soil over time if you do a lot of work in the tank. But it should work.
The Java fern should do fine with you pulling it up but just keep an eye on it and if starts too look bad I would then attach it to something
Hope this helps, just know how frustrating it is to get something set up if the initial set up doesnt go all that well.
**Just realized you have 2 threads of this, one in nano and this one. I'd ask the mods to close one of them so everything can be consolidated in one place.**
---
Last edited by c_gwinner; 09-13-2013 at

01:32 PM

. Reason: Notes
Algae Grower
Join Date: Aug 2013
Location: St. Louis, MO
Posts: 10
Here are a few updated on the nano tank.
It's been running for 14 days. It has cleared greatly and appears to by cycled. Temp stays pretty regular and I was able to re-add the cap. Seems like the grass is rooted and growing. I've seen a few new pieces sprout away from where they were planted. The fern was pulled out but I haven't got anythin got attache it to yet. It has a pretty good clump of soil around the roots but I was trying to expose the bottom as I was told. I still think the fern is dying it has one leaf that is looking pretty bad.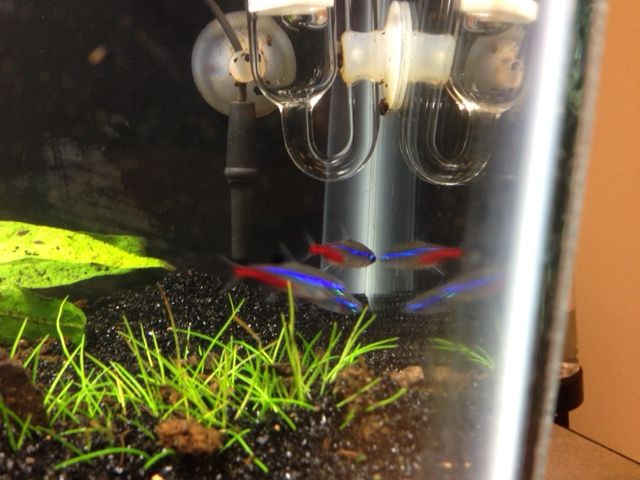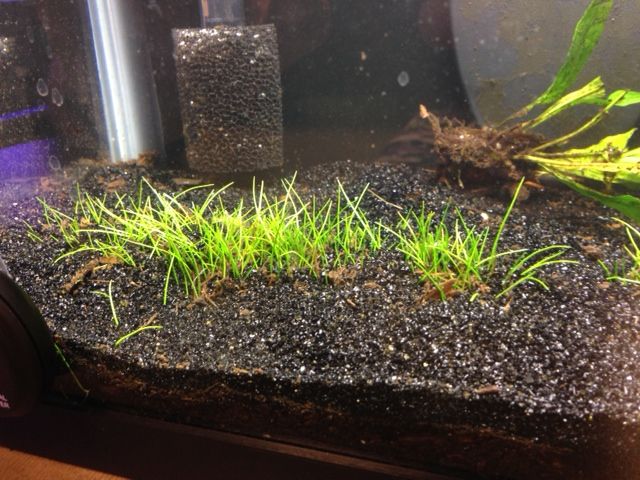 I'll post more pics soon.
The tank seems to be coming along nicely. It looks much better with the sand cap, and some hardscape to attach the fern to will help as well.
Have you looked into dosing any fertilizers? With CO2 in the tank and no ferts, it could cause your plants to grow improperly due to an balance of nutrients.

You didn't need to pull the java fern completely out of the ground (though that [alone] won't hurt it any). Only the rhizome needs to be above the surface, which is the thicker, green root-looking thing that all the little black/brown roots come off of. Honestly, though, it's easier to simply tie it to something than trying to plant *just* the roots.